Aly Explains How "Post-One-On-One Blues" Affected Her Bachelor Journey With Zach
Here's everything to know about her exit during the Feb. 27 episode.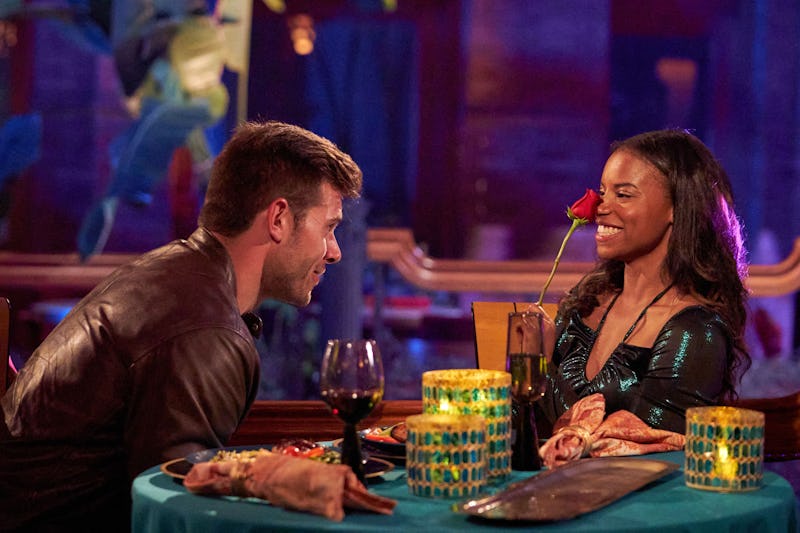 ABC/Craig Sjodin
Zach Shallcross' Bachelor season has seen its share of surprise departures, from Brianna Thorbourne's pool party self-elimination to Anastasia Keramidas' social media drama that earned her an early exit. But sometimes, it really is as simple as not getting called at the rose ceremony — and during the Feb. 27 episode, that's exactly what happened to Aly Jacobs.
By the end of the Estonia episode, Zach said he felt strongly about his remaining lineup of women. "I do have a connection with every single one of you," he said before the rose ceremony. "So, this is a lot. This is very difficult."
Ultimately, his final rose went to Kat Izzo — which meant Aly had to go home, marking one of the final exits before hometowns. The Atlanta-based healthcare strategist left Zach with positive parting words. "Those are some crazy phenomenal women in there, and I know one of those are for you," she said. "And you are more than deserving of all the love they have."
Aly was more upset on the way home, though. "You're hurt by, like, the hope that something could work out," she said tearfully. "That you could get your happy ever after. It just doesn't feel good."
That Aly went home on The Bachelor might be surprising to viewers who have loved her drama-free journey on the show — and her date with Zach, which included jumping out of a plane in wedding clothes. "I was internally combusting and freaking out, but I was trying to be cool," she told Click Bait with Bachelor Nation. "I was saying, 'What's the worst that could happen? They weren't gonna film me dying. If there was any safe moment to skydive, it's right now.'"
It seemed to do the trick for facilitating a connection with Zach early on. "Literally risked my life with this man… we go together now REAL BAD," Aly wrote on Instagram.
However, as Aly tells Bustle today, getting one of the first solo dates doesn't always ensure a smooth ride. "It's like the post-one-on-one blues," she says. "Right after, you have all the feels, and you're really excited. Then, you have to put yourself back in an environment where you're sharing time with other girls. And then you're watching other girls come back from their one-on-ones, and they're super giddy, and you're just like, Oh, I know that date went really, really well. You're smiling a little too big."
At that point, Aly says she was more in her head. So while she always felt "cautiously confident" about her relationship with Zach, she felt like she "needed constant reassurance and validation, just so that [she] didn't go stir crazy."
So, what is Aly doing after The Bachelor? In her Bachelor bio, Aly said she and her Goldendoodle, Texas, were a "package deal" — so even though things didn't pan out with Zach, she still seems to be loving solo pet parent life for now.
In a Feb. 11 post on her dog's Instagram (yes, he's a star), Aly uses Mae Stephens' "If We Ever Broke Up" over a video of Texas. The song is popular right now, so it's maybe a total coincidence — but it does include the lyrics "If we ever broke up, I'd never be sad," perhaps signaling that Aly has moved into a new phase of post-Bachelor healing.