Sending Ariel Home Was Zach's "Hardest" Decision On The Bachelor
His so-called "sex week" got messy.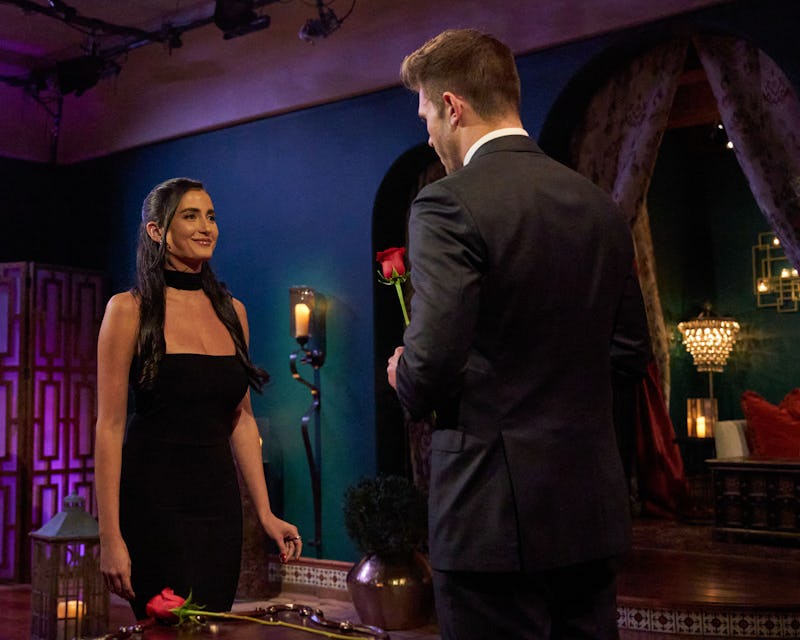 Craig Sjodin/Disney General Entertainment Content/Getty Images
The best-laid plans often go awry on The Bachelor, but Zach Shallcross' Fantasy Suite week (aka "sex week") gave the phrase a whole new meaning. After arriving in Krabi, Thailand for his overnight dates with his final three women — Kaity Biggar, Gabi Elnicki, and Ariel Frenkel — Zach vowed there would be "no sex of any kind for Fantasy Suites." However, he broke his promise and gave into temptation with one of the women, eventually sending Ariel home at the season's final rose ceremony. Here's why Zach eliminated the 28-year-old marketing executive.
After sampling local cuisine with Ariel at the Krabi night market, Zach explained over dinner why sex was "off the table" for their overnight. "I think loving one person at the end of this and sharing that intimate moment should be saved for that moment of engagement and, like, when you have that one person," he told the New York City native, while also assuring her he felt they had a strong "physical connection."
Though Ariel was "a little disappointed" and said she thought it was "important to keep it sexy," she understood Zach's reasoning. Cameras captured her telling Zach she was "definitely falling in love" with him, as well as the couple swimming and making out. However, everything that happened between then and the next morning remained private, and Zach said he had no regrets at the time.
"I came into this week not wanting to involve sex, and with Ariel, it was more difficult than I could have ever imagined," ABC's Season 27 lead explained. "But we both agreed on it, and it was very important to just have conversations and not have sex involved. I think it was the right decision, and I know that in the end it will be all worth it."
As viewers later learned, Zach changed course and slept with Gabi on his second overnight date. Though he confessed to Kaity what he'd done afterward, the tech executive didn't come face-to-face with Ariel again until the rose ceremony. Upon arrival, Ariel told producers she and Zach had their best date yet in Thailand and that she was "feeling really good" about their relationship. But moments later, Zach handed out his final two roses to Gabi and Kaity, effectively ending her Bachelor journey.
"I just want to say, like, this was easily the hardest thing I've had to do, and I want you to know that I appreciate you more than you know," Zach told Ariel after their breakup. "You are one of the most interesting, intriguing, beautiful, respectful, mature, intelligent women I've ever met. And I'm blessed to know you and how you opened up your heart to me."
After the pair exchanged thank yous and goodbyes, Ariel expressed her sadness. "It hurts a lot. I'm hurt because I know, like, how great of a person he is, and I know that I felt this way for the first time in a while for a reason," she said in the backseat of her departing SUV. "That future and that life that you envisioned is like gone in a cloud, in a way. I just wonder, like, when it'll finally click, and I'll finally find that person that wants me above, like, anyone else and everyone else and all else."
Before the episode aired, Ariel teased her reaction to Zach's Fantasy Suites drama. On March 18, ABC shared an Instagram clip of her and Zach's dinner conversation about not having sex, writing in the caption, "Remember what you said, Zach..." In the comments section, Ariel replied, "Downvote," adding a down arrow emoji.
Prior to Ariel's Bachelor elimination, some fans were convinced that she and Zach got engaged. The reason? After The Bachelor wrapped filming in November, she posted a series of photos taken in Austin, Texas — i.e. where Zach currently lives — on Jan. 27. Not only that, others spotted Ariel wearing what they believed to be an engagement ring while dining at an Austin steakhouse days later.
As viewers now know, however, her trip's destination was likely just coincidental — unless Ariel's life took a majorly unexpected turn in the months after filming ended. Stay tuned for an update on The Bachelor: After the Final Rose, either way.