Jess Breaks Down Her Bachelor Breakup With Zach
There were plenty of tears during her final episode — from both sides.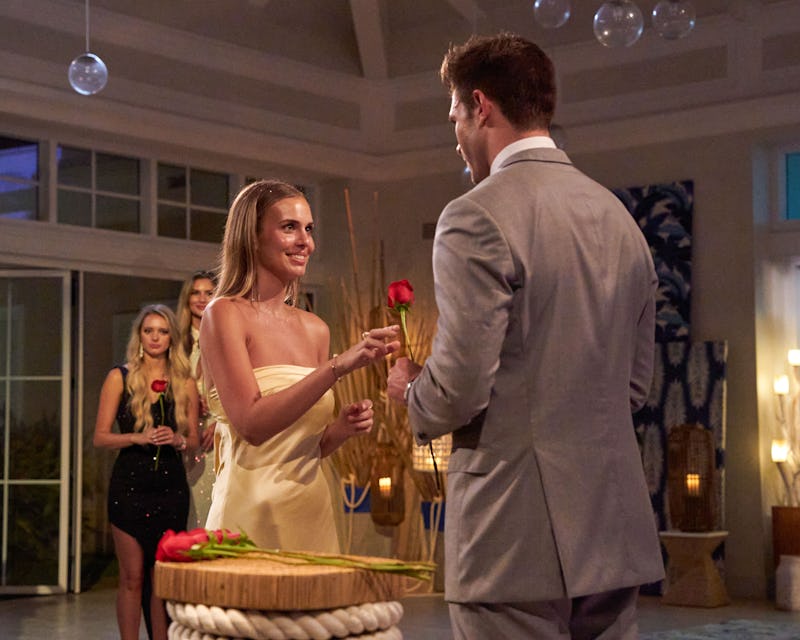 ABC/Craig Sjodin
After he ended quarantine during the Feb. 27 Bachelor episode, Zach Shallcross' season was ready to get back on track. But it wasn't necessarily smooth sailing in Estonia, either. Tensions were already high after Zach kissed Kat Izzo before his one-on-one date with Charity Lawson. Then, Jess Girod was hurt when she realized she wasn't selected for the next one-on-one — effectively making her and Greer the only women who hadn't been on a solo date with Zach. "Does being the last one say something? I don't want to be chosen as, like, the last person," she said.
She never got the chance to find out as she made a surprise exit during Week 6's episode. Jess told her fellow women she had an anxiety attack before the group date afterparty. Soon after, Zach pulled Jess aside for a conversation — and she finally got to voice her concerns. "It's hard for me, because I am a hopeless romantic, and I've just been, like, knocked down so many times," she told Zach, adding that she didn't feel confident in her standing with Zach.
Zach disagreed that one-on-ones should hold so much weight. "That shouldn't be a thing, in my eyes," he said. But as Jess reminded him, the dates do provide a chance to forge stronger connections. "OK, were women vulnerable with you before or after a one-on-one? Because a one-on-one's a whole day together," she said.
"You keep bringing up, like, it's about a one-on-one," Zach said. "And I'm feeling so confident about us, and then, it's about a one-on-one? What am I missing?" That confidence seemed to wane by their conversation's end, though. "I feel like there's that disconnect, I guess," Zach continued. "I don't feel any more sure about this. And I feel nervous."
Though it seemed Zach was ready to send Jess home, she arrived at the decision first. "I told you from the start that I'm not gonna fight for someone ... I'm not gonna beg you," she said.
The pair walked out together, leading to tears on both sides.
Since returning home from The Bachelor, Jess has had fun recapping her journey on TikTok (where she shared her body glitter routine) and Instagram, too. Her first post after filming wrapped in November seems to suggest that she's still open to love, even if it didn't work out with Zach.
Clearly, Jess also has a sense of humor about how things went in London — the city "was sick!" she wrote in a Feb. 21 post, apparently referencing the group's run-in with COVID.
While a one-on-one between Zach and Jess never happened, Jess tells Bustle today that Zach was always "a great listener" leading up to their final talk. "He constantly reassured me with that, and made me feel so confident that it's OK to be who I am," she says. "And [that] I'm still lovable. That's why the exit was so confusing and hard, because it was kind of a shift. But in all of our private conversations, he did constantly reassure me and comfort me and made me feel safe, in a way."
In her Bachelor bio, Jess described herself as "a hopeless romantic [who] is ready for her fairytale romance worthy of a Taylor Swift love song." She says she listened to "Begin Again" 52 times the day she flew in to film the show. "To me, it was my sign of finally putting myself out there," she says. "I was so scared for so long. And I was proud of myself. And on a random day, I decided to begin again."
Fortunately, leaving The Bachelor early hasn't soured the meaning. "Even after the show, that's one of my favorite songs," Jess says. "I'll never stop fighting for love and what I deserve."