The Bachelor's Virtual Rose Ceremony Made For Some Excellent Memes & Tweets
The very awkward episode had a silver lining.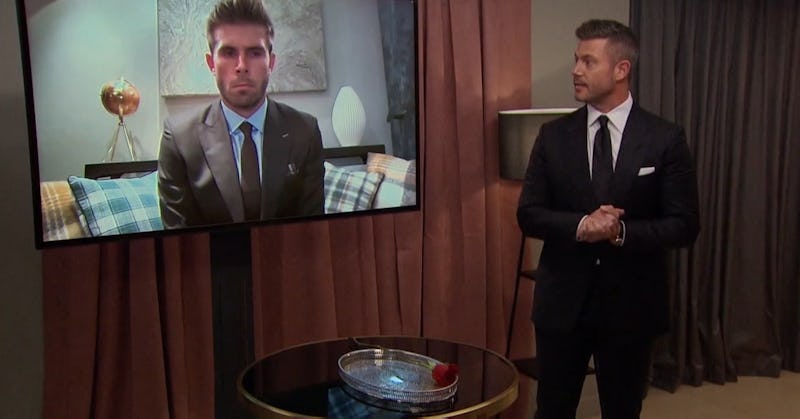 ABC
The pandemic has changed The Bachelor franchise on several occasions, like when it put a pause on international travel, and when it hosted contestants' families for a sort of reverse hometown week. But between all the temporary tweaks, the show never really went full Zoom mode — until Zach Shallcross' season, that is. During the Feb. 20 Bachelor episode, Zach became the first franchise lead to test positive for COVID, which forced producers to think on the fly. The solution? A virtual cocktail party and rose ceremony, where Zach interacted with the women through a screen. "As we spread the plan amongst the crew, everyone had to get the giggles out for a second, and then snapped back into, 'Okay, how do we do this?'" director Dave Miller told Entertainment Weekly. "The first reaction was like, it feels like we're shooting an SNL skit or something. Let's not let it become that."
Of course, depending on who you ask, it definitely was that. Zach was "quite adamant that he was not going to send anyone home without spending time with them," executive producer Bennett Graebner told EW, which led to him meeting with each of his women via iPad. Connections didn't always translate through Zoom, though: Greer Blitzer, for example, had an awkward moment with Zach when she compared his situation to her getting COVID at the end of a sales quarter. "I think it's completely different," he told her.
Greer ultimately got a rose, but that didn't change many viewers' distaste for the virtual cocktail party. It did come with one perk, though — as Bachelorette alum Jason Tartick pointed out, the new system helped to prevent any awkward "can I steal you for a second" moments.
Similarly, Twitter user @Minixchica joked that Zach would simply be able to mute any drama if it started in front of him. Another perk!
Many viewers poked fun at the onscreen awkwardness. Kudos to Zach for doing what he could, though! "It's not like we can send in a bunch of people, and they can set up things," Graebner told EW. "I mean, the guy had to set up everything on his own, with our assistance over the phone. But he really did it all himself because he had to."
Then came time for the rose ceremony, at which Kylee Russell and Mercedes Northup were sent home. "Usually when you leave, you get closure of, like, hugging him, you know? And I couldn't do that because it was through a freaking screen," Mercedes said upon her exit.
While it was definitely not an ideal situation, several viewers had fun theorizing about the bottom half of Zach's Zoom ensemble — which, if it was anything like many of our early WFH outfits, might have been a PJs situation.