Clare Crawley & Dale Moss Reportedly Ended Their Engagement Again
Bachelor Nation spotted some major red flags recently.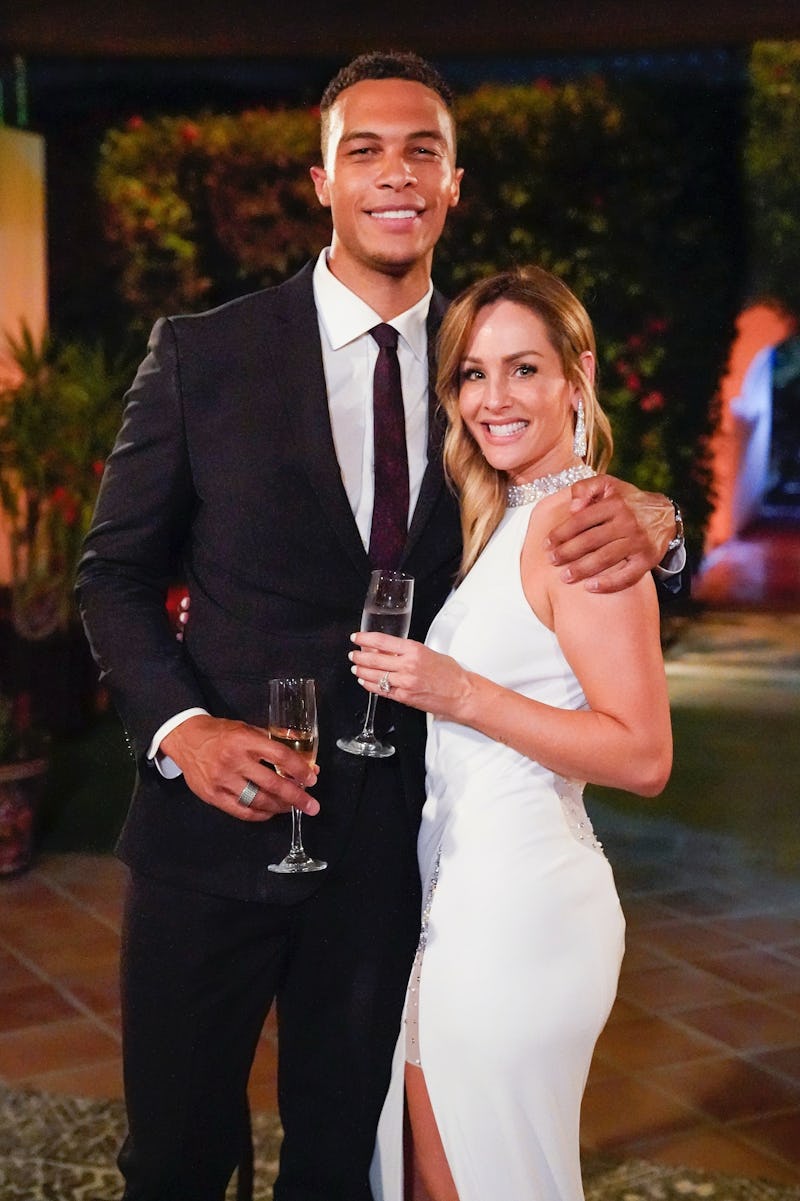 The Bachelorette/ABC
Clare Crawley and Dale Moss' relationship is reportedly over, and this time, it seems they may have broken up for good. According to an E! News source, the Bachelorette alums called it quits just two months after reconciling in hopes of making their engagement work. Most recently, the duo was spotted at the U.S. Open on Sept. 9. However, when the 33-year-old former football player's birthday rolled around on Sept. 24 and Clare didn't post about it on social media, Bachelor Nation began to wonder if they broke up.
This isn't the first time that the couple has called off their relationship. On Jan. 19, the Bachelorette contestant announced that he split with the 40-year-old hairstylist after five months together. "I wanted to share with you all that Clare and I have decided to go our separate ways," he wrote on Instagram. "We appreciate the love and support we've received from so many people, but this is the healthiest decision for both of us at this time." Hours later, he told paparazzi that "it's not the greatest situation" but that they have "a lot of love for each other."
Dale also told the paparazzi that he had no regrets about falling for Clare on The Bachelorette and proposing at record-breaking speed. "I met Clare, you know? That's why I went on the show," he said. Clare, however, seemed totally blindsided by Dale's announcement. "I was made aware of a 'mutual' statement at the same time you all were, so I've needed some time to really digest this," she wrote in a since-deleted Instagram post on Jan. 21. "Speaking for myself, my intentions with this relationship have always been very clear, so the truth is I am crushed. This is not what I expected or hoped for and am still trying to process this."
Before responding to Dale's statement, a source told Us Weekly that the former Bachelorette was "a wreck" and that she was having a hard time coping with the end of her engagement. "She really fell hard for Dale and saw a future with him," the insider said. "To have this all blow up in her face has been really difficult. The breakup was hard for the both of them at the end." According to the outlet, the pair was unable to get on the same page and "had been fighting a lot as of late ... They finally realized that perhaps they did move too quickly after all."
Meanwhile, a source close to the couple told People that, ultimately, Clare and Dale were at two different places in their lives and wanted different things. "Dale wasn't ready for marriage and kids," the insider told the outlet. "He did have feelings for Clare but he wasn't on the same page as her. ... Things only got tougher after the show when they had to start making big life decisions." By February, it seemed the two were able to sort out their differences when they were photographed holding hands in Florida. The following month, they were spotted kissing in New York.
Clare and Dale spent the next several months posting about each other on Instagram and making it clear that they were most definitely back on. In July, Dale supported his fiancée when she decided to get her breast implants removed for medical reasons. "So proud of you for sharing this love," he wrote when Clare went public with her story on Instagram. "I know this wasn't easy but will help so many other women going through what you've been experiencing. I love you & with you every step of the way."
Later that month, the reality star shared a video montage on Instagram to celebrate their first anniversary. "Happy ONE YEAR Anniversary love," she captioned the post. "Love you with all my heart," Dale commented. "Before we even met I knew God was working but never could have imagined what he had in store for us and there's so much more ahead. My heart is with you always." Considering how public these two have been about their love story, Bachelor Nation is right: Clare's failure to post on Dale's birthday was a major red flag.
This article was originally published on