Eurovision 2023 Might Be Held In The UK
Organisers confirm that next year's contest will not take place in Ukraine.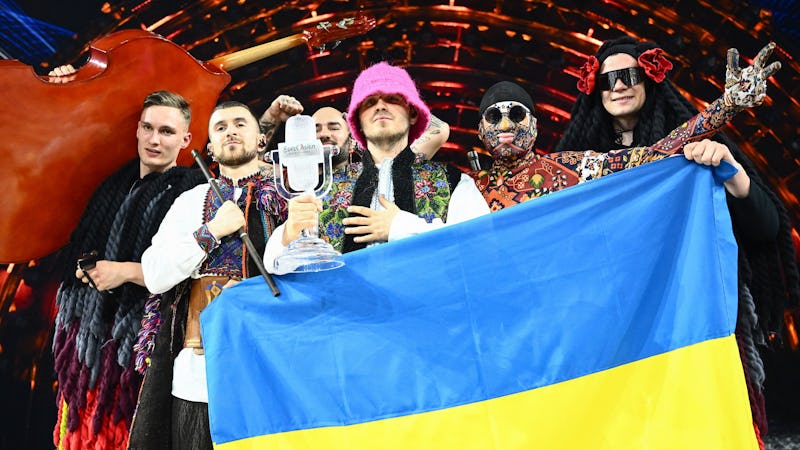 MARCO BERTORELLO/AFP/Getty Images
The Eurovision Song Contest 2022 was one for the history books. Not only did Sam Ryder end the UK's long record of disappointment, finishing in second place, but voters named Ukraine's Kalush Orchestra the overall winner in a symbolic display of solidarity following the conflict with Russia - and the band later auctioned off their winning crystal microphone to raise funds for Ukraine's army. However, the ongoing conflict has raised questions over the country's ability to host next year, leaving many fans wondering: will Ukraine host Eurovision in 2023?
Traditionally, the winner of the Eurovision Song Contest hosts the subsequent year's competition. However, tensions in Ukraine are showing no signs of easing. Despite concerns from some Eurovision fans regarding Ukraine's ability to host the 2023 Song Contest, Ukrainian President Volodymyr Zelensky previously insisted the country will be held in the war-torn city of Mariupol next year.
"Our courage impressed the world. Next year Ukraine will host Eurovision for the third time in its history," Zelensky wrote in a message of defiance. "We will do our best to one day host the participants and guests of Eurovision in Ukranian Mariupol," he added, making clear that 2023 will not be the "last" time Ukraine hosts the competition.
However, in an official statement released on June 17, Eurovision organisers announced that after a "full assessment and feasibility study," the 2023 Song Contest cannot be held in war-torn Ukraine and could be held in the United Kingdom instead.
In the statement, the EBU (European Broadcasting Union) confirmed that the "security and operational guarantees" that are required for a country to host the event can unfortunately not be met in Ukraine at present.
The EBU went on to reveal that they have now begun "discussions with the BBC" and have lined up this year's runner-up, the United Kingdom, to "potentially host the 2023 Eurovision Song Contest." The statement continued, "It is our full intention that Ukraine's win will be reflected in next year's shows. This will be a priority for us in our discussions with the eventual hosts."
Responding to the announcement, a BBC spokesperson stated that these "aren't a set of circumstances that anyone would want," adding the broadcaster "will of course discuss the BBC hosting the Eurovision Song Contest."
This article was originally published on