We Still Have A Few Unanswered Questions At The End Of Bloodlands S1
Here's what executive producer Jed Mercurio has said about the show's future.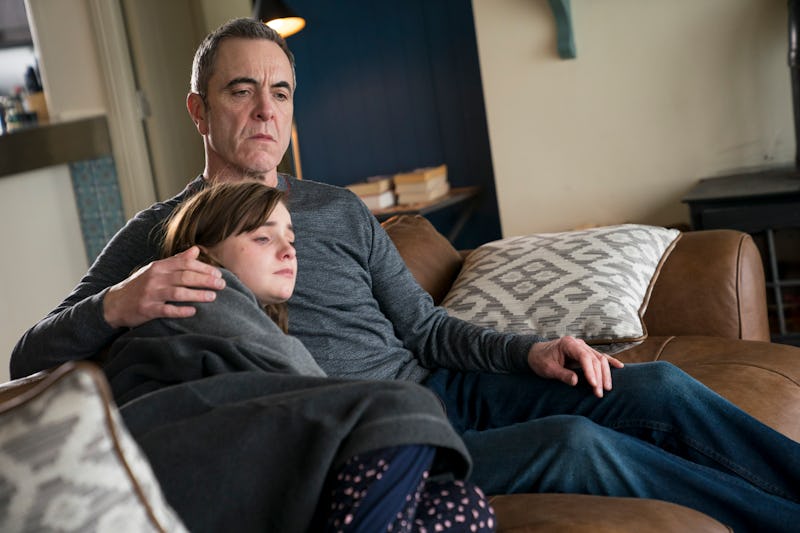 BBC / HTM Televison /Steffan Hill
Spoilers ahead for the Bloodlands season one finale. The first series of BBC One thriller Bloodlands came to an end on Sunday, March 14. After four nail-biting episodes, viewers finally got some answers about Goliath and the disappearances connected to him, but they were also left with a lot of unanswered questions. So, will Bloodlands come back for more episodes?
The short answers is, yes, Bloodlands will be back for a second season. After the finale episode on Sunday finished, executive producer Jed Mercurio release a statement saying:
"Everyone at HTM Television is thrilled our debut production has been recommissioned. It's a tribute to the quality of Chris Brandon's writing, the hard work of our crew and the brilliant performance of our cast led by James Nesbitt. We're grateful for the outstanding support we've received from the BBC and Northern Ireland Screen and can't wait to reward Bloodlands fans with another twisty case for [Tom] Brannick and co."
Nesbitt, who played Brannick, added: "I'm thrilled that viewers responded to Bloodlands so positively and that we will be returning for a second series. I'm always happy to be back in Northern Ireland and to reveal even more about Tom Brannick."
Fans of the show will be relieved to hear it's returning for another season, as the finale left a few loose ends that need tying up.
Ever since the shock twist in episode two, viewers have been trying to figure out whether DCI Brannick – lead investigator in the Goliath case – was in fact Goliath himself.
At the end of episode two, Brannick shot Adam Corry after Corry came to the realisation that two of Goliath's victims – his brother David and Brannick's wife Emma – were having an affair. Since then, Brannick has been covering his tracks and trying to pin the Goliath murders on his boss DCS Jackie Twomey. All this led viewers to believe that Brannick had killed his wife and David when he found out about their infidelity but tried to hide the motive by creating the Goliath identity.
During episode four, it was revealed that Brannick was indeed behind the Goliath killings. However, he says he only murdered Joe Harkin and Faith Quinlan because he believed he was being blackmailed by David, who was holding his wife captive. Later he found out that David and Emma were actually working together. He killed David and told his wife to disappear, which she did.
It's only when Tori Matthews, the daughter of Father Quinlan, finds out what happened to her father that it seems Brannick's plan is about to unravel. However, in a final twist, Brannick has Matthews killed and once again manages to escape unscathed.
At the end of the finale episode, we see Brannick sitting with his daughter Izzy in their home, seemingly safe in the knowledge that his secrets will never be discovered.
However, it seems fairly obvious that Bloodlands writer Chris Brandon isn't going to make life that easy for Brannick and season two will likely see him put under the spotlight by DCS Twomey and DS Niamh McGovern. Plus, we still need to find out where Emma is – that's surely going to lead to a fair few sticky situations for Brannick?
There's no word on when Bloodlands season two will start, but fans will definitely have a lot to sink their teeth in to once it does.
This article was originally published on