Will There Be A Carnival Row Season 3?
Here's everything to know about the future of the show.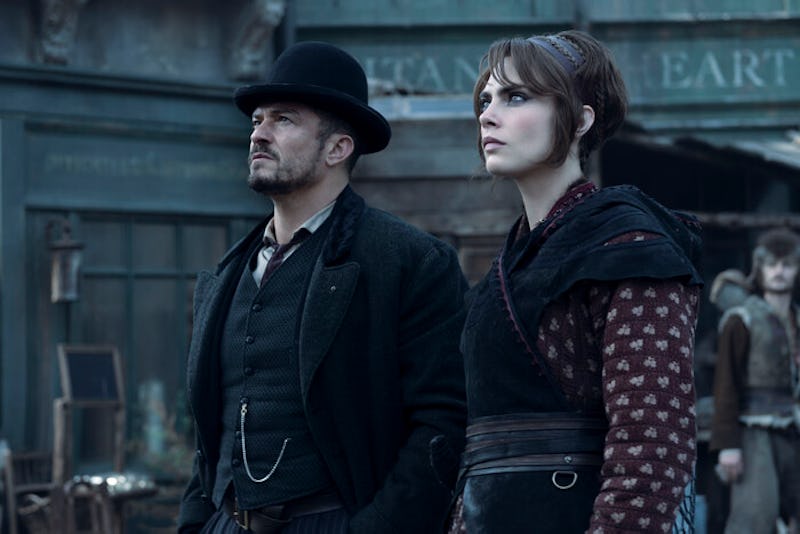 Julie Vrabelová/Prime Video
Carnival Row had its second season finale on March 17, ending the latest installment of Prime Video's fantasy noir series. Orlando Bloom and Cara Delevingne returned as Philo and Vignette, respectively, a detective and faerie navigating dangerous tensions between humans and mythical creatures in the titular Row.
It's hard to believe that nearly four years passed between the first and second season of Carnival Row, which debuted in August 2019. But will fans have to wait that long for the next installment?
Sadly, there won't be any waiting at all: Carnival Row is officially over. Season 2 served as the show's swan song, with promotional materials describing the entry as the "final season" and an "epic conclusion." But even if you knew this was the last season, it's natural to wonder what went into that decision — especially since the show was originally conceived as a larger-scale story. "We've already outlined and talked about Seasons 3 and 4," executive producer Marc Guggenheim told Collider in 2019.
Bloom told Radio Times the reason for Carnival Row ending is "above [his] pay grade," but also acknowledged that "COVID really put the brakes on everything." However, in an interview with Collider, he described lockdown delays as a "blessing in disguise."
"When we shut down for COVID and the extensive nature of that, we had shot a big chunk of Season 2, but we didn't have the full show," he explained. "What it meant was that, with the lockdown, we could approach it like, 'Look, we can go back and look at what we've got, and we can really bring home a phenomenal season finale with what the material we have, and then put a great button on it.'"
He also said the break gave him the chance to "be present" for welcoming his child with Katy Perry in 2020.
Delevingne, similarly, told Collider she "wouldn't change" how the show ended. "A lot of shows drag out seasons and it gets a bit boring and monotonous and repetitive," she explained. "And the way that this show works is that it's intense and it's extreme and it's honest, so the way that it ends is perfect. If you drag it out, you wouldn't really know where the story goes, and it ends in such a perfect way."
And if you're not quite over Carnival Row ending, there is a new graphic novel called Tales of Carnival Row that explores the "myths and half-truths" of the show's characters in an anthology format.