Katy Perry & Orlando Bloom's Relationship Timeline Starts With A Dance-Off
"We're both aware of how blessed we are to have uniquely connected in the way that we did."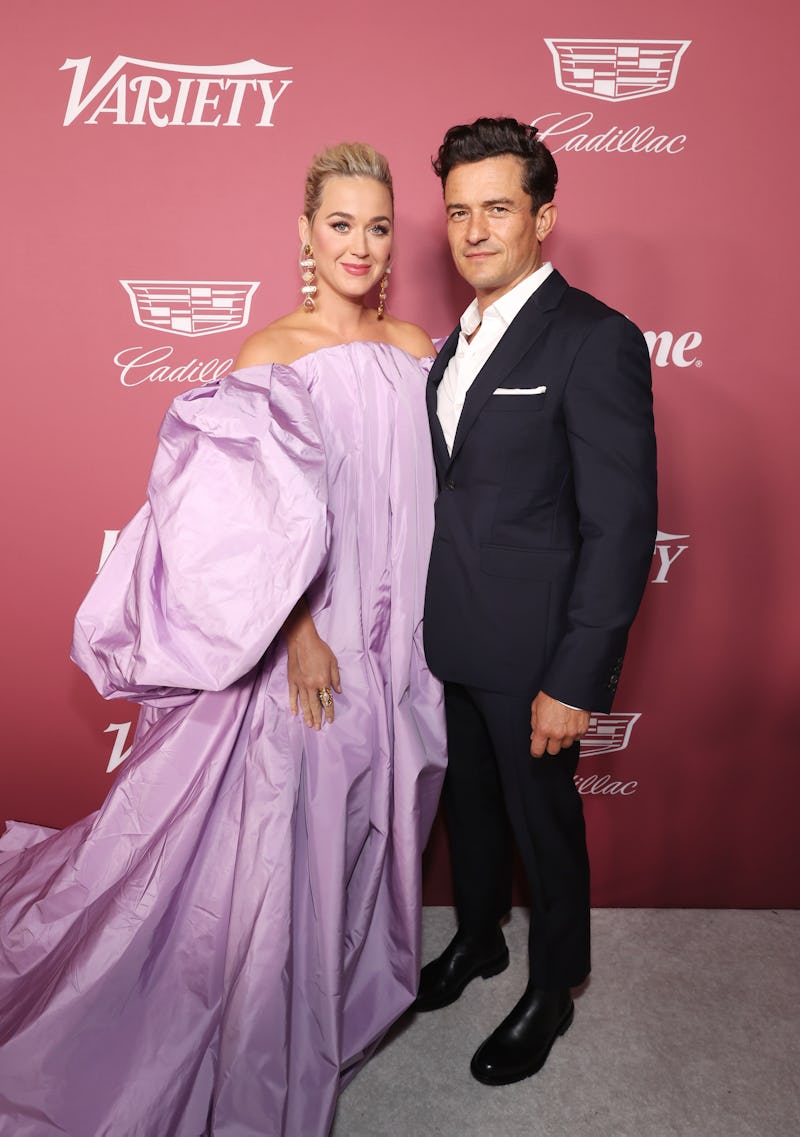 Emma McIntyre/Getty Images Entertainment/Getty Images
Katy Perry and Orlando Bloom have formed one of Hollywood's most glamorous, attractive, and even most-closely-watched relationships, and they've been making it work since 2016. Although some of the finer points of their relationship are definitely unclear — after all, no Hollywood relationship is that cut and dry, and Perry and Bloom only share lighthearted and fun updates, as opposed to serious, very personal ones — it's pretty easy to see how things unfolded.
Throughout the years they've been together, they've split, gotten engaged, postponed a wedding (twice), and welcomed a beautiful baby girl into the world. They've had their ups and downs like any couple, but they've always found their way back to each other.
In an interview with Flaunt magazine, the Carnival Row actor spoke candidly about their relationship. He noted that though they don't agree on everything, they are "both aware of how blessed we are to have uniquely connected in the way that we did at the time that we did."
Ready for a trip back in time? Here's the story of Bloom and Perry.
January 2016: Spotted Together For The First Time
At a Golden Globes after-party, Bloom and Perry were seen dancing and getting close as they chatted through the night. "Katy and Orlando Bloom had a total dance-off — it was the best part of the party," a witness told Us Weekly at the time. "Katy literally dropped to the floor and was waving her booty around, beckoning Orlando."
Later that same month, the actor and the singer went to see a play titled The Absolute Brightness of Leonard Pelkey in Culver City, CA. After the show, they posed for a photo backstage.
April 2016: Attending Coachella Together
After the Golden Globes, things seemed to be going well between the two, because Perry and Bloom continued to be seen together, including an outing to Coachella in the spring. Sources at the music festival even told E! that they seemed cozy at the event.
"They were hugging and with a group of other people," one insider said. "Orlando was behind her and swaying with her to the music. They also were vaping together. They were kissing and very much a couple."
May 2016: Instagram Official
Bloom made his first appearance on Perry's Instagram when she posted a (very dramatic) photo from their trip to the Cannes Film Festival.
Around the same time, Us Weekly shared images of the stars together — but also very much not together — at the 2016 amfAR Gala. While at the celeb-packed event, the two sat very close to one another, but not actually next to each other. The gossip magazine suggested that this was on purpose to avoid rumors spreading, but it could have just been how the seating worked out.
August 2016: A Very Adult Vacation
While on vacation in Sardinia, Italy, Perry and Bloom went paddleboarding out on the ocean, and while she was clad in a fun tube top, the Lord of the Rings star went au naturel. Pictures were quickly published of the actor in the nude, and the fact that they were together cemented their status as an A-list Hollywood couple.
A year later, Bloom opened up about the incident, suggesting that it was never his idea to have such private photos go public. He told British Elle, "It was extremely surprising. I wouldn't have put myself in that position if I'd thought it would happen." He also explained how the whole thing happened, saying, "We'd been completely alone for five days. Nothing around us. There was no way anyone could get anything. So I had a moment of feeling free."
October 2016: Their Incredible Halloween Costume
On their first Halloween as a couple, Bloom and Perry attended Kate Hudson's annual party to celebrate the spookiest day of the year, and they won the night with their awesome getups. Perry employed a face full of prosthetics to make her look just like Hillary Clinton, and she came surrounded by people pretending to be Secret Service agents and even former President Bill Clinton. Bloom followed them around as a hybrid Donald Trump/troll doll.
March 2017: They Take A Break
After more than a year together — and persistent whispers of a breakup — the couples' reps announced in a statement to Entertainment Tonight that they had decided to take a break. "Before rumors or falsifications get out of hand we can confirm that Orlando and Katy are taking respectful, loving space at this time," the statement said.
Perry herself addressed the tabloid fodder on Twitter, saying, "HOW BOUT A NEW WAY OF THINKING FOR 2017⁉️U can still b friends & love ur former partners! No one's a victim or a villain, get a life y'all!😘"
June 2017: Katy Ranks Her Lovers
To promote her then-upcoming album Witness, Perry let cameras follow her for four days straight, with millions tuning in to witness what the singer got up to. At one point, late-night talk show host James Corden stopped by to play some games, including one he likes to showcase on his own program called Spill Your Guts or Fill Your Guts. During the game, Perry was asked to rank her lovers from best to worst, and while she initially tried to avoid getting too intimate, the truth was pulled out of her.
Perry eventually placed Bloom in second place, behind only her former beau John Mayer. While that might not sound too kind, at least he didn't end up in last, like Diplo.
August 2017: Back Together?
Their break didn't seem to last for long, because, by August 2017, the famous couple seemed to be back together again. As Cosmopolitan reported, Perry and Bloom were seen at an Ed Sheeran concert, seemingly signifying the end of their short-lived split. When asked about the reunion later on, the pop singer told Sirius XM's The Morning Mashup, "I think people are in and out of your life. It's nice to keep people you love around you."
January 2018: A Vacation Sparks Rumors
Months after they officially took a break, Perry and Bloom were spotted having lunch in a far-flung vacation spot in the Maldives. Being seen together is one thing, but flying to the other side of the world to do so is another story.
Just weeks after they were seen on a tropical vacation together, a source connected to one or both stars explained that they were "back on" to The Sun. The unnamed person went on to add, "Katy wants to make things work this time around. She tried, but she couldn't cut him off. She cares too much about him. This time, they're keeping things low key — but they're back together."
April 2018: Perry Confirms They're Back Together
In case there was ever any doubt that Perry and Bloom were dating again, the "Thinking of You" songwriter put the rumors to rest when she was asked if she'd ever date an American Idol contestant in an interview with Entertainment Tonight. "I'm sorry I have been spoken for and speak for myself," Perry said. "And I'm very happy!"
That same month, Perry and Bloom jetted off to Vatican City to meet the Pope. The celebs were in town to attend the Unite To Cure event, an international conference focused on finding the cure for cancer.
September 2018: Katy Shares Sweet Instagram PDA
Although they continued to keep their relationship pretty quiet, now and then, Perry and Bloom would make appearances on each other's Instagrams. A fan grabbed this video from her Instagram Story, as the world doesn't want to lose evidence of the singer referring to her boyfriend as a "chocolate chip."
The couple also returned to Europe for another good cause in the early fall, this time raising awareness for environmental issues. They walked the red carpet in Monaco for the Gala for the Global Ocean.
December 2018: Orlando Shares Their Holiday Card
For Christmas 2018, Bloom shared a photo of the couple's holiday card, which included Perry's name, Bloom's son, Flynn, and their pets. Adorable!
February 2019: Katy & Orlando Are Engaged
Bloom and Perry announced their engagement one day after Valentine's (when the star proposed to his musician love) with a photo of her ring (and lots of roses). "Full bloom," she captioned the picture. Later that year in October, Us Weekly reported that they were planning on getting hitched in December 2019, but the month came and went without a wedding. It was later explained that there was a problem with the location they wanted, so they pushed the big day into 2020, but then it was canceled again due to the lockdown.
August 2019: Date Night At The Carnival Row Premiere
Perry joined her boyfriend on the red carpet for the premiere of his Amazon Prime show, Carnival Row. The star of the fantasy program posted a picture of the two posing for photographers and thanked her for not just attending, but supporting him in every way, saying, "What a night. So grateful to share this bright light @katyperry ❤️♠️Makes all the difference having a partner to enjoy the highs, lows and everything in between."
March 2020: A Baby On The Way
As she was rolling out singles from her then-upcoming album Smile, Perry dropped a tune that will always have a special place in her heart. When "Never Worn White" was released, its accompanying music video got the internet talking. In the clip, the chart-topper revealed she was pregnant, doing so in her own colorful way.
April 2020: Katy & Orlando Are Having A Girl
One month after sharing the great news that she was expecting (via music video, no less), Perry updated the world once again. She and her partner clearly held some sort of gender reveal event, and Perry posted a snap on Instagram of Bloom with his face covered in light pink frosting, which was apparently how he found out he was about the become a father to a little girl. Perry captioned the fun picture, simply, "💕 it's a girl 💕." Bloom himself uploaded a short video of the event, complete with his face absolutely covered.
August 2020: Katy & Orlando Welcome Daisy
To announce the birth of their first child together, Perry and Bloom chose a very classy messenger: UNICEF. The nonprofit organization had the honor of sharing the news on its Instagram by stating, "Welcome to the world, Daisy Dove Bloom! We are honoured to introduce Goodwill Ambassadors @KatyPerry and @OrlandoBloom's new bundle of joy."
The new parents also included a message that encouraged people to donate so mothers everywhere can safely give birth.
October 2020: Happy Birthday Katy
Bloom wished his Grammy-nominated girlfriend a happy birthday with a stunning picture of them at the pyramids in Egypt (among others). He kept the caption short and sweet, saying only, "Happy Birthday my love 🎂🎈❤️oh the places we'll go..."
January 2021: They Ring In The New Year Together
Perry and Bloom might be celebrities, but they're just like the rest of us. They ushered in the new year with a fun pic Bloom posted on Instagram.
June 2021: A Blended Family
Bloom has two children—one with Perry and another with his ex-wife Miranda Kerr. His first-born son, Flynn, turned 10 in January 2021, and it looks like he is getting along well with his stepmom-to-be. Bloom uploaded a snap to his Instagram page of him with his son and fiancee walking hand-in-hand.
At some point around June, the pair spent time in Venice, Italy, though it's not entirely clear if the vacation took place in June or at some point before then. Bloom shared pictures of the trip in a photo "dump," with the stars looking pretty laid back throughout the adventure.
July 2021: Louis Vuitton Runway Show
The couple turned up in Paris, France for a dinner and party hosted by Louis Vuitton. The show was attended by other celebrities, such as Joe Jonas and Sophie Turner, and they all danced the night away while Perry sang her megahit "Roar." As they prepared for the evening, Bloom couldn't help but post another candid picture of the two, including one with a kiss.
August 2021: Italian Vacation
Later that summer, Perry and Bloom took a trip to Italy, and from the images shared on the actor's social media, they had a wonderful time together.
September 2021: Another Gala Date Night
Perry and Bloom love a gala! The couple attended the Academy Museum of Motion Pictures Gala, a party thrown to celebrate the opening of the organization's museum, which honors all things connected to the Oscars. They were both sleek and sexy in matching black, with Perry turning things up a notch in what looks like leather.
October 2021: Happy Birthday Katy (Again)!
Just as Perry wished her beau a happy birthday on Instagram, Bloom decided to do the same when her special day rolled around. The Black Hawk Down star captioned the intimate picture of the singer about to blow out her candles with the message, "We do life we do love and it's fun. I'll celebrate you today and everyday. 🎂🥳✨I love you. ❤️ ❤️ ❤️."
January 2022: Happy Birthday Orlando!
As her husband-to-be turned 45, Perry wished him a very public happy birthday on Instagram with a series of pictures and the following super-sweet caption:
"Happiest 45th to the kindest, deepest, most soulful, sexy & strong man I know. thank you for being a constant compass, an unwavering anchor and bringing joi de vivre into every room you walk in. You are the love and light of my life. I thank my lucky stars for you and our darling dd ♥️♠️"
February 2022: Living With Orlando Bloom
During an interview on the radio show Heart Breakfast with Jamie Theakston and Amanda Holden, Perry opened up a bit about living with Bloom. When asked what his worst habit is, she lit up at the opportunity to poke some fun at her fiancé. "He loves to floss, which, thank God, because some partners don't," she answered. That's not necessarily a bad habit, so Perry explained further, adding, "But he leaves the floss everywhere... On my side of the bed, and in the car, and on the kitchen table!"
February 2022: Orlando's Bromance
While in between auditions during the twentieth season of American Idol, it was revealed that Perry might have some competition regarding Bloom's heart, but it's not another woman vying for his attention. "There's a bromance going on," Perry began, before her fellow judge Luke Bryan explained, "Yeah, me and Orlando are slowly falling in love."
Perry then added, "He talks about you now in the car all the time. It's crazy. He's like, 'Luke's such a good guy, isn't he?'" Later on, Bloom even called his love on a video chat, and he ended up speaking to Bryan as well, cementing their bromance.
"Get yourself someone that looks at you the way Orlando looks at Luke," Perry later joked. "I haven't heard from my fiancé all day, but meanwhile, he sends video messages with hearts in his eyes to Luke."
February 2022: More Candid Pics
Bloom enjoys letting his fans in on his life, including his love for Perry. In February 2022, he posted a carousel of images of his time in New York City, including several of his betrothed as she prepared for her Saturday Night Live guest appearance and dinner between the two. He also shared a snap of them kissing on Valentine's, exactly two years after they became engaged.
The two attended the Super Bowl that month, and as is common for them, they shared some pictures from the big game. Then the parents flew to Hawaii for a taping of American Idol, and while Perry was on stage working in front of the camera, Bloom hung around with baby Daisy, who danced to the music playing.
May 2022: Katy Opens Up About Parenting
In an episode of Dear Chelsea with Chelsea Handler, Perry praised Bloom's parenting skills, noting how great he is with Flynn. She also opened up about how she didn't think she was maternal at first, but Bloom makes it look so easy. "I always say when he walks into the room he has this joie de vivre to him and some people ask, 'What is this guy on?'" she said.
"He's just really got this happy, posi vibes and I'm a little bit more heady and prone to depression in some ways — and so it's good for me to be around him because he gets me out of my head a little bit."
August 2022: Katy Wants More Kids
When People asked Perry about having more kids with Bloom, she said she's planning on it. "I'm a planner," she noted. "We'll see." She also gave an update about Daisy. "Daisy is great," Perry gushed. "She is a combination of both me and her father, which we are fearless with lots of chutzpah and just big characters. So the combination of us both is definitely coming out."
February 2023: Orlando Opens Up About Katy
Speaking to Flaunt magazine, Bloom gave fans a closer look at his personal life. He revealed that their relationship isn't perfect, but there's never a dull moment. Bloom explained that they are in "two very different pools." "Her pool is not a pool that I necessarily understand, and I think my pool is not a pool that she necessarily understands," he said. "Sometimes things are really, really, really, challenging. I won't lie."
Adding: "We definitely battle with our emotions and creativity, [but] I think we're both aware of how blessed we are to have uniquely connected in the way that we did at the time that we did, and there's definitely never a dull moment," he said of his "baby mama and life partner."