Wrabel Finds His Rainbow's End At The Intersection Of Religion & Queerness
"I have a rainbow arch painted in my apartment, so it's kind of like Pride all year around over here."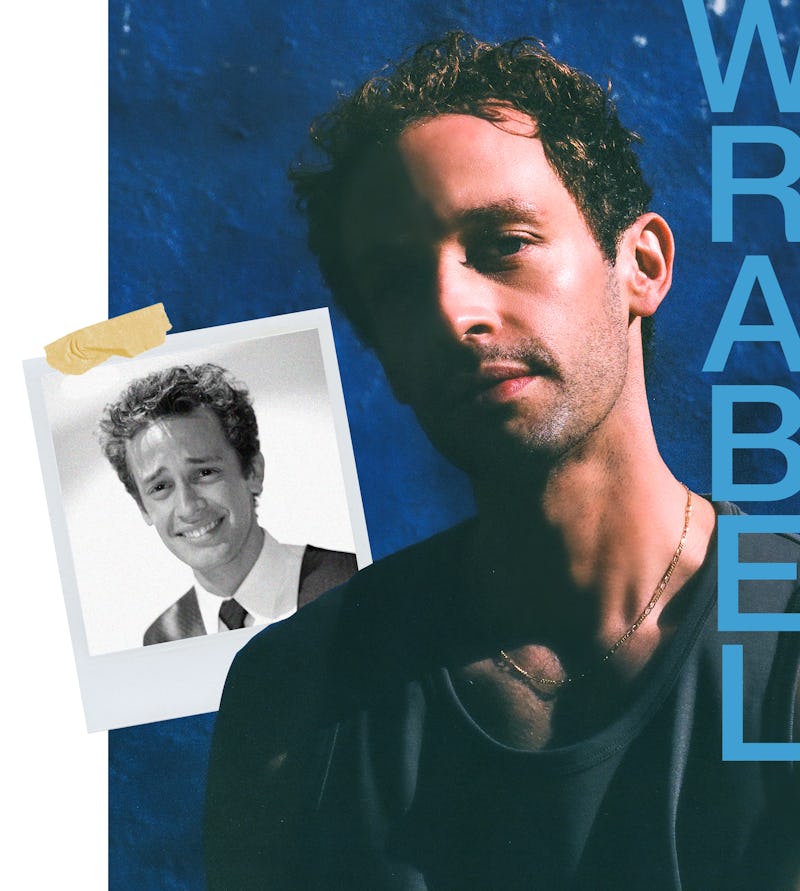 "I find it hard to believe — I actually don't believe that," Wrabel tells Bustle while shaking his head upon learning his music was streamed 83 million times by 14 million listeners in 92 countries on Spotify in 2020. Those numbers are staggering for anyone, let alone an artist who hasn't released his debut album. To achieve this feat, the 32-year-old has racked up streams with singles (like "11 Blocks" and "Ten Feet Tall" ) and several EPs, and he's worked as an in-demand songwriter over the years for Pink, Kesha, Louis Tomlinson, Backstreet Boys, Ben Platt, and other musicians.
Along the way to tens of millions of streams, Wrabel has faced painful setbacks, including leaving two major label deals and walking into rehab twice to get sober. But none of that has deterred him from persevering, which seems to be a running theme in his life. From breakups to industry bullshit to finding his true self while growing up in a religious community, Wrabel has had to fight to find joy and learn to be comfortable with who he is.
I carry my gayness everywhere I go. ... It defines me. It's the lens through which I see the world. It's my capacity to love. It colors everything I do with wonderful Technicolor.
Wrabel's ambitions seem pure. Getting to tour, write songs, and finally release the album he's been honing for a decade (These Words Are All For You due out Sept. 24) and to do so as his authentic self, it's all enough to make him truly happy.
Fans recently got the first taste of that happiness via "Nothing But The Love," the first single from his upcoming album. "I started this song sitting on my couch with my guitar at the end of last year. Listening to the record I felt one very important thing was missing — a love song," Wrabel, born Stephen Wrabel, said when he released the song. "I'm not sure why it's harder to write a happy song than a sad song, even when I'm happy. Hah! Well, I'm in love and I couldn't let this record come out without something that celebrates that."
Below, Wrabel talks about falling in love, accepting himself, having kids, getting married, and being inspired to write "The Village" because of two transgender fans.
Wrabel Q&A
What advice would you give to your 16-year-old self?
Don't do drugs? As cliche as it sounds, I feel like I would just tell him it's going to be OK, even though you have no idea how on earth it's going to be. Whatever it is, it's going to be OK. I felt so alone and so other, and so not normal as so many people do within the LGBTQ community. Some of my best friends in the world, who are like on the straight and narrow as I call it, they still felt that and they still carry that with them. I think I would just tell him you're going to find yourself. You're going to find people who are like you. You'll make it out of the suffocating loud around you.
Where do you see yourself 16 years from now?
At a really basic level I hope I'm still writing songs. I have no idea how to predict the future. There are so many things that I had planned when I moved out to Los Angeles 11 years ago. I thought so many things were gonna happen in a certain way, in a certain order, at a certain time ... and basically none of those things happened in the way that I thought they would. But then all these incredible things happened that I never, ever could have predicted. I try to leave a lot of room for surprise. I hope in 16 years I still carry that. Maybe I hope I have a kid or two or three. I hope I have a wedding ring. That would be fun, but again, I've learned not to try to plan too much.
What are your proudest moments as a member of the LGBTQ+ community?
The first thing that comes to my mind is the day I came out, which was, for me, a really kind of dark day. I came out in a church, so it was a really weird sort of admission. In hindsight, I can see I had broken into this path that I didn't even know existed. That eventually led me to where and who I am now. Some of my proudest moments are something as simple as being on stage somewhere and looking out and seeing people singing along to a song that I wrote. Every time I am astonished, because I thought life was going to be over when I came out. I thought no one would accept me. Then when I came out in my professional life, it was a whole 'nother feeling of like, well, now everyone's going to know that all my songs are gay songs. I am gay. I carry my gayness everywhere I go. When I'm on stage and when people are clapping, I'm like, they're clapping for something I just did! That is kind of crazy. And that was gay! It defines me. It's the lens through which I see the world. It's my capacity to love. It colors everything I do with wonderful Technicolor.
The proudest moments are sometimes really small. Meeting someone at a meet and greet and them saying, "I look up to you," and I'm immediately sobbing because I don't even know how it happened. Going back to that 16-year-old self and being like, "You made it, kid! You're out of the closet, you're in love. You found people that celebrate you and more importantly, you've accepted yourself. You're not scared of what you want to wear or the sound of your voice."
Where and how are you celebrating Pride this year?
My first in-person show is a Pride show at the LA Coliseum, so that feels really cool. I say yes to pretty much anything that has to do with anything LGBTQ, anything to spread awareness, to spread hope, to celebrate. Because I know firsthand what that means to someone. This year it's a mix between some virtual and some in-person stuff to try to lend my voice. I have a rainbow arch painted in my apartment, so it's kind of like Pride all year around over here. God knows what it's gonna look like, but I'm just thankful to be able to see people celebrating pride.
Who inspires you in the LGBTQ+ community?
The first people that come to mind are two people that inspired a song called "The Village" that I wrote. They were these two trans kids that I met outside of a show in Philadelphia on my first tour. I was just struck. They were just themselves in the simplest [ways]. I feel like the people that have inspired me the most didn't try to inspire anyone.
When I came out, I remember being on a flight with one of my managers, and the article came out when Sam Smith came out. I was in my first record deal and I had come out. I remember when they came out, it was like a sigh of relief. I was so proud, even though we've never met, to see someone at that level ... when you see someone doing something you want to do or being someone you want to be, it's really low-key but huge. It's aspirational. With Sam Smith, continuing to come out and continuing to leave that space for surprise and for more information and to find out more and to be willing to share that with the entire world, I think they've been a huge trailblazer. It's visibility. It builds confidence for so many people.
Which LGBTQ+ charity do you love and why?
I've been working with LOVELOUD for a few years. I really adore everyone there. Dan [Reynolds, the frontman of the band Imagine Dragons] is ... I've heard criticisms like, "He's like a straight white man. What's he doing?" First of all, we need that. And second, what other straight white man is pouring their hearts [into this]? I've seen him speak so many times and I've gotten to know him. He's a beautiful man. He said, "I'm a pretty wealthy white, straight man, and I saw something that broke my heart and I wanted to do something about it." God! We need that. To see how he pulls his whole network together is really beautiful.
Dan Reynolds of Imagine Dragons and LOVELOUD.
Alexandre Schneider/Jerod Harris/Getty Images
GLAAD, Human Rights Campaign, The Trevor Project. One that really stands out to me is Encircle, based in Salt Lake City. I met Stephanie [Larsen], the CEO, and she brought me to tears. She's just a mother from the Mormon community and to see when someone doesn't go through something, but takes on that and then they see it and it breaks their heart just as much as it breaks my heart. They build these safe houses throughout the community where kids can go and get resources, get help [for their] mental health.
I grew up in the church. I know what it feels like to have everyone turn away from you and tell you of your eternal damnation. A cause that feels heaviest for me is anything that has to do with religion and queerness, because I've seen firsthand what that does when someone takes the voice of God and uses it against someone. I think to me, that's one of the truest evils in the entire world. I've gotten to meet people that work at the houses and the kids that go there and their parents, just trying to help their kids. It's those moments where I'm like, this is why I make the music, so I can get into this room and talk to these people. This is why I do ... anything.