Pedro Pascal's High School Yearbook Photo Is Going Viral On TikTok
His former classmate's kid shared the photograph of a young Pascal from the '90s.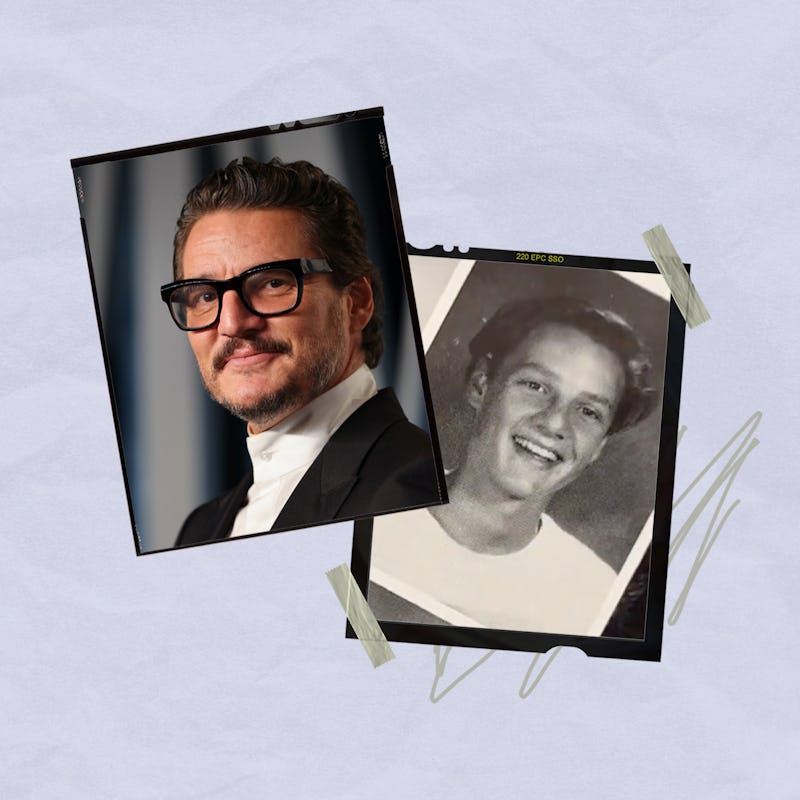 Cindy Ord/VF23/Getty Images for Vanity Fair/@bellsontour TikTok
Pedro Pascal TikTok content is the gift that keeps on giving. The latest of his viral moments — which include him in a car with Nicolas Cage, his coffee order, and his "Twink" era — is his high school yearbook photo. TikTok user @bellsontour shared a video captioned, "Every time I remember my mom was friends with Pedro in high school." Pascal went to the Orange County School Of The Arts and graduated in 1993. The video, which has more than 3 million likes, features the yearbook photo of The Last Of Us and The Mandalorian star and a lengthy note Pascal wrote to @bellsontour's mom.
An arrow points to Pascal's note, stating "Keep this!!" Fans are happy that she did. In the yearbook note, Pascal asks the TikToker's mom: "Promise you won't forget me and you'll be my first date to the Academy Awards." As if anyone could forget meeting the internet's "cool slutty daddy." A screenshot of a text from @bellsontour's mom also shows a handwritten graduation card message. It's safe to say that he seemed pretty invested in her.
Fans were obsessed with this revelation. "Bro was manifesting sense high-school!! 'Keep This' he knew he was gonna be THE Pedro Pascal" one user commented. "he coulda been your dad, but he'll always be our Daddy," another user chimed in. "If anyone wrote me that, I'd cry, much less Pedro Pascal himself," a third said.
Some people also want them to reunite, asking if they kept in touch, and are now calling for Pascal to take her to the Academy Awards. "He kinda seems down bad for her — did they keep in touch?!?" one fan asked. "HOW DO WE REUNITE THEM," another wrote.
On March 17, @bellsontour shared a photo of young Pascal and her mom.
Pascal's TikTok popularity is undeniable — videos with him tagged have attracted 9 billion views.