This Pedro Pascal & Nicolas Cage Trend Is Going Viral On TikTok
Cage reacted to the TikTok trend in the most Nicolas Cage way.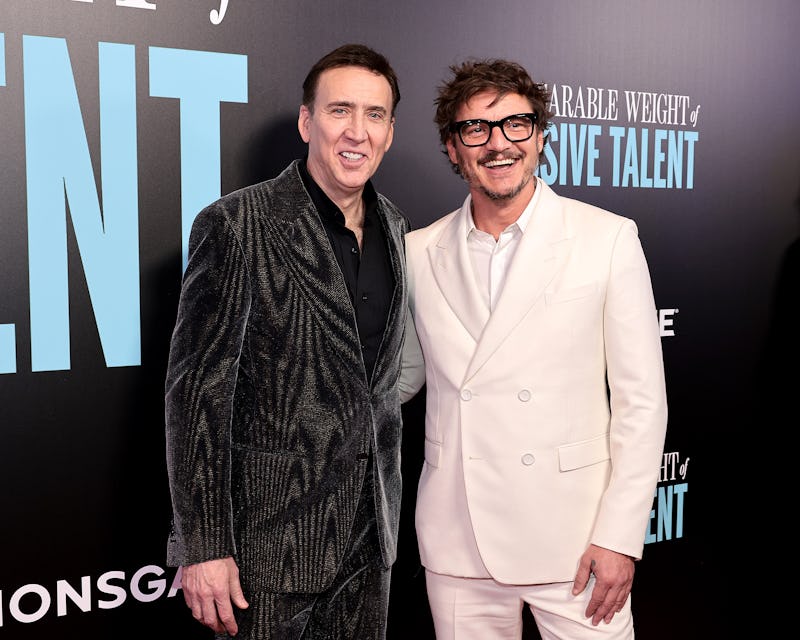 Jamie McCarthy/WireImage/Getty Images
The latest TikTok trend features everyone's favorite Zaddy — Pedro Pascal. A clip of the Mandalorian star and Nicolas Cage in the their movie The Unbearable Weight Of Massive Talent has become a wholesome 2023 meme format, and everyone can't stop using it. In the 2022 film, Cage plays a fictionalized version of himself who realizes he is an obsolete actor. Pascal's character is an unconventional billionaire and Cage super fan who offers the actor an absurd amount of money to show up at his birthday party. Rotten Tomatoes concluded that the movie showed Cage "in peak gonzo form" and was "matched by Pedro Pascal's scene-stealing performance."
Cage and self-described "cool slutty daddy" Pascal cruise together in a convertible in one scene set to Mama Cass' upbeat "Make Your Own Kind Of Music." In the now-viral clip, a concerned Cage glances at a carefree, albeit goofy, Pascal. The internet lost its collective mind at this trend once it picked up steam, especially while fans are still obsessing over Pascal in HBO's The Last Of Us.
The trend has reached so many people including Cage, who self-describes as "not really online." In a TikTok shared on March 6, the Oscar winner reacted to the meme during what appears to be a red-carpet interview. "I have no understanding of that, that world — viral. I'm not really online, but I've heard about it. I heard there's something that's happening on, well I guess, what was it, was it TikTok or something?"
He added that he doesn't understand it, but is happy to see that it makes people happy. "Pedro's a great actor. We had a lot of fun together so I'm happy it's making people happy."
Aptly called the "Pedro Pascal Car Trend," it can be used for many situations. The sound on TikTok is in more than 21,000 videos as of March 1, and many of the recent clips are of Cage and Pascal. One thing is certain: The internet can't get enough of Pascal's latest viral trend. "I don't care what the text says on these videos Pedro Pascal's face is priceless," one person commented on a video. "THE CLIP JUST KEEPS GETTING BETTER AND BETTER," another chimed in. "I can't handle that look on Pedro Pascal's face lmfao" a third wrote. Same.
Some of the memes became rather meta, referencing Pascal's popularity and his projects like The Last Of Us and The Mandalorian.
Basically, everyone is just scrolling on Pedro PascalTok until further notice.
Pascal famously confirmed that he looks at Instagram accounts focused on him "being a heartthrob" when he's "feeling down," so it's only a matter of time until he comments on this one and adds it to his social media rotation.