Zach & Kaity Reveal The Bachelor Fantasy Suites Moment You Didn't See
"I wish they showed some of it."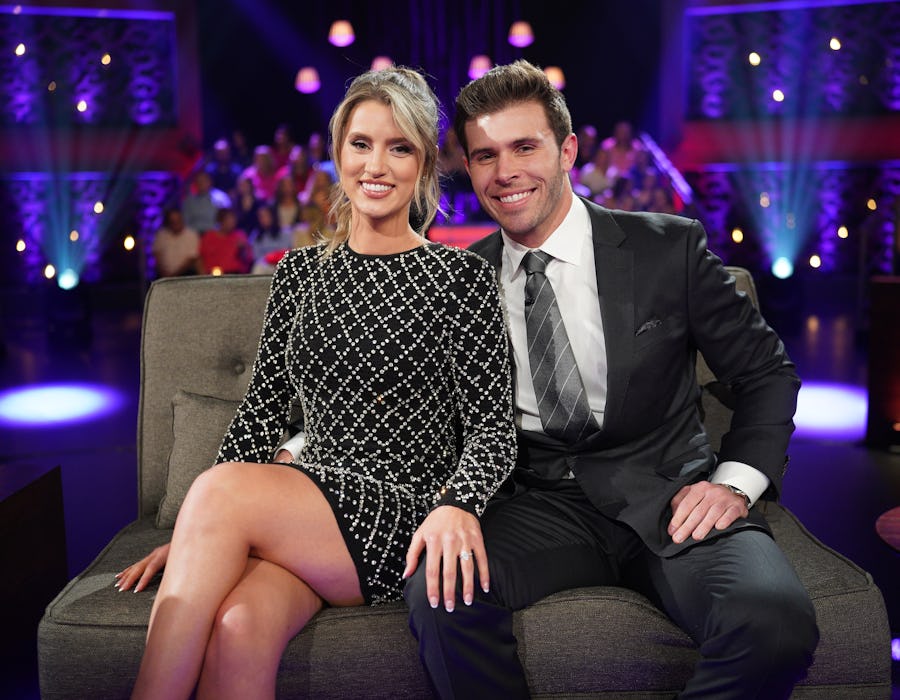 Christopher Willard/Disney General Entertainment Content/Getty Images
Zach Shallcross and Kaity Biggar got engaged during the March 27 Bachelor finale, making them the first couple to do so in three years. After navigating the emotional fallout from Fantasy Suites with Gabi Elnicki, Zach proposed to Kaity on the shores of Thailand. "You're the face that I want to wake up to every morning," he said. "I want to go through life with you and only you. Kaity, I want to be with you forever." The two shared a kiss before Kaity accepted the teary proposal.
On After the Final Rose, Zach and Kaity confirmed that they're still engaged and plan to move in together this summer. They are also eyeing a 2025 wedding date. But until then, the couple is reflecting on and moving forward from their Bachelor journey.
Below, Zach and Kaity share what you didn't see during their Fantasy Suite date — and what they were surprised to learn about each other after filming wrapped.
Kaity, the nature of the show centers on Zach and who he gives his roses to. But you're making a big commitment, too. Was there a moment where you started thinking, Oh, this is getting serious?
Kaity: Hometowns, when Zach met my family. That's when it really sunk in. I was like, I am falling in love with this man. I can see him being the father of my kids. It was in that moment when my mom was saying how amazing she thought he was, it validated everything I was feeling. But there were a lot of good moments, some that weren't even shown on TV.
Was there something in particular that you look back on?
Kaity: It was the Fantasy Suite morning. And that was my birthday. So I woke up, and Zach brought in this chocolate cake. We had it in bed, and it was filmed. I wish they showed some of it.
Zach: We were smearing chocolate all over.
Kaity: I'm such a goofy person that I loved that moment, even though I looked disgusting. It was just so real. I don't even know if I told you that.
Zach: No, I remember. I loved it. I remember us jumping on the bed when we first got to the room.
Zach, you've joked about the face you make when you're not feeling a conversation — but it feels like every time you talked to Kaity, you beamed. Watching the show back, does it seem more obvious that you'd end up here?
Zach: I think [it's] my body language with her — I feel it now, and I'm more cognizant of it. Every picture we take, I'm like, Holy crap, my grin is massive right now. My family has even made comments about it. Everyone sees it: I feel better around her. I'm so drawn to her. It's a pretty great feeling.
What have you been surprised to learn about each other?
Kaity: He does amazing impressions. We were actually in the Fantasy Suite when all his impressions came out.
Zach: But they were people we both know — so it would be very bad if I did them.
Kaity: Even your uncle [Patrick Warburton].
I have to hear this.
Zach: "Kuzco, the poison for Kuzco. Riiight." [Ed note: it was spot-on.]
As for Kaity, I learned so many things. Even [on] the Happy Couple visits that we'd get. She's an excellent cook. We've had a few meals together. She makes this amazing salmon and quinoa dish that initially doesn't sound too good — I was a little skeptical. I'm a cheeseburger guy. But we had this salmon quinoa she made, and I fell in love with it. It's also her favorite meal, but I think she gets sick of it. Then I learned that she hates spicy food. [And] she's not the best morning person sometimes.
Kaity: Steer clear of me in the morning. The horns come out.
This interview has been edited and condensed for clarity.