Are Zach & Kaity Still Together After The Bachelor?
The couple's fate was revealed during After the Final Rose on March 27.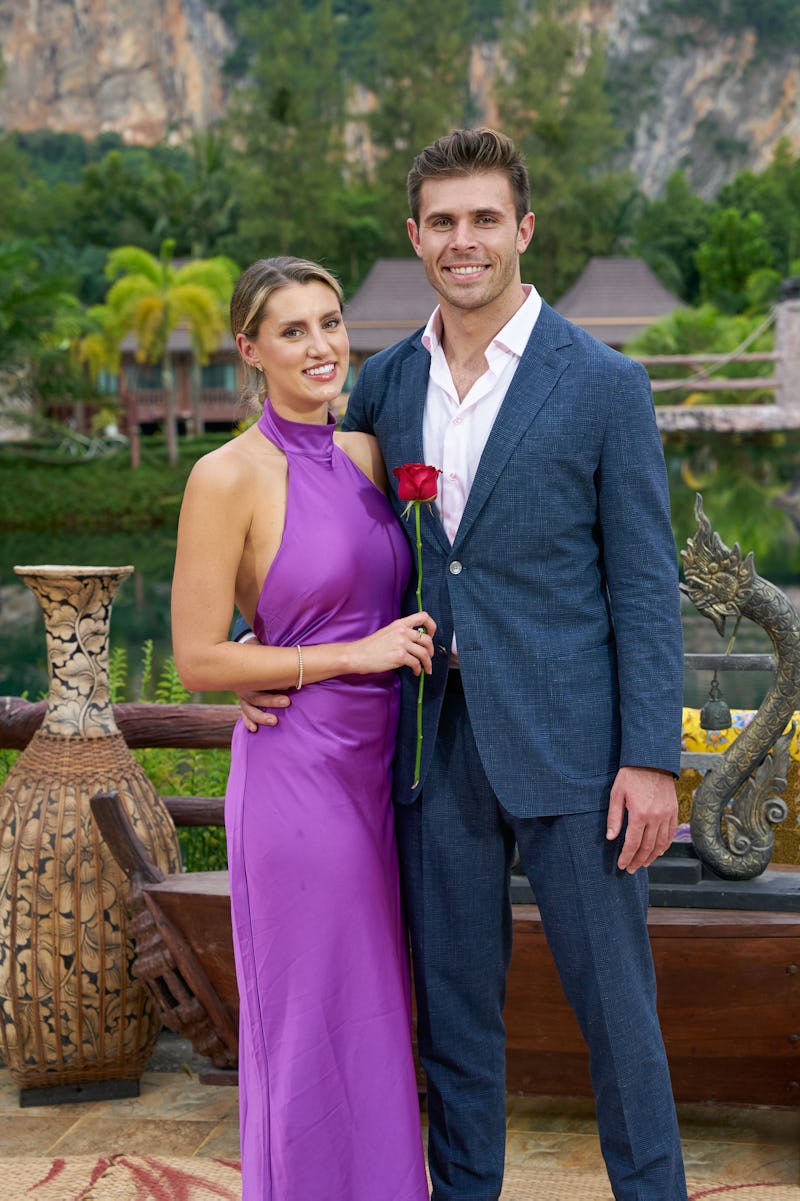 ABC/Craig Sjodin
After several years of unconventional Bachelor finales, the March 27 finale to Zach Shallcross' season ended with a final rose and a ring. Zach and Kaity Biggar got engaged in Thailand, proving they were able to move past the mess that was Zach's "no sex" fiasco. "You're the face that I want to wake up to every morning," Zach told Kaity in his beachfront proposal. "I want to go through life with you and only you. Kaity, I want to be with you forever."
If you're one for spoilers (or are just really good at predicting these things), it's probably not too surprising that Zach and Kaity ended up together. They had a solid, drama-free journey that included an early overnight, a COVID care basket, and a hometown date where Kaity asked for Zach's help with errands and building furniture — her way to signal she was ready to move in together after the show.
Of course, filming wrapped four months ago. And things are known to change in that period. So, are Zach and Kaity still together after The Bachelor?
There was actually a good sign about Zach and Kaity's relationship status as recently as this month — and it took a bit of sleuthing from Redditor u/Lost_Cauliflower6944 to figure it out. As the user pointed out, Zach posted a photo of Terry Black's Barbecue in Austin to his Instagram story, describing it as the "best BBQ no question." Pretty innocuous, right? Except Kaity praised the same restaurant just days before during her Click Bait interview. While by no means a confirmation, this coincidence got to u/Lost_Cauliflower6944 "wondering if it [was] a small hint."
Accidental or not, the clue seemed to confirm what many fans were predicting (and hoping): that indeed, Zach and Kaity are still together after The Bachelor. They plan to move in together this summer, they revealed during After the Final Rose, and Kaity even joked that they'd need a place with an outdoor shower to accommodate Zach's frequent showers, as seen in virtually every episode of his season. "They're ridiculous," she joked. "One too many times was that shown."
As for wedding planning? The Bachelor process was so "accelerated," Zach explained, that they haven't been in a rush to figure out those details just yet. However, he shared that they were planning on having a 2025 ceremony — and would think about kids after that.