15 Ways To Support A Partner With Depression That Are Actually Helpful
Being there for them can be invaluable.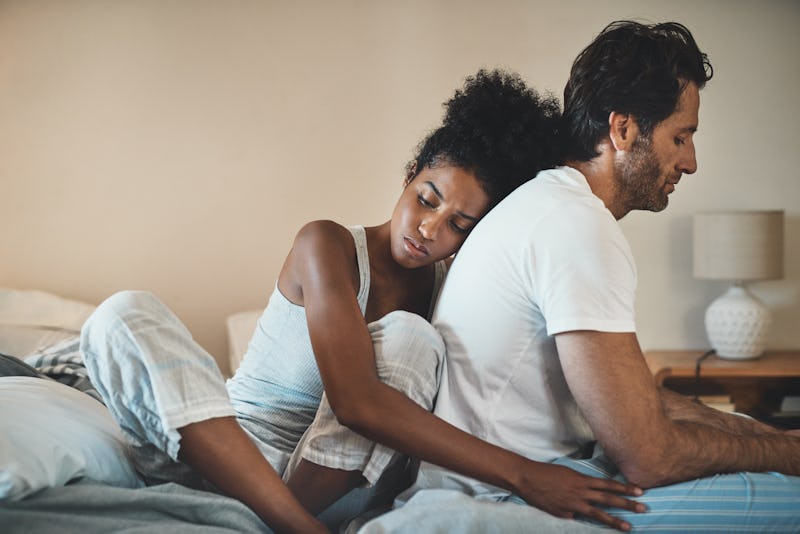 PeopleImages/E+/Getty Images
It isn't easy to figure out when to step in when a partner is depressed. If they're sleeping all day, pushing you away, or shutting down, you'll probably feel a bit helpless yourself — even though you really want to make them feel better. To say it's a tough situation for all involved is an understatement, and yet it's one that countless couples encounter every day.
Depression impacts about 16.2 million adults in the US, and while there are many different types — and it always manifests differently person to person — symptoms often include loss of energy, lack of interest in activities, hopelessness, guilt, and anger, which in turn means your partner will likely struggle to function on a daily basis.
It can be complicated, stressful, and scary. But you can help, in some small way, by being there for them. "Social support is important to emotional well-being," Marla Deibler, PsyD, a licensed clinical psychologist, tells Bustle. And this is particularly true for those with depression, she says. Being there for your partner, even if it's simply as a shoulder to cry on, is invaluable.
That said, you aren't their therapist, and you shouldn't feel like you have to be. It's important to know your limitations, and to continue taking good care of yourself. But if your partner is going through something difficult like depression, you can certainly find ways to make their life a little bit easier by being supportive, advocating for them, and lending a hand. Here are 15 ways to help, according to experts.
Sources:
Marla Deibler, PsyD, licensed clinical psychologist
Dr. Jessica, licensed psychologist
Dr. Patrice N. Douglas, LMFT, licensed marriage and family therapist
Ritu Reimer, MA, LPC, therapist
Stephanie Crane, LMSW, clinical social worker
Megan E. Johnson, PhD, psychological assistant
Marla Deibler, PsyD, licensed clinical psychologist
Dr. Kimberly Ciardella, LMFT, licensed marriage and family therapist
Laura Fonseca, LCSW, licensed clinical social worker
Laura Fonseca, LCSW, licensed clinical social worker
This article was originally published on