Here's How To See Who's Viewed Your Instagram Story
Plus, how to edit your settings after you've posted.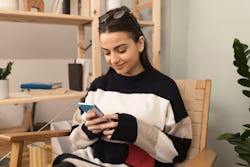 Olelole/E+/Getty Images
So, you accidentally posted that hot take meant for your Close Friends on your main Instagram story. Or maybe you're wishing that you'd saved that candid you took on your hot girl walk for your next on-the-grid photo dump. Though Instagram stories' 24-hour shelf-life can make for a pretty liberating posting experience, that's still a pretty large window of time when it comes to unwanted viewers happening upon your story — especially if you have a public profile or have lots of followers. Luckily, whether you posted a story that you regret and are doing damage control — or you posted a killer story and are wondering whether a certain someone has seen it yet — Instagram allows users to see exactly who has viewed their story.
Once your Instagram story is up and going, you'll begin collecting views over the next 24 hours that it's available. Unlike a video posted to your Feed or to Reels, which will show you a total view count, but not the names of the individuals who have viewed each one, Instagram stories lets you see exactly who has taken a look. And, what's more, you can even edit their viewing settings once they've watched your story (or from your Settings) if you don't need your boss monitoring your off-the-clock activity, or you're tired of getting story replies from that random high school acquaintance.
How To See Who's Viewed Your Instagram Story
According to the Instagram Help Center, you can check out who's looked at your Instagram story by simply going to your story — you can do so by clicking your icon at the top left of your feed — and swiping up. Next to an eyeball image, Instagram will give you a count of just how many people have witnessed your creation. Below that, you can scroll down to see who exactly has viewed it. As the Help Center notes, you're the only one who can see who's viewed your story.
According to The Independent, Instagram ranks viewers according to your engagement with them. So, users whose profile you view often will usually be listed towards the top of your viewers. (Which is to say, if you've been creeping on your crush pretty often, you won't have to scroll too far down your viewer list to check if they've seen your sunset story.)
Thanks to a recent update from Instagram, you can now also receive private likes on your Instagram story — which can be viewed only by you within your viewers list. You'll see which of your story viewers liked it if a heart icon shows up next to their name in the viewer sheet.
Can Someone See If You View Their Instagram Story?
Of course, if you can see who views your Instagram story, other people can see that you've viewed theirs. For many reasons, you might want to see someone's story without them knowing. (Think: Maintaining that elusive sense of coyness with your new crush.) Instagram doesn't allow users to remain invisible while viewing stories. However, troubleshooting tips like viewing on airplane mode can keep you from blowing your cover.
How To Change Who Can See Your Instagram Stories
Bonus: Instagram also provides curated options regarding who can even see your stories to begin with. After you've created your Instagram story, you click on the story itself, and swipe up to view who's seen it. Once you find the username of the person you'd like to hide the story from, you click the three horizontal dots located just to the right of their name. From there, as the Instagram Help Center explains, you can select "Hide Story From [Username]." Hiding your story from a user is not the same thing as blocking them entirely — it just means that they will be unable to view this specific type of content on your profile. (FYI: Though Instagram doesn't allow people to see if you've hidden your story from them, there are a few hacks people can use to deduce that you've given them the boot.)
Another option, the Instagram Help Center explains, is to automatically prevent certain people from seeing your stories. You can do this by selecting the three-line icon on your profile, clicking on "Settings," and tapping "Privacy," then "Story." From there you can tap on whoever you'd like to hide your story from and finally select "Done." This way, all of your future stories will be hidden from the selected users until you go back into Settings and change them.
If a certain someone's non-stop posting has you wishing they would hide you from their stories, you can always mute someone's stories. To do so, wait for the next time they post a story and hold down their profile picture in your story feed at the top of your home screen. An option will come up to Mute, then select Mute stories.
How To See If Close Friends Viewed Your Instagram Story
As of November 2018, you can also choose to only share Instagram stories with your Close Friends. To make the list, click on the three horizontal lines at the top right of your profile, select "Close Friends," and get started. From then on, your Close Friends' profile pictures will have a green star next to them. And when you post a story only to your Close Friends, they'll see a green ring around your profile photo as opposed to the usual purple and orange ring. By posting to Close Friends, you control who can see your Instagram stories — e.g., only people you actually consider close friends.
Why Can't You See How Many People Viewed Your Instagram Story?
You may have noticed that you were not able to see the amount of views your story got during the 2021 holiday season. According to Elite Daily, this was a technical bug that is now resolved. However, your worries should be set to rest now — as of Jan. 4, your Instagram should've gone back to normal, and all users should now be able to see how many views each of their Instagram stories got.
Though there's currently no way to know how many times someone has played your story back, you might be surprised by who is not-so-secretly checking out your Instagram story.
Additional reporting by Siena Gagliano
This article was originally published on