7 Things Air Signs Will Do When They're Crushing On You
When it comes to relationships, Air signs are rarely sentimental.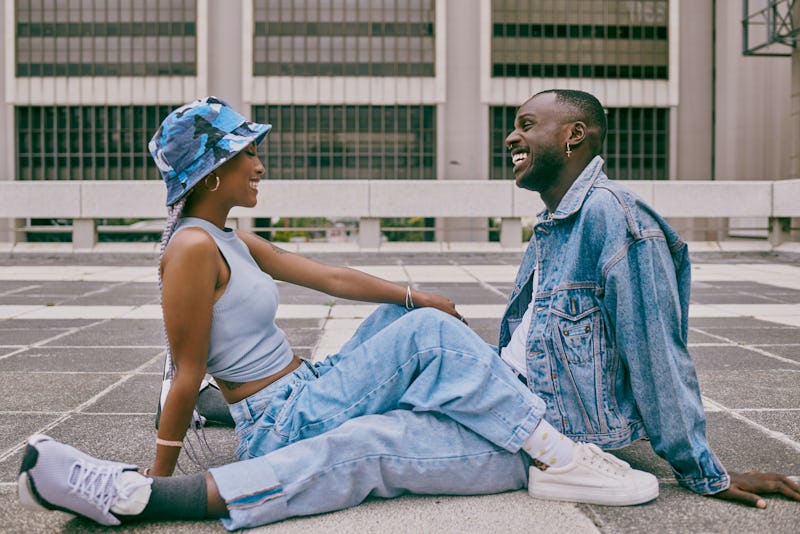 Delmaine Donson/E+/Getty Images
Air signs are known for being intellectual, analytical, and full of exciting ideas. But when it comes to love and romance, they tend to be pretty aloof. They're very sociable, open-minded, and have no problem making new friends. When you're into an Air sign like Gemini, Libra, or Aquarius, it may be hard to tell if they feel the same way or see you as just a friend. So, if you want to know whether or not an Air sign likes you, there are a few signs you should look out for.
"In general, Air signs are the sapiosexuals of the zodiac," astrologer Clarisse Monahan tells Bustle. "They get turned on by a clever turn of phrase or a philosophical argument that juts in bold new directions. A sly reference to biopower or the multiverse is like catnip to them." Intellectual compatibility is key here. If you can stimulate an Air sign's mind, you will pique their interest.
When it comes to relationships, Air signs are rarely sentimental. In fact, astrologer Tiffani Purdy tells Bustle that Air signs tend to be the least emotional among the zodiac signs. They won't always go out of their way to do nice things for you as an Earth sign would. Unlike Fire signs, Air signs aren't really into grand romantic gestures, and you likely won't get any emotional declarations of love as you would with a Water sign. But an Air sign will express their feelings for you in their own special way.
Here are some things an air sign will do when they like you, according to astrologers.
Sources
Clarisse Monahan, astrologer
Tiffani Purdy, astrologer
Olga Verk, astrologer
Brittany Goss, astrologer
Kathy Biehl, astrologer
Suzie Kerr Wright, astrologer
This article was originally published on