7 Ways Understanding Your Zodiac Sign's Element Can Affect Your Horoscope
You probably have more in common with the other zodiac signs than you think.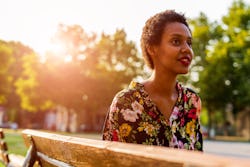 Westend61/Westend61/Getty Images
We all love finding out more about our zodiac signs, but there is so much more to astrology than just reading your horoscope for the day. Knowing the ins and outs of your Sun sign is great, but there are lots of reasons why you should pay attention to the element of each zodiac sign, too — particularly when it comes to better understanding your own personality, as well as the connections between the signs in the zodiac. So before you dive into reading your own birth chart or learning all about your Moon sign, it can be helpful to understand the ways your zodiac sign's element affects your life, as it'll give you a deeper understanding of astrology on the whole.
While there are 12 unique zodiac signs, each with their own qualities and traits, they're broken down into different categories. Firstly, the signs are divided into two polarities (masculine and feminine), and then they're broken down into three astrological modalities, which are cardinal, fixed, and mutable. Lastly (and perhaps most importantly), they're broken down into four groups of elements in astrology, and those are fire, earth, air, and water.
Leo, Aries, and Sagittarius are the fire signs who carry their passion and drive with them everywhere they go. Meanwhile, air signs Gemini, Aquarius, and Libra propel the world forward using their intellect and mental prowess. Water signs Scorpio, Pisces, and Cancer keep people in touch with their emotions by feeling all of their feelings, all the time. And the earth signs Virgo, Capricorn, and Taurus remind us all to stay grounded and embrace practicality, even when it's difficult. The signs and their corresponding elements work in perfect synchronicity with each other to teach us these lessons — and you can use the elements as a nice shorthand for grouping these lessons into categories that make astrology less confusing.
Read on to discover some unexpected ways that paying attention to the element of your zodiac sign can benefit you:
This article was originally published on