Experts Say Every Friendship Should Have These 9 Boundaries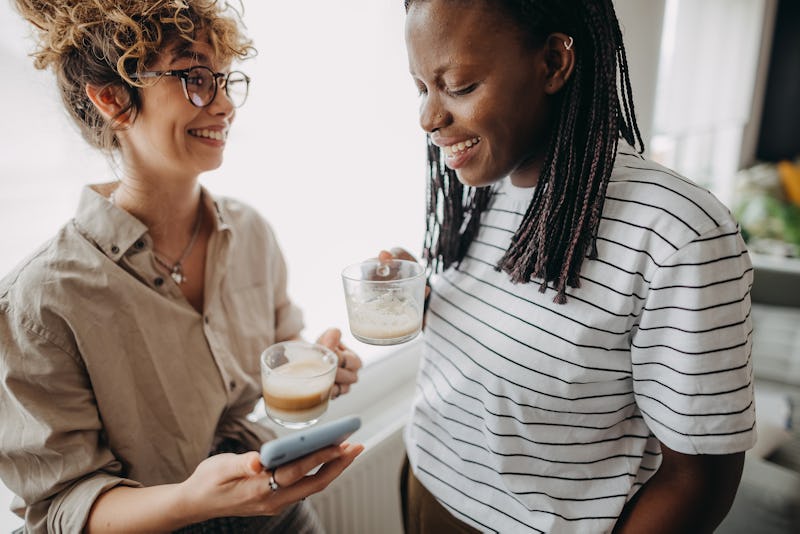 eclipse_images/E+/Getty Images
When it comes to friendships, although you may think they can sustain themselves naturally, there are still boundaries that apply. At least, there should be. Just like with any relationship, boundaries in friendships help both people keep their relationship healthy and intact. Once it feels off-balance to either person, it may unravel.
"Boundary-setting is massively important in relationships," Kailee Place, a therapist at her private practice Shifting Tides Therapeutic Solutions in Charleston SC, tells Bustle. "Not only are boundaries helpful for your own needs, but they're also helpful for others to know how to best connect and interact with you." She says that in friendships, people share so much of themselves and expect support and help from one another; however, even though sometimes it's doable, other times, it's not. So, that's where boundaries come into play.
"Without boundaries, it is difficult to trust others, to take care of yourself, and to make sure the relationship is mutually beneficial. Boundaries allow us to maintain our relationships long term," adds Amanda White, licensed therapist and founder of Therapy for Women. "Boundaries are the glue that hold all relationships together and friendships are no exception."
If you're wondering what types of boundaries you should have in your friendships, below, experts weigh in. And, the good thing is, it's not too late to start applying the boundaries now.
The Qualities Of A Good Friend...
According to White, these are some of the qualities a good friend should possess:
They are able to be honest with you and also are open to feedback so you can be honest with them.
They have healthy communication skills and can talk through disagreements.
They support you in your goals, even if this is not something they personally want for themselves.
They recognize that your friendship is a reciprocal relationship so even if the relationship is not always 50/50 and you go through times of the friendship being uneven, there is equality.
"I would boil the eight characteristics down to: trust, self-expression, autonomy, equality, communication, respect, support, and honesty," says White. However, this does not mean that these are the only good qualities, nor does it mean that a "good" friend has to check each box, these bullets are just a good point of reference.
However, Sometimes, You & A Friend May Need To Break Up...
If all else fails, sometimes you and a friend need to break up, which is never easy. "Sometimes, putting in place boundaries can help create healthier friendships, but sometimes, despite all efforts, nothing changes," Bennett says. "If you have a friend that continuously disrespects your boundaries, then it may be time to draw a line and decide to let that friendship go."
"As a general rule of thumb, when the negative aspects of the friendship outweigh the positive aspects. For example, if more often than not, you are upset and in conflict with this person than enjoying their company, it may not be a healthy relationship," says White. "Rather than immediately cutting someone off or ending the friendship, try to have an honest conversation with your friend about what isn't working for you in the relationship. You may need to set boundaries. However, if after talking about things, you both are not able to make the relationship work, you have a right to walk away."
This article was originally published on