7 Signs Your Friend Is Trying To Break Up With You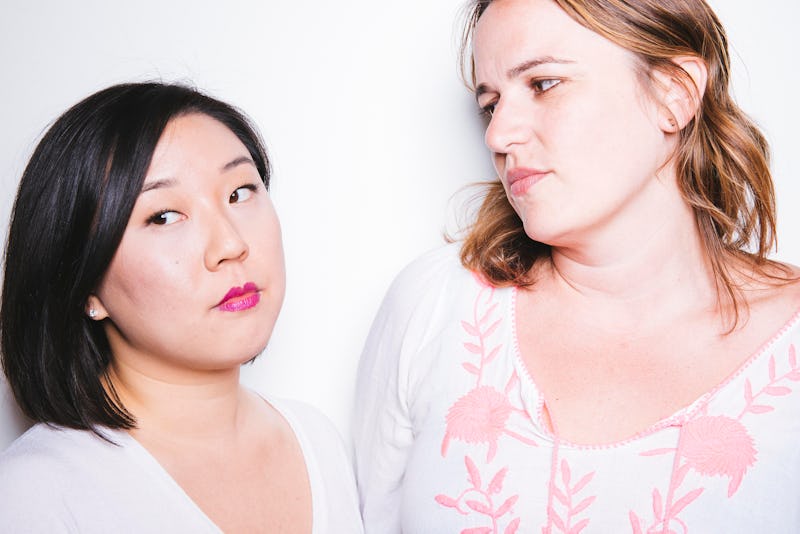 BDG Media, Inc.
We often view friendships as bonds that'll last a lifetime. But unfortunately, that doesn't always end up being the case. If the relationship has run its course, or something's come between you and your bestie, you may start to notice signs that your friend is pulling away — or possibly even trying to "break up" with you.
"Friends 'break up' for many reasons," Jonathan Bennett, certified counselor and co-founder of Double Trust Dating and Relationships, tells Bustle. "It could be that one or both of you has outgrown the relationship. In many cases, friendships end because of new romantic relationships or other life events, like having children or getting a new job." So really, the process of a friendship running its course — and eventually ending — is completely natural.
That's not to say, however, that you shouldn't make an effort to rekindle a waning friendship, and draw yourselves back together. "In general, I'd recommend doing your best to save valued friendships that might be in danger of ending," Bennett says. "You can do this by giving more time and attention to your friend and through communication. However, in many cases, your friend will have simply moved on. At that point, the best course of action is to accept reality and attempt to meet people who embrace your current values and who hopefully will be more loyal." Here are a few signs from the experts that it may be time to do just that.