9 Ways To Celebrate Women's Equality Day
Including one Emma Watson-inspired idea.
by Bustle Editors and JR Thorpe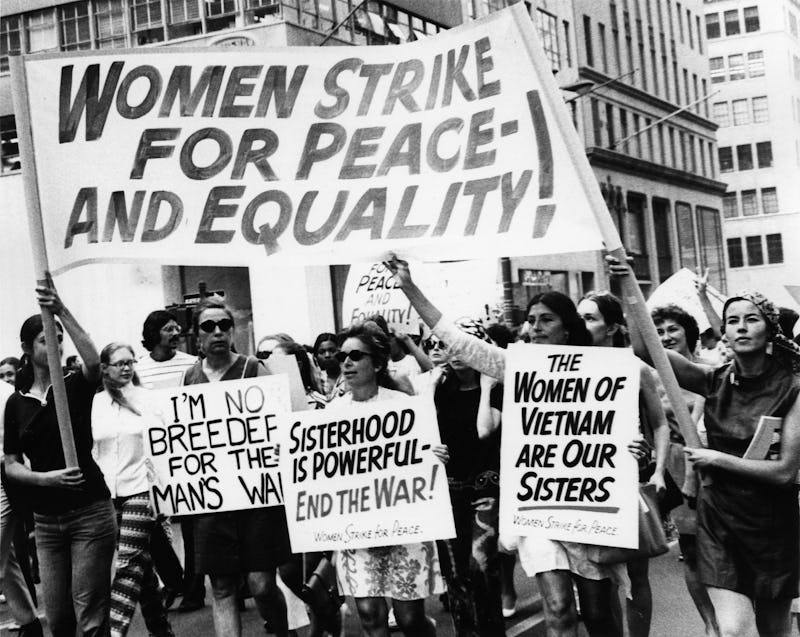 The New York Historical Society/Archive Photos/Getty Images
Late August may mean that summer's nearly over, but come Aug. 26, it's also Women's Equality Day. In 1971, Congress formally commemorated the anniversary of the certification of the 19th Amendment, which gave women the right the vote in 1920. According to Congress' joint resolution, Women's Equality Day celebrates both the certification of the 19th Amendment, and 1970's Women's Strike for Equality, a nationwide demonstration that drew 50,000 people in New York alone.
Planning a Women's Equality Day event requires dealing with some difficult truths about women's rights. It's worth noting that what became the 19th Amendment was first introduced in 1878. (Yep, 42 years of dragging their feet; thanks, government!) While the 19th Amendment technically gave all women the right to vote, in practice that meant white women only: Black and brown women in the South were barred from voting because of Jim Crow laws, and didn't have their voting rights guaranteed until the 1965 passage of the Voting Rights Act. And the fight for equal voting access for all American women is far from over.
Celebrating Women's Equality Day isn't just about championing victories. It's also about looking at how far there is to go, and putting energy into making the future better for women everywhere. Here are nine productive Women's Equality Day celebration ideas.
Experts:
Molly Murphy MacGregor, executive director and Cofounder of the National Women's History Project
Rebecca Kling, advocate for the National Center for Transgender Equality
This article was originally published on