If You Ask Siri "What Should I Be For Halloween," You'll Get A Hilarious Response
She's, uh, got some thoughts for you.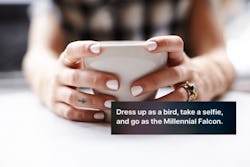 Bustle
If you're the kind of person who takes Halloween very, very seriously, odds are you're already starting to brainstorm ideas for this year's costume. But what if you find that you're strangely uninspired? What if you've made it a point to outdo yourself with each passing year and finally feel like you've reached a point where you can't possibly top what you've already done? Here's an idea: Ask Siri, "What should I be for Halloween?" She's, uh, got some thoughts for you — and they're both witty and hilarious. Well played, Siri. Well played, indeed.
In the years since her debut, Apple's virtual assistant has become well-known for her hidden talents and skills: She can tell knock-knock jokes; she can identify any planes flying overhead for you; she'll sass you something fierce if you ask her what zero divided by zero is; she can even beatbox, although don't expect her to have a deep and intimate understanding of rhythm and funk. (She's still stuck on the "boots and cats" lesson.) Indeed, she's got so many Easter eggs built into her programming that I don't think anywhere near all of them have been uncovered yet — and we tend to forget them periodically, too, depending on how long it's been since we last encountered them.
That seems to be the case with the Halloween costume suggestion function. After seeing this particular Easter egg pop up on my Facebook feed over and over again this past weekend, I'd assumed that it was new for 2018; it turns out, though, that it's actually been around since 2015, making this year the virtual assistant's fifth Halloween on disguise brainstorming duty. Given some of her more topical suggestions, it appears new costume ideas are added to Siri's database every year.
What kinds of costumes does Siri suggest? I mean, lots — but she seems to be particularly fond of clever and/or punny ideas: Of the 19 suggestions below, most of them require some light mental gymnastics to understand. When you get them, though, you get them — and to be fair, most of them made me laugh out loud. Literally. I actually guffawed loud enough to startle my sleeping cat.
Here is a small selection of the kinds of costumes Siri might suggest you be this year for Halloween, should you ask her for her honest opinion:
This article was originally published on