The 9 Best Bath Towels On Amazon
Upgrade your towel for a more luxurious bathroom.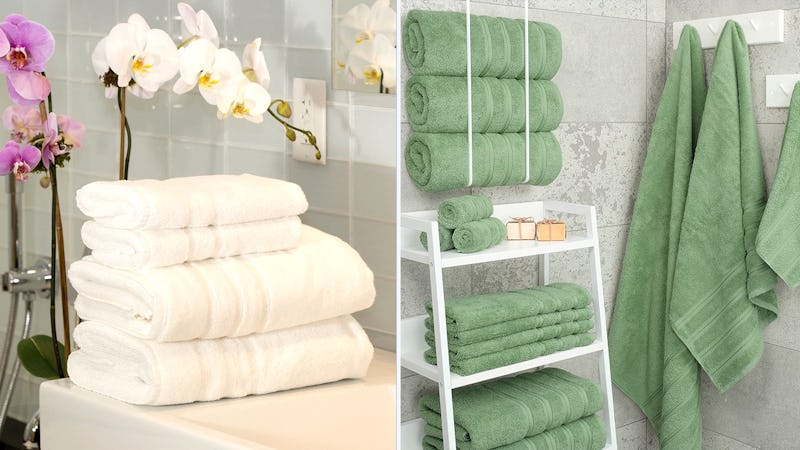 Amazon
We may receive a portion of sales if you purchase a product through a link in this article.
When you step out of the shower or bath, the last thing you want is to wrap up in a subpar bath towel. The best bath towels on Amazon feel soft on the skin and are available in a range of materials, textures, and sizes to cater to your preferences. Plus, many are specifically designed to avoid developing a mildewy smell by drying quickly or being naturally antimicrobial. Reviewers confirmed these fan favorites are durable enough to stay fluffy and last through many washes without unraveling.
What To Look For When Shopping For The Best Bath Towels On Amazon
The humble bath towel may seem simple to shop for. However, there are a number of factors you'll want to take into account to end up with the one that's right for you.
Material
Cotton: Most bath towels are made from cotton because it's absorbent and soft. Egyptian and Turkish cotton are higher-end picks with long fibers, which makes them extra soft and absorbent, though they often cost more. Turkish towels (aka pestemal towels) are traditionally made from Turkish cotton with a flat weave, making them thin and lightweight — allowing them to dry incredibly fast. Some cotton bath towels boast different constructions, like towels made from ringspun cotton, which features short and long fibers that are twisted together, making them remarkably smooth and strong though less quick to dry.
Bamboo: Bamboo requires little water and virtually no pesticides to grow, which makes bamboo bath towels an eco-friendly choice. These towels are highly absorbent but may take a bit longer to dry than cotton — although they're also naturally anti-microbial and anti-fungal.
Microfiber: Made from synthetic materials, microfiber bath towels are usually the most budget-friendly pick, and they dry quickly and stay fresh. However, some don't find them the softest, most luxurious option.
Weight
Fabric weight is usually measured in grams per square meter, referred to as GSM. Generally speaking, a GSM of less than 500 means the towel will be lighter, thinner, and dry quickly, while higher GSM picks (750-plus) will be heavier, thicker, and more absorbent. Because of this, they'll likely dry slower, making them more prone to mildew. Medium-weight picks have a GSM of 500 to 750 and offer a balance between plushness and dry time.
Certifications
Some bath towels feature certifications for how the products were created or tested. For example, towels that meet the Global Organic Textile Standard (GOTS) feature certified organic fibers that are grown without the use of pesticides, herbicides, and GMOs. Picks with the OEKO-TEX Certification are tested for over 350 chemicals to limit those which may be harmful to human health. And ones certified by the Forest Stewardship Council (FSC) are verified to have been harvested responsibly, protecting plants and animals.
Size
The average bath towel is 28 by 54 inches, although many options on this list are slightly larger. If you prefer an extra-large towel, oversize bath towels — sometimes referred to as bath sheets — are much larger (generally 35 by 60 inches).
Shop The Best Bath Towels On Amazon
In a hurry? Here are the top picks for the best bath towels on Amazon.
Achieve spa-like status at home with these bath towels and sets which feature rave reviews on Amazon. There are a variety of materials, colors, patterns, and sets to choose from to find the perfect match for your space.
1. A Set Of Bath Towels With More Than 35,000 5-Star Reviews On Amazon
These fluffy bath towels are an overwhelming favorite on Amazon. They're made from soft Turkish cotton with a long loop pile height that makes them feel extra fluffy. The medium weight means they're absorbent yet quick-drying. This particular pick includes four OEKO-TEX-certified bath towels, though other sets and complementary accessories (including bath rugs) are available in the listing to round out your bathroom.
One Reviewer Wrote: "After waiting far too long to replace the old towels [we've] had for ages, we finally broke down and got all new towels from American soft linen and in the process, discovered the best towels we've ever owned. These towels are so soft and even after multiple washes, they have maintained that soft plushy texture that they started with. Their absorbance is very impressive, and I [immediately] noticed how quickly they dry after use, airing out and returning to that soft dry state that we all love so much. They are cut and sewn perfectly with no frayed threads, broken seams or [uneven] sides, making them not only perfect for us, but also for all of our over night guests."
Set Includes: 4 bath towels | Made From: Turkish cotton | GSM: 600 | Certifications: OEKO-TEX Standard 100 | Bath Towel Size: 27 x 54 inches | Available Colors: 15
2. A Popular Set Of 8 Towels For Less Than $35
This eight-piece towel set is a fantastic deal popular with Amazon shoppers — it has over 36,000 five-star reviews. Included are two bath towels, two hand towels (measuring 16 by 28 inches), and four washcloths (12 by 12 inches) that are made from soft and smooth medium-weight ringspun cotton. The towels feature a double-stitched hem for durability and reviewers confirm that the towels absorb water well. Even better, the set comes in a range of 26 different colors to perfectly match your bathroom decor.
One Reviewer Wrote: "These towels are great. No issues. Love that they are 100% cotton. Wash and dry with no issues. I bought red and the color is good. Great value and quality. I would buy again."
Set Includes: 2 bath towels, 2 hand towels, 4 washcloths | Made From: Ringspun cotton | GSM: 600 | Certifications: None | Bath Towel Size: 27 x 54 inches | Available Colors: 26
3. A Pair Of Luxurious Bath Towels Made From Heavy-Weight Egyptian Cotton
With a GSM of 800, these heavy-weight bath towels are thick, plush, and comparable to ones you'd find in a high-end spa or hotel. Made from Egyptian cotton, the bath towels soak up water with ease, although they might take a little extra time to dry. The towels feature a subtle textured rope border and there are 23 solid color options to select from. They are also slightly larger than a standard towel and have OEKO-TEX certification.
One Reviewer Wrote: "These are by far the nicest towels I have ever owned. They are thick, soft, wash beautifully, have no pulls or runs. They are luxurious, colored beautifully, and would make a lovely gift. [...] I have had these for 6 months and they look and feel brand new. I am extremely happy with them and have already bought another set."
Set Includes: 2 bath towels | Made From: Egyptian cotton | GSM: 800 | Certifications: OEKO-TEX | Bath Towel Size: 30 x 55 inches | Available Colors: 23
4. A Large Bath Sheet Reviewers Call The Best Towel They've Ever Had
If you like wrapping up in a roomy towel after bathing, this large bath sheet will definitely meet your needs; it's 35 by 70 inches in size. The cozy bath sheet is made from 100% ringspun cotton, and it has a medium-weight GSM of 600 for the perfect balance of absorbency and quick drying. Amazon reviewers give it a solid 4.5-star rating overall after 32,000 reviews, with one fan writing, "These are the best [towels] we have ever had." These bath sheets are sold individually or in two- or eight-packs in the same listing if you want to stock up.
One Reviewer Wrote: "I purchased these bath sheets (as well as the matching washcloths) after seeing them on an Amazon wedding registry, and I absolutely love them! They are an incredible value [...] They are HUGE, not to mention thick, soft, and luxurious!"
Set Includes: 1 bath towel | Made From: Ringspun cotton | GSM: 600 | Certifications: None | Bath Towel Size: 35 x 70 inches | Available Colors: 20
5. A Set Of Pretty Patterned Bath Towels
Add an extra design element to your bathroom with the help of these patterned bath towels. There are a variety of striped and floral options to choose from in several colors. Looks aside, the bath towels are on the lighter weight side with a GSM of 500 (meaning they'll dry fast), and they're made from soft Turkish cotton. They are OEKO-TEX certified.
One Reviewer Wrote: "I treated myself to some new bath towels. These towels are very attractive, fluffy and absorbent. They are not cut short by any means. They look great hanging from the towel racks and they feel great drying yourself from the shower. Nice for the price!"
Set Includes: 2 bath towels, 2 hand towels, 2 washcloths | Made From: Turkish cotton | GSM: 500 | Certifications: OEKO-TEX | Bath Towel Size: 30 x 54 inches | Available Colors: 13
6. A Set Of Towels Featuring A Blend Of Anti-Microbial Bamboo & Soft Cotton
Bamboo is an excellent choice for a bath towel because it's naturally antimicrobial and anti-fungal, plus exceptionally absorbent — and luckily, these luxury towels boast this material blended with cozy Turkish cotton. With a weight of 700 GSM, these towels are thick and plush. This specific set includes two bath towels as well as two hand towels (that are 16 by 30 inches), though other options are available in the listing. They are OEKO-TEK and FSC certified as well.
One Reviewer Wrote: "I purchased this bamboo towel bath sheet set and couldn't be more impressed. Soft, absorbent, beautiful towels. Wash and dry perfectly. Great price for excellent quality. I love them!"
Set Includes: 2 bath towels, 2 hand towels | Made From: 50% bamboo viscose, 50% Turkish cotton | GSM: 700 | Certifications: OEKO-TEX, FSC | Bath Towel Size: 30 x 58 inches | Available Colors: 8
7. A Budget-Friendly Pair Of Microfiber Towels
This two-pack of microfiber bath towels costs less than $25, but Amazon reviewers confirm that this pick doesn't skimp on quality, giving the towels a 4.5-star rating overall after 14,000-plus reviews. Many reviewers commented that the bath towels quickly soak up water on your skin, yet dry in no time (sans bad smells!) thanks to their lightweight GSM of 400. They feature a convenient loop to hang in your bathroom. This particular set features a diamond embossed pattern, but there are additional choices available like stripes or solids. There are also four- and six-packs for sale in the same listing, as well as larger towels.
One Reviewer Wrote: "When I first tried these towels it was like a mini-revolution in one of life's most basic activities: drying off after a shower. After my shower, I wiped myself all around once with the towel, then expected to have to wipe again to get myself dry like I'd been used to doing with cotton towels. But when I felt my skin I was amazed how dry it already was from just the first wipe. These towels dry you significantly better and faster than cotton towels. [...] Also, they are a nice large size, and significantly lighter than a comparatively-sized cotton towel. And they dry out relatively quickly."
Set Includes: 2 bath towels | Made From: Microfiber | GSM: 400 | Certifications: None | Bath Towel Size: 30 x 60 inches | Available Colors: 15 in microfiber, 17 in other fabrics
8. A Big Turkish Towel That Dries Remarkably Fast
Thanks to its flat weave, this organic Turkish cotton towel (which is also made in Turkey) is thin and lightweight to dry quickly after use. But don't let its thinness fool you into thinking it's not absorbent; Amazon reviewers confirm the bath towel actually soaks up a lot of water. The towel is extra-large in size, though it rolls up to be quite compact — hence, why many people opt to travel with it. The towel is both OEKO-TEX and GOTS certified as well. It's pre-shrunk, and features a diamond weave pattern, double-knotted tassels, and pretty stripes — there are an array of color choices available.
One Reviewer Wrote: "I really like this pretty, lightweight, absorbent, quick drying towel. Quickly absorbs water and dries you off much faster than thick towels and very easy to pop in the washer and dryer. Will be buying another."
Set Includes: 1 bath towel | Made From: Organic Turkish cotton | GSM: 430 | Certifications: OEKO-TEX, GOTS | Bath Towel Size: 36 x 70 inches | Available Colors: 32
9. An Extra-Large Bath Sheet With a 4.5-Star Overall Rating On Amazon
At 40 by 80 inches in size, this extra-large bath sheet is luxuriously oversized. Amazon reviewers have given it a knockout 4.5-star rating after 33,000-plus reviews. The OEKO-TEX-certified, Turkish cotton bath towel is super soft, and it is a medium-weight 600 GSM. It features a double-stitched hem for durability to hold up to plenty of cycles through the washing machine.
One Reviewer Wrote: "BEST towels I've ever owned. Great value. [...] The size is wonderfully large. The towels are soft, absorbent and quick drying. I wish I'd found these years ago. I bought a total of 6 in different colors. [...] . I highly recommend these for bath towels."
Set Includes: 1 bath towel | Made from: Turkish cotton | GSM: 600 | Certifications: OEKO-TEX | Bath Towel Size: 40 x 80 inches | Available Colors: 13
Also Nice: A Fan-Favorite Memory Foam Bath Rug
Round out your bathroom accessories with this cushioned bath mat, which has more than 43,000 five-star reviews on Amazon. "Soft and thick and pretty. And cheap. What more could you want?" commented one reviewer. Made from memory foam that is 3/4 inches thick, the mat is comfortable to walk on and absorbs water well. The PVC dots on the back prevent it from sliding around during use, and it can easily be cleaned in the washing machine and dryer. Choose from various sizes for different spots in your bathroom. The smooth, velvety cover comes in a slew of color choices ranging from neutrals like gray, black, and white, to fun pops of color like red, mustard, or teal.
One Reviewer Wrote: "It's so soft & cushy between your toes, like waking in clouds! It fits so perfectly in front of the 2 sinks in our master bathroom, looks & feels so luxurious and rich! Wish I'd found it earlier, love it!"