The 6 Best Beanbag Chairs For Adults
We only recommend products we love and that we think you will, too. We may receive a portion of sales from products purchased from this article, which was written by our Commerce team.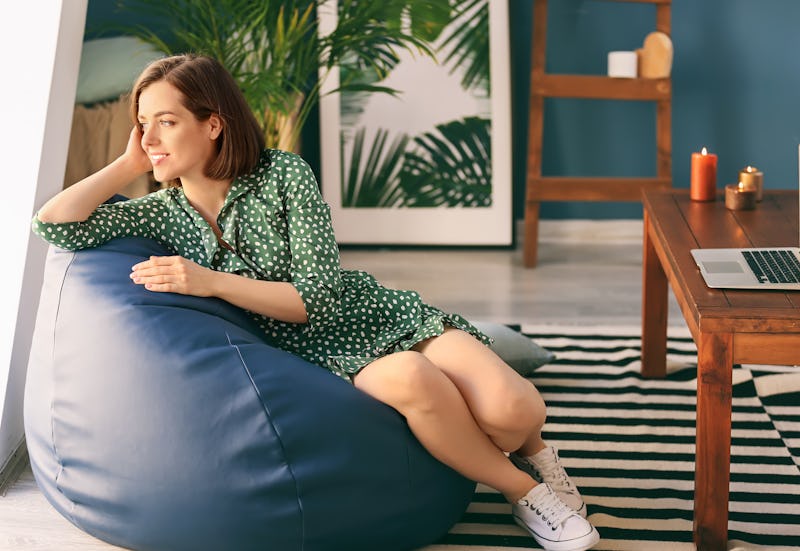 Aquarius Studio / Shutterstock
When you want to relax at home, the best bean bag chairs for adults are stylish, comfortable, and sturdy. For a cozy bean bag chair that will last, look for one with a shredded memory foam filling and a durable cover that will stand up to repeated use. Shredded memory foam is an especially comfortable filling that's ideal for adult bodies, since it's more supportive than other fillings, though you might opt for a more breathable polyurethane (PU) foam for outdoor use in hot weather. Bean bag chairs come in all kinds of shapes and sizes, so choose the one that offers the structure, versatility, and space that you need.
When it comes to the cover, consider convenience and aesthetics. Look for a machine-washable cover if you think you'll need it — most fabric covers fit the bill. Shag or microfiber covers are popular since they create a cozy, soft surface that you can curl up in for hours, and the shag can look stylish. If you're furnishing an outdoor lounge area, you'll need a water-resistant cover, and the best are a cinch to wipe down when dirty.
When most people think of bean bag chairs, they think of a classic rounded one with enough space for one person to sit comfortably. Classic bean bags are great for an all-purpose seating option, but you might want to look for a larger oval-shaped version to fill out a bigger space or seat more than one person. Structured bean bags with reinforced backs and sides that look more like a standard floor seat or recliner can be more comfortable for longer-term sitting, as they provide a little more support. For added versatility, convertible bean bags that can be used as a chair or expanded into a bed are a great choice.
Check out this roundup of bean bag chairs for adults (all with filling included!) in various shapes and sizes to find a lounging option that works for you:
1. A Classic One-Seater Bean Bag Chair For Adults
If you want an old school-style bean bag chair that's actually comfortable, this Sofa Sack bean bag is exactly what you need. The microsuede cover is super soft, with double-stitched seams that make it durable.
Inside, the bean bag is filled with thick, shredded memory foam that contours to your body for a more comfortable seat. The shredded foam is kept inside a liner so it's easy to remove the machine-washable cover without getting foam everywhere.
The cozy, low-maintenance bean bag has earned an overall rating of 4.3 stars on Amazon, with more than 11,000 reviews and counting! Shoppers have 15 colors to choose from, so you can get this popular bean bag in whichever shade best suits your décor. It also comes in a smaller size if you want to get a matching seat for the kids.
According to one reviewer: "At first it looked way too small, but if you fluff it up (or kick the crap out of it) the foam pieces inside will break up and expand to fill out the bag. It is comfy to sit in, supports the weight of an adult, doesn't make a lot of noise (it is foam, not Styrofoam), and doesn't get hot (fabric breaths nicely, it isn't like old plastic/vinyl ones from decades ago). I'm going to get another one or two for the living room."
2. A Faux-Fur Bean Bag Chair For Adults
The faux-fur cover on this extra-large bean bag chair from Comfy Sacks makes this one of the coziest seats in the house. The cover is removable and machine washable, so you get that luxurious feel without the added maintenance. The inner liner keeps the shredded memory foam contained so you can remove the cover without making a mess.
With 34 colors to choose from (some of which are covered in microfiber, not faux fur), this low-maintenance, high-quality bean bag is easy to coordinate with the rest of your furniture. It also comes in a number of sizes ranging from 2 feet to 8 feet in diameter (the larger sizes can likely fit more than one adult), or in a more rectangular pillow sack shape.
According to one reviewer: "This sack is so comfortable - and huge. We love it. Our Golden Retriever does too. Thankfully there is plenty of room for him and an adult. I love how easy the outer bag is to remove, wash, and put back on."
3. An Affordable Extra-Large Bean Bag Chair
This bean bag chair from Cozy Sack comes in 15 colors and five sizes, including this reasonably-priced 7-foot one, which feels more like a sofa than a chair. It's ideal for seating more than one adult or acting as a guest bed (or afternoon nap spot). If you want even more seating space, Cozy Sack's largest size is 8-feet long, though the chair is available in sizes as small as 4 feet long too.
Whichever size you end up choosing, they all come with a removable microsuede cover that's machine washable and houses finely shredded memory foam in its own separate lining. The fine shred makes the bean bag less likely to get lumpy, and the foam itself is the same kind used in mattresses.
According to one reviewer: "The Ultra Suede Cover feels great and appears to be very durable, I have washed it 3 times since May 2017 on the Heavy Duty Setting on Both Wash & Dry, I am please with the results and the condition. Being able to keep it clean by having a removable cover is important! […] The foam is soft but firm enough to be supportive. I don't have the usual aches and pains I get when getting up from my bed […] It truly is gentle on the pressures points."
4. A Structured Bean Bag Chair For Adults
With a deep, wide seat and reinforced sides and back, the Big Joe Lux Imperial Lounger is a great chair to sink into, even if you're on the taller side. You get the cozy, body-contouring feel of a bean bag chair combined with the support of a recliner. Perfect for gaming, reading, and watching TV, this structured bean bag was built for long-term lounging without discomfort (and without the bean bag stuffing going flat). The shredded memory foam fill just needs to be fluffed now and then to get rid of lumps or imprints.
The fabric cover is soft to the touch yet tear- and stain-resistant. So, feel free to munch on snacks and keep your favorite drink nearby. Even if there is a spill, you can unzip the cover and toss it in the washing machine. This durable cover comes in four muted tones that blend well into almost any color scheme. Shoppers can also upsize to the Imperial Fufton, a wider sofa version of this lounger.
According to one reviewer: "love this chair, it's in my room and I read and watch tv on it. You do have to refluff every once in a while because it goes with your body. it is HUGE when coming out of the box because it expands to [its] full size but great purchase. it's been a few months since I ordered it and we are still going strong."
5. A Bean Bag Chair That Can Be Converted To A Bed
This unique convertible bean bag from CordaRoy's gives users two pieces of furniture in one. When inside the plush, double-stitched microfiber cover, it's a bean bag durable enough for adults and perfect for lounging. But when you remove that cover, it folds out into a mattress, stuffed with soft, supportive memory foam. The cover has an extra-long zipper to make it easier to transition from bed to chair as needed. Choose from six colors and three mattress sizes: full, queen, or king.
The convertible aspect makes this chair a great piece for spare bedrooms, family rooms, and unexpected guests. Keep it as a bean bag chair for everyday seating and then unfold it into a bed when you have a guest over, or for late-night movie marathons. If you don't think you'll need the mattress feature, you can also opt for a non-convertible version with the same premium memory foam filling and durable, double-stitched cover.
According to one reviewer: "This bean bag is just what I was looking for. I got the queen size after much thought and it was definitely the right size for me. I wanted an oversized bean bag and it's a perfect fit for me and my fur babies. The mattress is perfect and super easy to fluff out, but it can get a little flat after long sleeping times. At the end of the day I wanted something that was easy to put up and could be left out for additional seating and this is it. I would 100% recommend it."
6. An Outdoor Bean Bag Chair For Adults
The PVC-coated Oxford fabric on the outside of this structured bean bag chair from iOCHOW makes it an ideal choice for poolside lounging or living room snacking. It's stain- and water-resistant so it's safe to keep it outdoors — though you should move it somewhere dry during heavy rains. The PVC coating also prevents dirt from sinking into the fibers so if you spill something or the chair gets a little dusty from being outside, you can just wipe it down with a damp rag. For a more thorough cleaning, you can unzip the cover and toss it in the washing machine.
In addition to a durable fabric that's strong enough to withstand outdoor use, this bean bag lounger is filled with a soft, supportive PU foam instead of memory foam. It's a lower-density foam than memory foam, which makes it a little more breathable for lounging outside on a hot day, but not quite as supportive as memory foam.
Whether you want it for indoor or outdoor lounging, the wide pockets sewn on either side will come in handy for storing books, tablets, notepads, or anything else you want to keep nearby while you're snuggled up in your bean bag chair.
According to one reviewer: "So far, it is exactly as described and comfy. I love that I can use it to lay in while sitting outside on the deck."