The 6 Best Cereal Containers For Corn Flakes, Granola & Beyond
We only recommend products we love and that we think you will, too. We may receive a portion of sales from products purchased from this article, which was written by our Commerce team.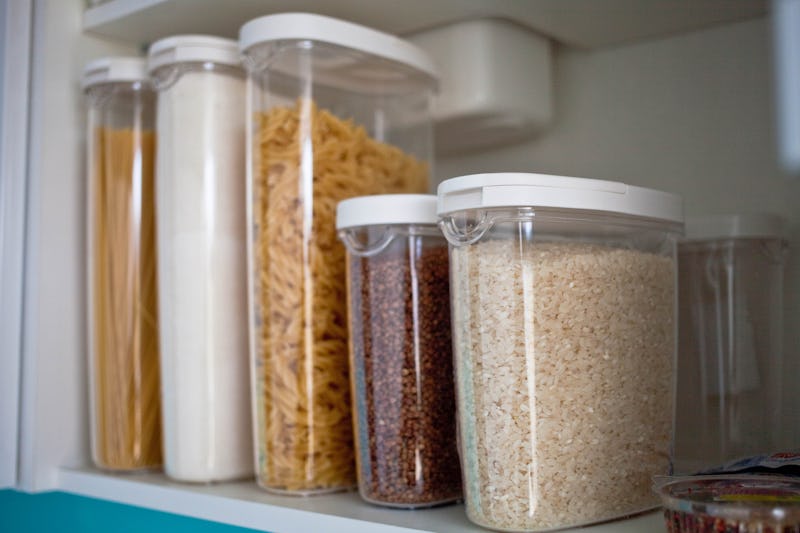 Shutterstock
To avoid the disappointment that can happen when you go to pour a bowl of corn flakes and discover that it has gone stale, the best cereal containers feature airtight lids to seal out air that can oxidize grains and makes them lose their crisp texture. Plus, a good cereal container will help you maximize kitchen storage space, while also making it easy for you to know when you're running low on your favorite kind.
What To Consider When Shopping For The Best Cereal Containers
Material
The first thing to consider when shopping for storage for your dry goods is the material. You'll find options that come in both plastic or glass, and determining which one is best for you is largely a personal preference. Plastic is durable, lightweight, and less prone to shattering than glass. It's also less cumbersome to hold when pouring your granola into your bowl with one hand. The downside to plastic is that it's less eco-friendly, and in some cases may require hand-washing. Glass, on the other hand, is better for overall maintenance as it's typically dishwasher-safe, and it's a more eco-sustainable option, too. Keep in mind, though, that it's often a bit pricier and more prone to shattering — if you're worried about breakage, look for durable borosilicate glass, which can stand up to more wear and tear.
Ease Of Pouring
You'll also want to consider how easy the container makes it for you to physically get your cereal into a bowl. Some options are optimally designed with a pour spout, lip, or dispenser. This can be a very helpful feature to have, especially if you have kids in your household who might have difficulty pouring from otherwise tall containers or flimsy boxes. Note, however, that round canisters can be a bit tricker to pour from, and you may end up wanting to buy a scoop to spoon your cereal into the bowl.
Capacity
The final thing to consider is capacity. If you tend to be a bulk shopper or like to extend the amount of time before you need a refill, opt for something bigger, but if you're squeezed for storage, a container with a small footprint will be your best bet.
To make your search easier for you, here are the best cereal containers on Amazon. You'll find options in every size, including one for cereal lovers who like to take their food to go.
Shop The Best Cereal Containers
In a hurry? These are the best cereal containers on Amazon:
1. The Overall Best
Pros:
Pop-up spout and contouring for easy pouring
Slim profile
Multiple size options
Cons:
Made from BPA-free plastic with an airtight silicone lid, this OXO cereal container is a great deal for the price, especially when you consider its extra-large capacity (you can get multiple bags of cereal in the container, depending on the size you opt for — it's available in several different options). The containers are so popular on Amazon, in fact, that they have earned a 4.8-star rating after more than 6,000 reviews. Among the reasons for its popularity: The container is stackable and features a space-efficient, contoured body to better fit on pantry shelves, while the lid has a convenient pop-up pouring spout that can be operated with one hand. Note: While most of the parts must be hand-washed, the gasket that seals the lid is dishwasher-safe.
Helpful review: "Love this! Before this purchase I would end up wasting cereal because it would become stale and I wasn't able to enjoy it. So now when I open a box I immediately pour it into this container to keep it fresh! Love it so much I purchased one for each box of cereal."
Capacity: 2.5 quarts (80 ounces), 109 ounces (3.4 quarts), or 144 ounces (4.5 quarts)
2. The Best For Countertop Dispensing
Pros:
Dial makes dispensing easy
Countertop design is convenient
Cons:
Not ideal if you're short on counter space
Not dishwasher-safe
If you want a cereal container that also serves as a countertop dispenser similar to the ones you can find at hotel breakfast buffets, this Zevro dry food dispenser is an attractive and wallet-friendly option. Although it has a smaller capacity than the previous pick and must be completely hand-washed, it has plenty of other advantages to its design, most notably the dial that dispenses cereal without crushing it in the process. Even better? The amount that comes out is perfectly portioned and dispensed directly into a low-profile bowl underneath — no fidgeting with lids or pouring required. Although it's not advertised as being BPA-free, the plastic container has an airtight lid. Plus, it's made of very durable and scratch-resistant plastic and comes in other color options, as well as a double version for dispensing two different kinds of cereal side by side. In addition, you'll also get a limited 90-day warranty.
Helpful review: "Only regret is not buying this sooner. Helps us to not open more then 1 box of cereal at a time so we don't waste as much cereal and don't forget we have it like we used to without this. It's perfect."
3. The Best Large Glass Container
Pros:
Glass and bamboo have an upgraded aesthetic
Borosilicate glass is shatter-resistant
Jar is dishwasher-safe
Cons:
More difficult to pour from
This oversized glass canister is constructed with high-quality and shatter-resistant borosilicate glass and has a bamboo lid with a food-grade silicone gasket that creates an airtight seal. Although it doesn't have any kind of spout or lip, it's still very handy as a dry food storage container because it is dishwasher-safe (though the lid should be hand-washed), and the wider opening makes it easy to pour a large bag of cereal right into the jar. Plus, it would look very attractive in a pantry or on a countertop. Just pick up a scoop, and you're good to go.
Helpful review: "What with summer/humidity on the way, I had been on the hunt for better dry-food storage, and particularly for a glass jar with a bamboo/wooden lid big enough to hold an entire bag of cereal. This jar accomplishes that beautifully! [...] The lid does not pop off quickly/does not slide off exceptionally easily, which is a major positive and speaks to its air-tightness."
4. The Best Plastic Container Set
Pros:
Budget-friendly
Slim profile
Easy pour spouts
Can use for multiple cereals
Cons:
Reviewers recommend washing by hand
If you're in need of multiples, this set of four plastic cereal containers from Chef's Path is a great deal. Each BPA-free container is designed with an airtight, four-sided locking lid to keep food fresh — in fact, you don't even need to undo the lid to pour, just open the smaller hole on the top. Additional smart features include a slim and tall body shape for the optimal fit on a pantry shelf and ergonomic grips on the back side for comfortable one-handed pouring. Though there's no mention of whether the containers or lids are dishwasher-safe, several reviewers noted that the material of the containers can warp under high temperatures, so hand-washing is recommended. Included with the airtight cereal containers are a set of measuring cups, plus 24 chalkboard-style stickers and a marker that you can use to label all of your dry goods.
Helpful review: "I bought these to use for my cereal because I'm tired of opening boxes and finding stale cereal, these were perfect and the labels are so cute! Highly recommend."
Capacity: 135 ounces each
5. The Best Glass Set
Pros:
Glass and bamboo have an upgraded aesthetic
Borosilicate glass is shatter-resistant
Jars are dishwasher-safe
Cons:
Pouring may be more difficult
For a complete set of different-sized glass cereal containers, look no further. You get five containers made from borosilicate glass, each one sporting a bamboo lid with a silicone gasket that keeps the contents of the containers fresh. The containers are also dishwasher-safe (although the bamboo lids are best hand-washed) and are designed with wide mouths for easier pours. For the price, this set offers a lot of value.
Helpful review: "I love these for my everyday dry goods. I keep my cereal, coffee, and crackers in these and the seal keeps everything fresh!"
Available sizes: 24 ounces, 34 ounces, 44 ounces, 61 ounces, and 64 ounces (all in one set)
6. The Best For Taking Cereal To Go
Pros:
Perfect for on-the-go eating
Dishwasher-safe
Cons:
Doesn't work for at-home storage
This container from Trudeau features a 12-ounce cereal bowl, a nesting 5-ounce bowl for milk, and a compact ice pack that attaches to the underside of the lid, allowing you to keep all of the components of your favorite cereal fresh when on the go. The BPA-free large container is microwave-safe, so you can use it to warm up hot cereal like oatmeal. The twist-on lid has a silicone joint to prevent leaking, and all parts are dishwasher-safe. Volume measurements appear on both the milk and cereal containers, so you can portion to your desired preferences.
Helpful review: "I bought this to bring cereal to take to work. It was bigger than I thought (I didn't really look at the listed size), but I like it. It feels like it's good quality and really is leak-proof- I threw it in my purse this morning filled with cereal and almond milk and it was completely dry when I took it out. I'd recommend it!"
Available sizes: 12 ounces
This article was originally published on