The 5 Best Fake Nails For Nail Biters, According To A Tech & Nail Biter
Flawless nails that camouflage and protect your bitten tips.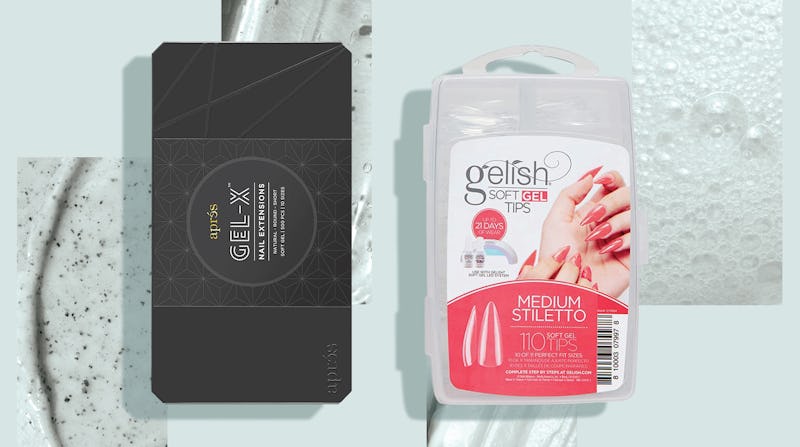 Bustle/Amazon
We may receive a portion of sales if you purchase a product through a link in this article.
If you bite your nails, applying fake nails over them can be a great way to deter yourself from biting, protect your nails so they can grow underneath, and give you a new look — all at the same time. Whatever your nail goals, the best fake nails for nail biters are made of acrylic or gel and give you the length or strength that you want. Some application tools are necessary, so I've provided a mix of kits and packs if you have all the gear already. Plus, feedback from a nail technician (and nail biter!) who loves nail art to help you choose.
The Experts
Karyn Kirke is a nail technician at G2O Spa + Salon in Boston, Massachusetts. She graduated from art school and combines her love for art, painting, fashion, and beauty in every nail.
Laura Roncagli, a co-founder of MyBeautik, is a professional makeup artist and hair stylist with a passion for nail art. She is based in Italy and is a key makeup artist for the Venice Biennale art exhibition. She's also a nail-biter who understands the struggle.
What To Look For When Considering Fake Nails For Nail Biters
There are many fake nail options for bitten nails, but both experts agree that acrylic nails and full-cover gel tips are good choices for nail biters. The right one for you will depend on whether you want to focus on growing your natural nails or creating a long-lasting manicure that adheres well to bitten nails.
Acrylic Nails
These are a combination of polymer powder and liquid monomer that combine into a little ball of putty that's molded to your nail with a brush to form a thick coating and then air-dried (no lamp necessary). According to Karyn Kirke, a nail technician at Boston's G2O Spa + Salon, "Acrylic nails are instant gratification and usually stay on very damaged nails better than gel products."
Professional stylist and self-proclaimed nail biter Laura Roncagli said, "A professionally applied set of acrylics are hard, like really hard to bite on," adding that they "can last for up to three weeks before going for maintenance."
However, Kirke advises that acrylics and their fill-ins, which are needed once the nail starts growing, will not help nails weakened and fragile from biting. "In most cases, it will thin the natural nail, so acrylic is not a good choice if nail health is the goal." However, Kirke notes they can be great if you just want "long, pretty nails."
Full-Cover Gel Tips
These nail extensions are pre-shaped and cover the entire nail. They stick to your nail with adhesive and are flash cured with an LED light (which is included in some kits). If you're looking to have your natural nail grow underneath your fake nails, this is the option that Kirke recommends, explaining, "Full-cover gel tips are pretty great for instant length, speed of service, and a natural, thin look. They can be filed to shorter lengths for those who are not used to having any nail length at all; the typical nail biter, in other words." In terms of longevity, Kirke notes they "stay on quite well, even on short, thin nails, for about three to four weeks and then are easily removed with filing and soaking, and replaced with new tips."
What To Avoid
Roncagli and Kirke are both in agreement on what kind of fake nails are not great for nail biters: "anything that comes off too easily, such as press-on nails," according to Kirke. They may be convenient but won't be as long-lasting as other options.
From glittery acrylics to easy-to-apply gels, take a look at some of the best fake nails for nail biters.
1. Expert Pick: A Box Of Soft Gel Tips
Pros:
Will last up to 4 weeks
Easy to remove
Quick to apply
Includes 10 sizes and 50 tips for each size
Cons:
Only the nails are included; a kit is needed for application
This box of soft gel tips is recommended by Kirke and is a popular brand amongst nail techs and celebrities. Pictured here is a short length with a round shape, but you can also get short stilettos, medium coffins, and a variety of other lengths and shapes in sizes zero to nine. Kirke recommends, "Don't be afraid to size a little large and file down if needed. Too small sizing means the nails will pop off prematurely."
You'll need to prep your nails before applying with a pH Bonder, Gel Primer, and Extend Gel on the nail, curing under an LED lamp to make it sticky. File the underside of the nail, add some Extend Gel, place the tip onto the natural nail, and then cure again. From there you can color or decorate the nail, allowing your natural nail to grow underneath. These nails are quick to apply, easy to remove, and will last up to four weeks. This box only contains the nail extensions, but if you need the application kit (with LED light), you can get one here.
A Helpful Review: "I've done different lengths and shapes of gel extensions. This one is my favorite for those who want a manageable length and a perfect almond. I would definitely buy again."
2. A Budget-Friendly Gel Tip Kit
Pros:
Over 28,000 reviews and an overall 4.5-star rating
Budget-friendly
Includes UV/LED nail lamp and glue gel
Includes 500 coffin nail tips of 10 different sizes that are numbered
Cons:
May not be suitable for flatter nail beds
If you're looking for a kit that has everything you need, at a reasonable price, this gel tip kit is a great option. Plus, it protects bitten nails underneath. It includes 500 coffin nail tips in 10 different sizes (that are numbered), a portable UV/LED nail lamp for curing, and a 7.5-millimeter bottle of glue gel that can also be used as a base gel. Kirke notes that with gel tips, it takes some "practice getting the right amount of gel and sizing the nails correctly, but the shaping is already done for you" so it is "much easier to get the hang of for the layman."
To apply, just prep the nail, making sure the surface is clean and dry. Then apply the glue to the nail tip, press it onto the natural nail, cure under the lamp, and trim the nail to your desired length. These nails can last more than 21 days and one reviewer raved, "Easiest manicure ever." Before using, make sure to test the products against your skin to verify there's no allergic reaction.
A Helpful Review: "I'm terrible with biting my nails, I even find ways to chew threw acrylics! But these were easy to put on and withheld my assault on them! I got so many [compliments]! I've never had a nail set where I was able to do my nails in 25 minutes! These are a godsend!"
3. A Glittery Acrylic Nail Kit
Pros:
Over 11,000 reviews and an overall 4.2-star rating
Includes everything you need including 48 glitter colors, acrylic liquid monomer, acrylic powder, sticker forms, 200 nail tips, nail removal kit, and manicure tools
Cons:
Some reviewers reported that the liquid monomer bottle is small
Reviewers rave that this acrylic nail kit is great for beginners. There's everything you need for application: Liquid monomer, acrylic powder, sticker forms, 200 nail tips, a nail removal kit, manicure tools, and 48 glittery colors. Start by cleaning and prepping the nail, making sure they are dust- and oil-free and completely dry beforehand. You can choose to apply a base coat, which isn't included. Put the nail former on the nail, dip your brush into the liquid, then into the powder, and apply onto your nail tips. Next, you add the glitter on top and take the nail former off after drying for one to two minutes, and then shape and design as desired. The liquid does have a strong odor, so it's recommended to use it in a ventilated area. And some reviewers report that the monomer bottle is small, so you might want to get a backup, just in case.
A Helpful Review: "This kit is very beginner friendly. it has everything in it. The glitter mixes with the acrylic powder well and it's easy to apply to the nail. The only thing the kit doesn't have is nail glue. Other than that it's perfect. The nail files aren't flimsy and there's enough of everything to last. to clean the brushes you can use the acrylic liquid. just mix it with some acetone and let it sit then scrape the hardened acrylic off. When you take the brushes out they feel hard but just brush it on a surface and it'll loosen up. The packaging is very neat and pretty too."
4. Expert Pick: A Pack Of Soft Gel Tips
Pros:
Available in medium coffin and short round
Lasts up to 21 days
Includes 110 tips in 10 sizes
Cons:
Only the nails are included, a kit is needed for application
This pack of soft gel tips is another Kirke recommendation for nail biters. They're featured here as medium stilettos, but they're also available in short round. The pack comes with 110 nails in 10 sizes and Kirke noted, "My advice for this product is keep track of what size each nail requires to simplify the next set." After application, these nails can last up to 21 days of wear, leaving one reviewer to report, "They are strong and don't give/bend." If you need instructions on application, Gelish has a step by step guide available. And if you need primers, adhesives, LED light, and other tools, you can get the Gelish intro kit right here.
A Helpful Review: "These full cover tips work as press ons or gel x. I use them for both and they lasted for several weeks both ways. Crisp shape."
5. A Clear, Pink & Beige Acrylic Nail Kit
Pros:
Multiple color and shape combinations
Beginner-friendly
Cons:
Some reviewers reported a strong odor when wet
With lots of color and shape combinations available, this acrylic nail kit has something for everyone (especially beginners). It includes three acrylic powder colors, plus the acrylic liquid, nail forms, nail file, cuticle pushers, a brush, and a dish. All the materials are vegan, non-toxic, and cruelty-free, and the acrylic powder is made of natural resin.
Start by applying a nail prep dehydrator and non-acidic pH bond (not included), then put the nail former on your nail, dip your brush into the liquid, then the powder, and apply it onto the nail. Wait to dry (about 3 to 5 minutes, no lamp needed), remove the former, and shape and style as you'd like. The chip-resistant formula will last up to 28 days and will make it hard for nail biters to chew on. Because of the strong smell, it's recommended to use it in an open space and the brand recommends testing the product against your skin before use. There are additional colors available in the same listing.
A Helpful Review: "[...] This kit is of good quality and it comes with a lot of products and supplies that are easy to use. The kit also comes with instructions for the drill and the acrylic system. As a beginner tech I was able to get some really good practice in acrylic with this kit [...]. The price is great for the quality of product you get. The acrylic liquid and powder work very well together. The brushes are strong and sturdy, ideal for practice and for perfecting your craft. I am overall satisfied with the product, and I would recommend 10/10 for another beginner to use!"
Experts:
Karyn Kirke, nail technician at G2O Spa + Salon in Boston, Massachusetts
Laura Roncagli, co-founder of MyBeautik, professional makeup artist and hair stylist with a passion for nail art and a nail biter.