The 13 Best Pots For Indoor Plants, According To A Pro
We only recommend products we love and that we think you will, too. We may receive a portion of sales from products purchased from this article, which was written by our Commerce team.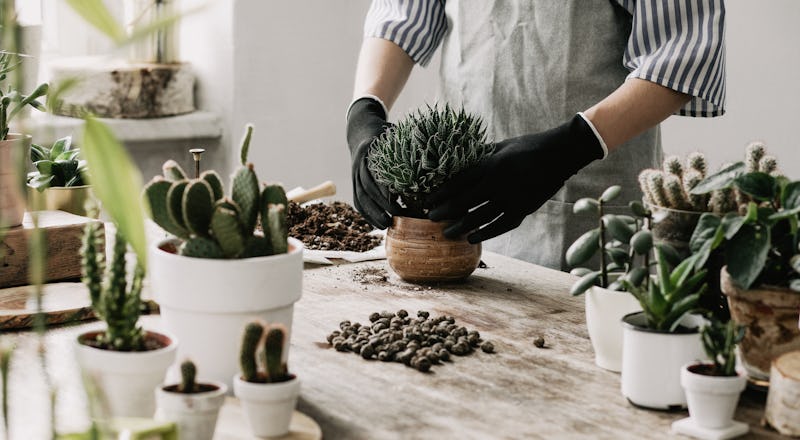 Followtheflow/Shutterstock
While having a pot that matches your decor is important, a well-designed pot will also save you a lot of hassle. The best pots for indoor plants will have design features like drainage and be made of the right material to keep those ferns, succulents, and other plants alive and thriving. To narrow down what to look for, I reached out to plant expert Emma Sibley, author of The Little Book of House Plants and Other Greenery and many more books.
When it comes to a material, consider the kinds of plants you have. "I would always suggest popping cacti and succulents in a terra-cotta pot, the terra-cotta absorbs a lot of water from the compost and whilst you shouldn't be excessively watering these desert plants it's great to have the terra-cotta as a fail safe," Sibley wrote to Bustle, adding: "Terra-cotta is always going to be a great choice for any of your houseplants, but your fiddle leaf figs and rubber plants will just be much more forgiving." For those more forgiving plants, plastic and glazed ceramic are popular options. Style will be a big factor here, but plastic is lighter and less likely to break — you'll also want to water it less often than you would with terra-cotta since it's much less porous.
Next, consider the drainage situation. Drainage holes let excess water run through and promotes air circulation around the roots. However, when you have drainage holes, you'll also want to keep a tray under your planter unless you're using it outdoors or have a plant stand you aren't concerned about protecting. To protect your counters, plastic is the best option for trays. Terra-cotta or wooden trays will keep most water off your counters, since it's a porous material, water damage can still happen on your tables. If you skip the drainage holes, "grab some pebbles or larger pieces of broken terra-cotta pots and line the bottom of your plant pots with them to allow any excess water to flow through the compost, not having this drainage can cause root rot and pests to thrive in the constantly damp soil," Sibley explains. And, if you tend to forget to water, consider a self-watering style with a reservoir in the bottom.
And when it comes to the size of the pot, if your current pot is 10 inches wide or smaller, choose a pot that is an inch or two bigger than your current one (the plastic container your plant comes in from the store counts). If your pot is more than 10 inches, go up 2 to 4 inches.
Choosing the right planter will make caring for your plants way easier. Below, the best options on Amazon.
Expert:
Emma Sibley, author of The Little Book of House Plants and Other Greenery
This article was originally published on