The 5 Best Sheets That Don't Pill
We only recommend products we love and that we think you will, too. We may receive a portion of sales from products purchased from this article, which was written by our Commerce team.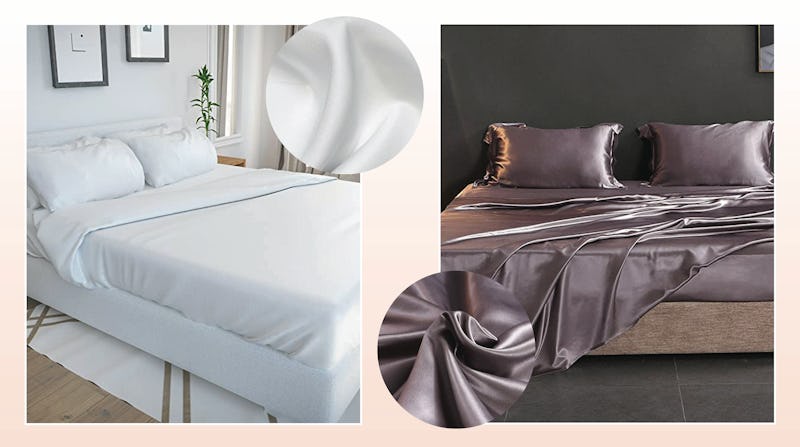 Amazon / Bustle
While no sheets are totally pill-proof, the best sheets that don't pill are made from a single natural material, with long fibers and a tight weave to prevent the fibers from breaking or tangling. Avoid synthetic fabrics if you're concerned about pilling because the shorter fibers can fray and tangle easily. Natural materials like silk, linen, and bamboo have longer fibers that are less likely to pill, as do long fiber versions of cotton (sometimes called "long thread" or "long staple").
Beyond fiber length, look for a tight weave that fibers can't escape from easily, such as percale. When the weave isn't listed, look for other signs of durability, such as high density, sometimes measured in grams per square meter (GSM). GSM is often provided for flannel sheets, and anything above 170 GSM will have a tight, strong weave. For silk, density is measured in momme. Look for sheets that are between 19 and 25 momme for breathable durability.
Above all, you'll want to make sure your sheets are made from one material rather than a blend, as blends are more likely to pill. In a blend, the stronger material will pull at the weaker material in the weave, causing it to break and tangle around the stronger fibers, and hence, forming pills. However, the material you choose will depend on your needs. For hot sleepers, a light, breathable fabric like soft bamboo, moisture-wicking silk, or breezy linen is ideal. For cold sleepers, a thicker flannel sheet will keep you warmer. Cotton percale sheets should work for any type of sleeper, since it has a tight yet breathable weave and a crisp feel.
No matter your sleeping preferences, this list of the best sheets that don't pill has you covered, with options in a variety of natural, long fiber materials that are durable enough to last.
1. A Set Of Long-Staple Cotton Percale Sheets
Royal Hotel's set of cotton sheets feature long-staple cotton in a percale weave with no synthetic fibers blended in — three criteria that are a must for shoppers who want a pill-resistant sheet. While low-quality percale can be stiff or starchy, the long-staple cotton is typically very soft. This means that these sheets should have the crisp feeling that so many people love about percale sheets, but won't be too rough for sleepers who prefer a softer feel.
These crisp, cool sheets come in nine different colors and customers have the option to buy additional pillowcases separately if the two already included in this set aren't enough.
According to one reviewer: "These hit every mark for me: cool, crisp, soft enough without being silky, feels good at night and when I wake up. Never gets hot or pill-y."
Available sizes: Queen, King, Split-King, California King
2. A Set Of High-Density Cotton Flannel Sheets That Don't Pill
With a 4.5-star overall rating after more than 700 Amazon reviews, this set of cotton flannel sheets from Royal Hotel is a favorite among shoppers who want the plush, cozy feel of high-density flannel. They boast a 170 GSM weave that keeps you warm while you sleep. Plus, unlike lower quality options that blend in synthetic fibers, these are made from 100% cotton. Together, the high-density weave and all-cotton material should make for a durable, pill-resistant fabric that still has that uniquely soft, thick feel that people want in a flannel sheet.
Shoppers can get these high-quality cotton flannel sheets in 14 color choices ranging from solid neutral tones to rustic floral or woodsy prints.
According to one reviewer: "I always wash my flannel sheets before use to minimize any pilling or shedding of loose material. I brushed them after washing as a matter of habit with a lint brush. There was an absolute minimum of pick up on the brush. There has been no pills or lint with them after several washings."
Available Sizes: Twin XL, Full, Queen, King, Split-King, California King
3. A Set Of 100% Bamboo Sheets
Bamboo Bay's 6-Piece sheet set is a great deal for high-quality bamboo sheets and pillowcases. Most standard sets come with just two pillowcases but here, you'll get a total of four with most sizes of this set (though only two if you buy the Twin/Twin XL). If you still need more, you also have the option to buy a set of pillowcases separately. Even better, everything in the set is made entirely from bamboo viscose with no synthetic materials blended in. This makes it incredibly soft but still breathable and lightweight. Most importantly, the 100% natural bamboo is durable and pill-resistant.
With 10 solid colors to choose from, these soft, breathable sheets can be easily matched to your décor. The 6-piece set is a popular choice for both hot sleepers and anyone who wants a softer sheet that feels more like linen or Egyptian cotton. The set has earned a 4.6-star overall Amazon rating after more than 1,200 (and growing!) reviews.
According to one reviewer: "I couldn't be happier with these sheets. Very soft, they dont pill, and my pets hair doesn't stick to them."
Available Sizes: Twin/Twin XL, Full, Queen, King, California King
4. A Set Of Stone-Washed Linen Sheets
With an overall 4.6-star Amazon rating after more than 500 reviews, these linen sheets by Sijo have proven to be a crowd-pleaser. The pure French linen is a naturally long fiber that shouldn't pill easily, and these sheets have also been stonewashed so they're super soft from the get-go. Shoppers have lots of options to choose from, including seven beautiful colors and a range of sets and individual pieces. For those who never use the flat sheet, you can opt for a three-piece set that just has the fitted sheet and two pillowcases. You can also buy a flat sheet on its own if you don't need the rest.
According to one reviewer: "They are thicker than cotton but very cool. I've laundered them multiple times and think they will hold up well. No pilling and few wrinkles if you get them on the bed right away. This is very good quality linen."
Available Sizes: Full, Queen, King, California King
5. A Set Of 100% Mulberry Silk Sheets
These luxurious silk sheets by THXSILK are made from 100% mulberry silk with a durable 19-momme density. Mulberry is the highest quality silk on the market in terms of durability, texture, and color. While all silk is pill-resistant, mulberry silk has extra-long strands which makes it even less likely to pill. As a bonus, silk is also a great choice for sensitive skin or curly hair.
These super-soft sheets come in 10 different colors to perfectly match the rest of your bedding. With an overall rating of 4.4 stars based on over 200 Amazon reviews, it's clear that these sheets are a worthy investment.
According to one reviewer: "Had these sheets for about 4 months now. Great quality, helps me stay cool, and they feel great. I dont sleep on anything else now. Still in great condition after many silk cared washes. Highly recommend."
Available Sizes: Full, Queen, King, California King