The 12 Best Winter Candles
Create cozy vibes with woodsy, fruity, spicy, and even sugar cookie-scented candles (plus some unscented options).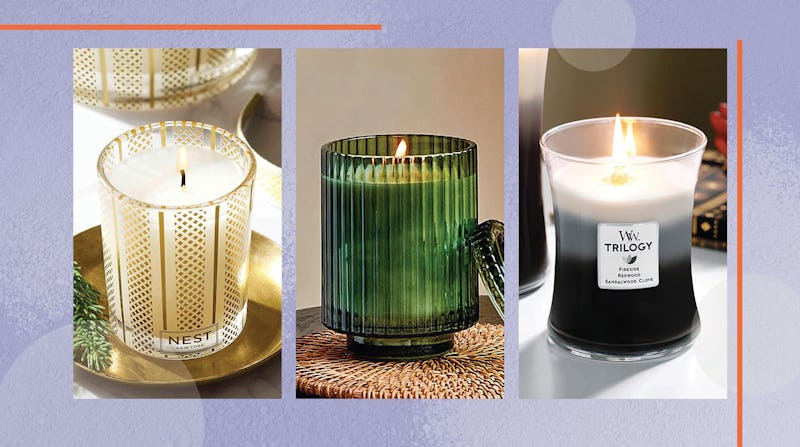 Bustle/Amazon
We may receive a portion of sales if you purchase a product through a link in this article.
Snow falling, fireplace lit, and treats in the oven … there's just something about winter that's positively magical. The best winter candles can help you fill your home with the scents of the season. To choose the best candle, think about the types of smells that you enjoy because wintry scents vary from woodsy to fruity — or even to baked goods. We've also included some unscented options that still offer wintry vibes. Other important considerations include the wax and candle type.
What To Consider When Shopping For The Best Winter Candles
These are the key considerations for choosing the ultimate wintertime candle:
Scent: When you think "winter" various scents come to mind, so consider which you'd prefer for your home. Popular options include woodsy scents (think: pine, balsam, fir, or sandalwood), smells that'll remind you of baking treats (sugar cookie, nutmeg, vanilla, and cinnamon are among them), or fruity picks like orange. While most candles are scented, you may come across unscented picks with a wintry vibe. Some are even flameless (battery-operated) for convenience and peace of mind.
Wax: Paraffin wax is the most common type you'll find in candles. It tends to be lower in cost but holds a high amount of fragrance. That said, some prefer non-petroleum-derived waxes such as beeswax or soy; both of these waxes typically burn slower and last longer. Each candle's listed burn time has been included below.
Type: Votives and tealights tend to be the smallest choices, and the latter is usually placed inside a holder of some kind. Jar candles are freestanding, and can greatly vary in size, number of wicks, and container material (though glass and metal are the most common). And lastly, pillar candles can stand on their own or be set on top of a holder. Many people group multiple pillar candles together for a bigger visual impact.
Shop The Best Winter Candles
In a hurry? Here are the top choices for the best winter candles:
The weather outside may be frightful, but these winter candles are certainly delightful. And as a bonus, they all have a price tag of less than $40 — so stock up!
1. A Fan-Favorite Cookie-Scented Candle With An Incredibly Long Burn Time
It's no wonder that this Yankee Candle is an overwhelming favorite on Amazon, boasting a near-perfect 4.7-star overall rating after 65,000-plus reviews. For one, the single-wick candle has a burn time of up to 150 hours — yes, you read that right! — and one reviewer noted it has "a sweet but not overpowering scent." The Christmas Cookie scent features notes of vanilla, cinnamon, nutmeg, butter, and sugar and this candle is also available in many other seasonal scents and in different sizes. Other wintry options include Balsam & Cedar, Frosty Gingerbread, and Sparkling Snow.
One Reviewer Wrote: "Yankee candles are top notch [...] This has been lasting me regular burns throughout the early 1/3 of winter so far. The scent and appearance are lovely and cozy, and a nice perfume of sweet cookies, that go well with the winter."
Wax: Paraffin | Wick: Cotton | Burn Time: Up to 150 hours
2. A Gift-Worthy Candle In A Decorative Glass Jar
The fluted glass jar of this candle from LA JOLIE MUSE is absolutely divine, making this pick a superior gift for a loved one — be sure to grab one for yourself, too! The candle has a Fraser fir scent with notes of crisp coniferous pine needles and a warm touch of amber and musk, and it's available in five other equally elegant scents. It features a single wick that'll burn for up to 80 hours. When the candle is used up, the jar can be repurposed into a beautiful flower vase, storage jar, brush holder, and more. Three other scents are also available for other times of the year.
One Reviewer Wrote: "I am so pleased to give this product five stars. Upon seeing how beautifully and carefully this candle was packaged, I knew I was in for something quite special. It comes in a gorgeous box, ready to be gifted. I could already smell it as I lifted the box open, and it is such a comforting fir scent - absolutely perfect for the holidays; strong, but not overwhelming."
Wax: Soy | Wick: Cotton | Burn Time: Up to 80 hours
3. Writer's Pick: A Strongly Scented Candle Designed To Eliminate Pet Odors
I have tried many, many different candles in my home, but Pet House candles remain my personal favorite because when burned, they'll fill the entire room with their wonderful aroma, and the smell actually sticks around for a long time. The candles are specifically designed to eliminate pet odors (which Amazon reviewers confirm is the case), but honestly, I find that they're a good choice for all households — with or without pets!
This brand has a variety of wintry scents available including Evergreen Forest, Hollyberry, and Sugar Cookies, but this standout candle is hot cocoa-scented. The soy candle is hand poured, and it doesn't contain paraffin dyes, phthalates, parabens, or formaldehyde.
One Reviewer Wrote: "This candle smells absolutely amazing, just like hot cocoa! And it covers any pesky pet smell. I burned it for about 2 hours, and my house still smells amazing hours later. I'll definitely be getting more scents!"
Wax: Soy | Wick: Cotton | Burn Time: Up to 60 hours
4. A Wintry Pillar Candle For Just $10
Made with natural essential oils, this candle from Aroma Naturals features notes of orange, clove, and cinnamon to make your home smell delicious — Amazon reviewers certainly approve, giving this pick a solid 4.3-star rating overall after over 7,000 reviews. The pillar candle stands four inches tall, and it features a single wick with up to 50 hours of burn time. Other wintertime scents are also available, including a Juniper, Spruce, and Basil option.
One Reviewer Wrote: "We have bought so many candles, but this is one of the best. It makes our home have this wonderful, warm scent...reminding us of holiday time. Burns so long as well. Definitely worth the money---have purchased about five times now."
Wax: Paraffin | Wick: Cotton | Burn Time: Up to 50 hours
5. A Festive Candle Made From Sustainably-Sourced Soy & Beeswax
This candle from Santa's Naturals features a combination of sustainably-sourced soy wax and beeswax that'll burn incredibly clean for up to 30 hours. The snowfall scent is woodsy with hints of citrus, eucalyptus, and mint, though there are other wintry scents to choose from, including Fraser Fir and Winterberry. The candle comes in an adorable tin with a holiday design. This pick is also available in a tea light option, as well as two- and three-packs.
One Reviewer Wrote: "I love these candles! [I] bought the Snowfall & Frasier Fir scents, both were clean and wintery😁 The candles really did last 30 hours and I liked the tins vs glass, there's no black from the smoke. The tins are cute too, as well as the boxes they came in. I'll definitely buy these again, the price was great too!"
Wax: Soy, beeswax | Wicks: Cotton | Burn Time: Up to 30 hours
6. A 3-Wick Spice-Scented Candle
If you prefer a three-wick candle for a greater scent throw and better scent dispersal for larger rooms, look no further than this one from HHI. It features a lovely scent with notes of vanilla, cinnamon, amber, and a hint of musk — and it comes with a lid made from natural bamboo. It arrives in a gift box should you want to give it to a friend or family member, but I wouldn't blame you for keeping it for yourself either!
This pick is available in other cold-season scents like Cedarwood and Eucalyptus, as well as a single-wick option.
One Reviewer Wrote: "Classy product! Great aroma, burns nicely, and great packaging. Bought as a gift, and then picked one up for myself after receiving it in the mail."
Wax: Soy | Wicks: Cotton | Burn Time: Not listed
7. A Multi-Layer Candle With A Wooden Wick That Crackles
With a wooden wick that crackles as it burns, this candle from WoodWick will remind you of cozying up around a fireplace. The tall candle boasts a unique hourglass shape with three layers of different scents — including fireside, redwood, and sandalwood clove — that complement one another as they slowly melt together. The single-wick pick comes in other wintertime fragrances, including Winter Garland, Fireside, and Mountain Air.
One Reviewer Wrote: "Love the mixture of scent's and will definitely be ordering more for the holidays and even for everyday!"
Wax: Soy, paraffin | Wicks: Wood | Burn Time: Up to 60 hours
8. A Gorgeous Votive Candle With Thousands Of Rave Reviews
With more than 10,000 reviews on Amazon and a 4.6-star rating overall, this votive candle from NEST is certainly one of the more popular picks on the site. And that's likely because it's strong-smelling (with a birchwood pine scent), particularly long-lasting considering its petite size, and gorgeous in design. The glass jar features a metallic gold pattern that's positively festive. Pick up a few of them — there are various sizes available — and group them together for a gorgeous display in your home.
One Reviewer Wrote: "one of my favorite candles ever, definitely the best smelling. i love this anytime of year but its best fall through winter cause if its sweet piney smell! it lasts for a while and comes in such a [cute] box and votive!"
Wax: Soy, paraffin | Wicks: Cotton | Burn Time: Up to 28 hours
9. A 12-Pack Of Wintry Tea Lights
Swap out your ordinary tea lights with these ones from Candeo to fill your whole home with the smells of winter. The Winter Lodge scent combines fresh eucalyptus, cedar wood, and pine with delicious notes of clove, cinnamon, and mulberry. Each tealight is handmade and comes in a clear cup. Use them alone or place them in holders like these stunning silver ones or these natural wooden ones.
One Reviewer Wrote: "I buy Candeo candles almost exclusively. They burn well and the scent is strong but not overwhelming. Winter Lodge is my very favorite scent.[...] It has a light pine scent overlaid with a sweetness which comes together beautifully. It's not too woodsy or too sweet...it's just wonderful."
Wax: Soy | Wicks: Cotton | Burn Time: Up to 5 hours each
10. These Unscented Wax Pillars With A Woodsy Vibe
If you're sensitive to scents and are hoping for an unscented wax option with a wintry forest feel, this is a great option. With a burn time of 18 hours, this set of three candles with an 18-hour burn time are made with paraffin wax and feature cotton wicks. The candles are four, five, and six inches tall and all three are three inches across.
One Reviewer Wrote: "These candles burned for hours and hardly any way melted. No scent at all, perfect for the table. Highly recommended."
11. These Ambiance-Boosting, Remote-Controlled Flameless Candlesticks
For a touch of flickering warm light without worrying about open flames, this set of six battery-powered LED candles is a great choice, and they fit nicely in standard candlestick holders. The included remote allows you to set a timer, adjust the brightness, and even turn on and off a realistic flame-like flickering effect.
One Reviewer Wrote: "I love the fact that these candles have a remote control. With one click I can light the candles that are on the mantle and on my dining room table. I love the feature of adjusting the brightness as well as the look of a candle flickering. As we approach the dark months of winter, these candles add a look of warmth as well as light. [...]"
12. An Unscented 3-Pack Of Flameless Pillar Candles With A Cute Winter Design
These candles from GenSwin are powered by two AA batteries, but honestly, they look shockingly realistic when turned on — they put out a warm glow, plus the "flame" flickers and dances. The pillar-shaped candles have a cute snowman design on the exterior (other winter and non-wintry designs are also available), and they come in three different heights: Four, five, and six inches. A remote control is included for easy on and off and there's also a timer option. This pick is unscented.
One Reviewer Wrote: "I purchased these candles to leave up all Winter and they provide such added warmth and coziness during the dark months. They were easy to program, stay on and go off automatically and the batteries are very long lasting. Will buy from this vendor again for other seasons and would recommend highly."