How To Help Those Affected By The Turkey-Syria Earthquake
Love Island's Ekin-Su is amongst the high-profile figures backing the efforts.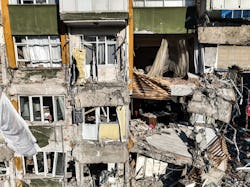 dia images/Getty Images News/Getty Images
On February 6, a devastating earthquake struck central and south-east Turkey (also known as Türkiye by the United Nations) and northern Syria. The death toll for the deadly earthquake and aftershocks currently stands at 11,700, with rescue and aid efforts ongoing in both regions amid treacherously cold weather conditions, and anger mounting over a slow official response to the disaster, as per The Guardian. Nearly 300,000 people have been left homeless in Syria, while an estimated 13.5 million people in Turkey have been affected by the disaster.
Love Island's Ekin-Su Cülcüloğlu, who previously lived in Istanbul and has friends and family in the affected regions in Turkey, was among the high-profile voices urging people to help victims of the tragedy. The reality star says that members of her family have been caught up in the earthquake and are currently sleeping outside.
"A little bit of anyone's help would be great because we need people to save those people that are buried under the ground," she told Sky News, adding that she would like to volunteer on the ground to help those impacted. "Yes - as soon as the opportunity is given to me I'm there," she said. "Obviously it is my home, it is my second language. Anything I can do, I'm there to support anyone."
As temperatures plummet in the affected regions, those impacted by the disaster are in urgent need of food, water, warm clothes, and safe places to shelter. A situation further complicated by the ongoing civil war in Syria, with different areas of the country being under either rebel or state control. According to figures from the U.N. Office for the Coordination of Humanitarian Affairs (OCHA), four million Syrians who already rely on immediate humanitarian aid live in the region affected by the earthquake.
In response, numerous charities and aid organisations are helping to collect and redistribute donations and volunteering on the ground with the continuing rescue efforts. Here are some six organisations to support in their efforts to help as many people as possible.