Flamin' Hot Cheetos Asteroids, Creme Savers, & Other Discontinued Foods The Internet Still Misses
Time to resurrect these long-lost favorites.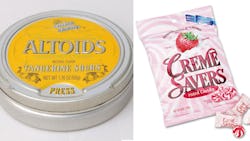 Amazon/Sunbelt Packaging
We all have our own snack food white whales — those classic snacks with which we share a colorful history, although we've gone years being unable to capture them. Such is the nature of all those discontinued foods we still miss; unless the Snacktime Gods see fit to smile down upon us and resurrect our long-lost favorites, we must resign ourselves to the fact that we will likely never taste these glorious creations again.
Fortunately, we have been blessed enough to see the return of some snacks of yore. OREO O's came back in 2017, sending cereal lovers in a spiral. After a few viral tweets in 2019, Wendy's brought back their spicy nuggets. In November 2019, Eggo Waffle Cereal returned to grocery shelves. (Nature is healing itself. We are the virus.) In May 2020, the most blessed of blessed snack reboots happened as Dunkaroos officially returned to stores. If you heard something, that was just our collective inner child scream-sobbing. Even Surge is back after the electric green soda was discontinued for nearly two decades.
Here are 20 of your beloved childhood snacks, the discontinued foods of your youth, our collective white whales. Stare longingly at them while weeping quietly into your boring adult food. Wistfully touch the screen and say, "You don't know what you've got till it's gone." Unlock the part of your brain that housed the delicious treats and immediately Google where you can find duplicates. Dig in.
This article was originally published on