How To Survive Another Month Of Quarantine With Each Zodiac Sign
Hint: Give Sag some space.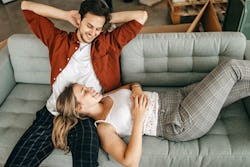 StefaNikolic/E+/Getty Images
So, you've noticed your partner hasn't been acting like themselves lately. They've been a little more withdrawn, moody, and anxious for the past couple of months. Whether they've openly admitted it to you, you know that being stuck in quarantine is to blame. Let's face it — with the number of COVID-19 cases rising across the country, daily life probably isn't going to return to normal anytime soon. Moreover, staying inside is still the safest thing to do. But if social distancing together impacts your partner negatively, their zodiac sign can give you some insight into how you can help your partner survive another month of quarantine.
Each zodiac sign has its own set of unique personality traits. So, naturally, being in quarantine with a partner would affect them all differently. For example, astrologer Kristy Robinett tells Bustle that a fire sign like Aries tends to need more breathing room in a relationship than a natural caregiver like Cancer. "Quarantine may be making them feel even more confined and restless," she says. As their partner, you may have to be more mindful about giving them more space than you usually do.
Astrology may not be able to give you all the answers about how to deal with your partner. But it can definitely point you in the right direction. So, here's how to help your partner survive another month of being in quarantine, based on their zodiac sign.