How To Find An Audio File On TikTok
Scrolled past a catchy sound bite on your #ForYou page without saving? Here's how to track it down.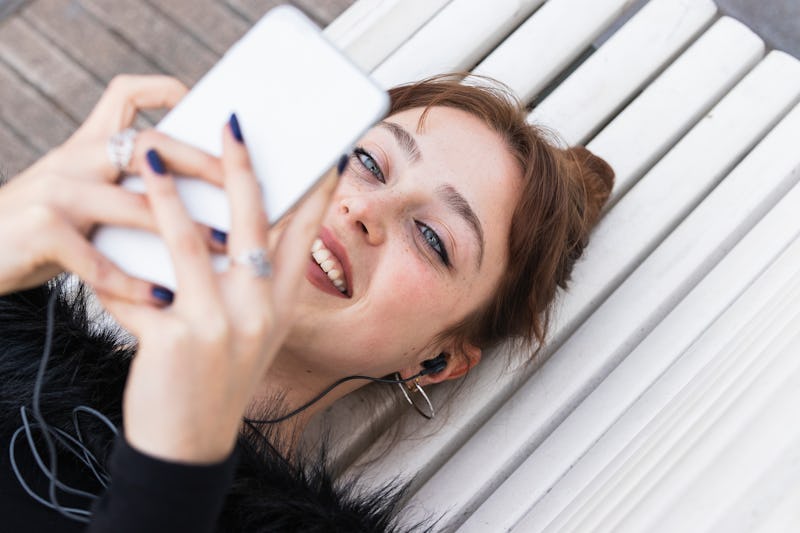 Westend61/Westend61/Getty Images
There's a sound bite you heard on TikTok that has been stuck in your head for days, but you have no idea who said it, or what it's from. It's OK if you didn't end up saving it — the app makes it super easy for you to find a TikTok audio file in the uber-sensitive Discovery page.
While you can definitely enjoy TikTok without sound, audio is baked into the core of the TikTok experience. The app itself evolved from Musical.ly, a lip syncing and music discovery platform. And though TikTok has grown to feature many different elements of entertainment beyond audio, it remains a great place to find new music from independent artists you might not otherwise be exposed to — not to mention meme-able soundbites that make absolutely no sense to anyone who is not embroiled in TikTok trends.
Other search engines might require you to have a bit more data than a single key word from the clip, but TikTok's search bar has an impressive ability to help you find exactly what you're looking for, even if you exactly don't know what you're looking for — like eight seconds of a song by an artist you've never heard of. Here are a few different ways to find an audio clip on TikTok so that you can add it to your playlist, take part in a sound-based meme, or learn more about the creator.
Search For An Audio Clip On TikTok Directly
If you remember a few words from the clip, like "two pretty best friends," you can simply tap "Discovery" and then plug those words into the search bar. You'll see "Videos" first, and just below it, you'll see the "Sounds" results — that's where you'll find a list of audio files that include those key words. If it's a very popular file, you'll likely see a few different versions of it, uploaded by various users. In this case, you'll see "2 Pretty Best Friends" by Jayrscottyy is the number one result, with 28.3K plays. Tap the result to see the original video that featured the sound, add it to your favorites, play the full song or clip, browse through all the videos that used this exact clip, or tap "Use this sound" to immediately queue up a new video draft with the sound embedded.
If the song you're looking for is not in English, doesn't have words, or you can't remember any searchable characteristics, it's going to be much harder for you to find it. Though you might have some luck cruising Twitter or Google with searches for popular TikTok trends, or checking out viral hits playlists on Apple Music or Spotify, it might take a lot of digging. To avoid this scenario, be generous with double taps and saving videos to your Favorites so you can easily trace back to them.
Tap Audio Files To Learn More
If you're watching a video and want to learn more about the audio, or save it to use later, check out the scrolling audio information located just above the menu bar at the bottom of the screen, next to the little music note. You can tap this caption to be carried over to the audio file's main page. There, you can watch the original video the sound was used in, learn about the creator, save it to your favorites, check out other videos that have used the file, or tap "Use this sound" to get started with your own video.
Search Tags
If there's an audio file that you've been hearing everywhere, like, say, "Drivers License" you might be able to find it under trending hashtags. If you see the file you're looking for in a hashtag library, you can tap any video, then tap the scrolling audio info at the bottom of the screen to go to the audio homepage. From there, you can tap "Use this sound" or add it to your Favorites for later use.
Find It In Your Favorites
If you get in the habit of saving audio files that you like to your Favorites, you can easily refer back to them without having to go through the search process again. To save an audio, tap the scrolling track above the menu bar at the bottom of the video when you see it. This will take you to the audio's homepage where you can see the original video it was posted with, information about the creator, and other videos that use it. At the top of the page, under the audio info, you'll see "Add to Favorites." When you tap the ribbon icon, the file will be added your own personal sound library, which you can access when you tap "Sounds" at the top center of the preview screen in record mode. If you just want to listen to your Favorites without making a video, head to your profile, and right next to "Edit profile," you'll see a ribbon icon. Tap that and find all of your saved Favorites, including videos, hashtags, sounds, and effects.