How To Have A Sexy Fling On The DL During A Family Vacation
Admit it, you've wondered how to pull it off.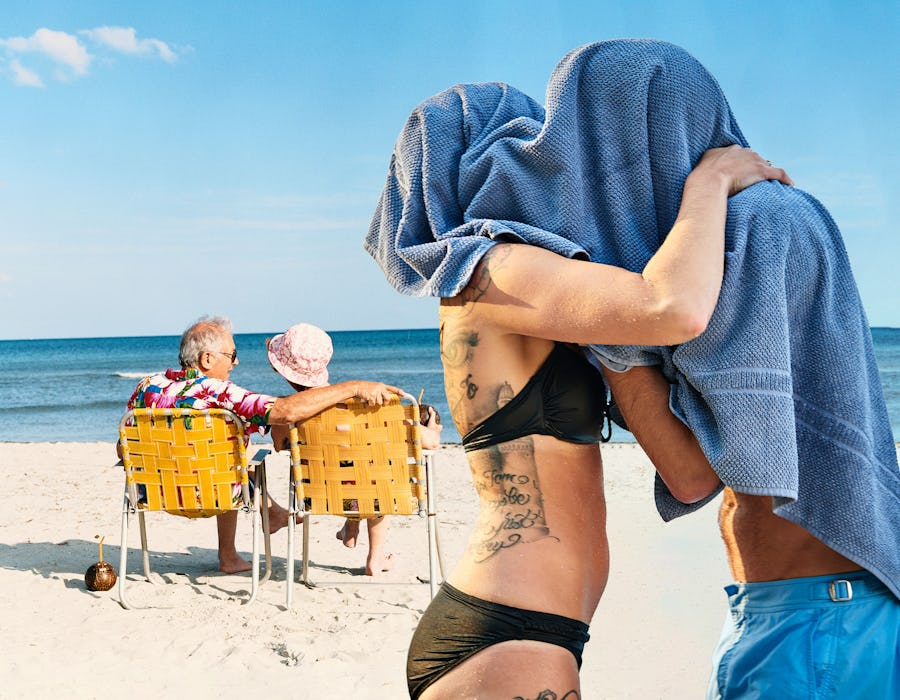 Once the sun had set over the Dordogne, a lush region in southwestern France famous for walnuts, pâté, and prehistoric cave paintings, I took a cautious seat at the hotel bar and ordered a glass of rosé. All week, I'd noticed the younger bartender throwing flirty glances and making suggestions in endearingly broken English about the varietals I should try next. Now, on my final night in France, I felt some mix of relief and anticipation. I'd accompanied my grandmother on a Vassar alumni tour, and at 19 I was the youngest in our group by at least 40 years. The geriatric girlies had clocked the chemistry at the bar days earlier and had been pushing me to flirt back. But I was shy.
As the night stretched on, my grandmother went to bed, leaving me with the mustachioed Frenchman and a freshly topped-off glass. But by the time I'd drained my wine, his shift wasn't quite over and my early morning wake-up call was looming large. We exchanged Facebook contact info and I said goodnight, my rosé sloshing in my stomach along with the regret of not making a move. Around 11:30, my phone lit up. He wanted to know if I'd gone to sleep. "What's the policy about coming upstairs to kiss me goodbye?" I asked.
"It's not illegal. Let's meet by the elevators. No camera there," he replied.
Ten minutes later, we met in the stairwell. He'd changed out of his striped uniform into a black leather jacket and carried a motorcycle helmet in his hand. He tasted like cigarettes and his facial hair prickled my upper lip and chin. We split off soon after, back to our lives that would continue expanding infinitely in different directions.
In theory, a fling on vacation is a carefree, no-strings tryst. But in practice, it can be a delicate thing to maneuver — especially on a family trip. It's a science as much as an art, requiring a thoughtful balance of priorities mixed with a healthy supply of YOLO (mine was in 2015, after all). The primary reason for a family vacation is, of course, family bonding time. But if the mood strikes, why not be a little minx and flirt with some strangers?
A spicy one-night stand on a family trip can be wholesome or X-rated, secret or out in the open, premeditated or organic. The only requirement is that it's a little fun, a little silly, and very out of your comfort zone. Whether you're looking for a hotel romance á la Albie and Portia in The White Lotus or you're packing some Girls Gone Wild heat, there are plenty of ways to make your fling dreams come true on your next family getaway.
Your Family Vacation Fling Might Happen Spontaneously
One of New York–based Sarah Riccio's most memorable family vacation flings happened on impulse. When the now-33-year-old founder of sex toy shop and education platform Delicto.com was 21, she and her family traveled to Alabama for a wedding. During a three-hour layover in Baltimore, she wandered the airport and found herself in line behind "a very tall, very good-looking man" at a Hudson News.
She quickly paid for her gum and magazine, followed him out of the store, and tapped him on the shoulder. "Before he even had the chance to tell me his name, I said, 'Sorry if this is forward but you're the sexiest man I've ever seen. Any chance you're going to Alabama?'"
His answer? Yes, ma'am. The two "full-on made out right in the middle of the airport" and, upon boarding their Southwest flight, found seats together where he fingered her under the cover of an inflight magazine — without anyone else noticing.
"I'd never do something like that now, especially in public. But do I have regrets?" Riccio asked. "Nope."
Like my French meet-cute, 23-year-old Erin Wilson wound up kissing her bartender at a hotel in Tunisia while vacationing with her mom last April. After a week of being served fancy drinks with hearts on top and flowers sprayed with his aftershave, Wilson, a student from Lancaster, England, finally decided to let her guard down. The two met up in a courtyard after his shift and made out with a week's worth of pent-up sexual tension.
"I never thought I'd be a person to do this on holiday," she says. "But I figured, why not? It's a nice little ego boost if nothing else."
Some Family Vacation Flings Are Fueled By Dating Apps
If privacy is a concern, a dating app hookup might be easier to keep on the DL. When Chicago-based Alex Hall was 21, the now-30-year-old founder of sex ed platform Bottoms Digest managed to sneak off with a Grindr match while on vacation with his godmother and cousins in Austin, Texas. His match lived in off-campus university housing, complete with a rec room — pool tables, bean bag chairs, the whole nine yards — that was open to the whole building but was rarely ever used. Perfect.
As a bottom, or someone who prefers to be penetrated during sex, Hall spent 20 minutes discreetly prepping in the family's shared bathroom with his travel-size enema bulb. He told everyone he was going for a late-night run (not unreasonable because it's something he would actually do). When he arrived at this guy's place, the two had "great" sex — if not slightly paranoid (what if someone walks in?! Are those security cameras in the corner?!) — on the common room couch.
Hall kept his Austin escapade to himself. "I think my family would murder me if they found out I went to a stranger's house while I was with them," he says.
Los Angeles–based musician Luke Metzler, 29, also pulled off a secret app meet-up while on a 2015 trip with his parents and extended family on Lake Michigan. After the others had gone to bed, he invited over a Tinder match. The two walked down to the beach where they skinny-dipped in the lake between rounds of sex over the course of what he remembers as a truly "cinematic" night — and one that didn't take away from precious time with his family.
Want To Have A Fling Of Your Own?
One-night stands give you license to try things you wouldn't otherwise, and on a family vacation, the stakes are especially low. If things go sour, you still have your family for company. Unless you visit the same place every year, it's likely no one knows who you are, and there's no expectation that your fling will keep in contact after you go home.
"We didn't keep in touch," Wilson said about her barman in Tunisia. "He asked for my email, but I thought it'd ruin the magic. I wanted it to just be a holiday thing."
As for my Frenchman, immediately upon returning to my room with my sleeping grandmother, I messaged him, thick with 2015 cringe: "That was the highlight of my trip. *sunglasses emoji*" Yes, I'd just had a wonderful week galavanting around southern France with my grandmother and a bunch of Vassar's finest. But the memory of sneaking off to kiss a handsome stranger in a stairwell is etched on my mind like Paleolithic bison on the Lascaux caves.
"Je suis la cerise sur la gäteau," he wrote back. I'm the cherry on the cake. And he was right.