Join Bustle's App-less April Challenge To Delete Your Dating Apps For A Month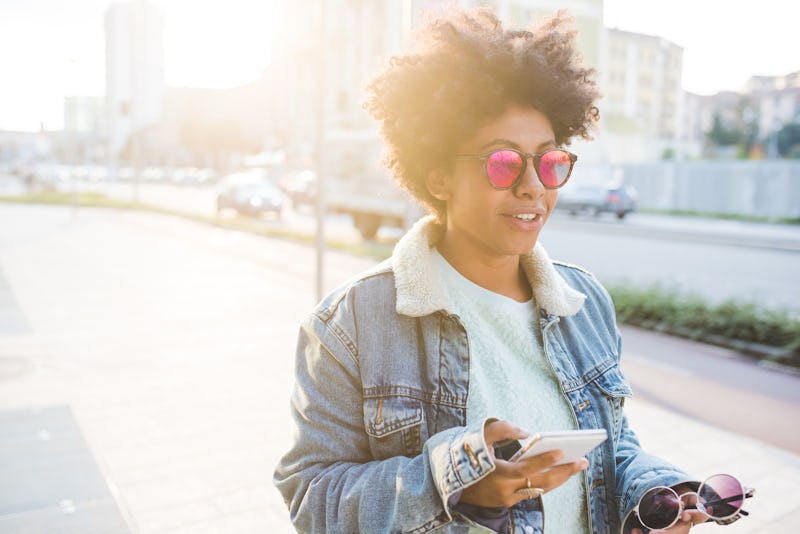 Eugenio Marongiu/Fotolia
Whether dating apps are causing a "dating apocalypse" or are merely the easiest way to get a date, there's no denying these tools have been total gamechangers in the dating scene within the last few years. And even though dating apps are most popular among Millennials, according to a recent SeatGeek survey of 1,000 singles, 95 percent would rather meet people IRL versus online or on an app. That's why for the second year in a row, Bustle is deeming April, "App-less April" and encouraging our staff and readers to delete their dating apps for 30 days and meet people the old-fashioned way: offline. With participants tracking their progress and tricks and tips from dating experts, we'll be helping you feel empowered to meet people IRL all month long.
Since 2013, the use of dating sites and apps has nearly tripled among young millennials, so I knew I wasn't alone in how much time I was depending on them in the past few years. But that's exactly why deleting them for a month last year as part of Bustle's App-less April was so important — because dating apps were the only way I knew how to date. And they were incredibly frustrating.
"I suggest a break to my clients all the time," says Ravid Yosef, dating and relationship coach, tells Bustle. "Sometimes our energy is what's attracting others and if we don't have enough self-care in our life or get obsessive with our notifications, we start looking for validations outside of ourselves. Which in turn attracts the wrong kind of attention."
After a month of evaluating my dating habits, better (but way fewer) first dates, and a revelation that I actually loved being single despite how dating apps were making me feel about it, I was grateful for my app-less month. I eventually went back on dating apps a few months later, but with an entirely new attitude and some changes to how I was using them. The hardest part of the challenge though was actually meeting people offline, which was also the whole point of it.
While that didn't happen overnight, offline dating was something I started to work on and prioritize during App-less April. Which brings me to this year's App-less April, where I challenge you to delete your dating apps for the entire month of April.
Who's the challenge for?
You may be newly single, perpetually single, dating someone new, glued to your dating apps, or just not getting anywhere with them. Whatever the case, this challenge isn't to prove dating apps are all bad, don't work, or that you should delete them forever.
Like any area of our lives, it's important to take a step back and evaluate our behavior — especially when our well-being is involved — and with 125 percent of millennials being more likely to admit they're addicted to the process of dating than other generations, according to Match's 2017 Singles in America survey, there's no doubt that other areas of your life are being affected by dating apps. Think of App-less April as a Sober January or Whole30 for your dating life.
What's the point of the challenge?
Maybe you'll realize you're relying on apps too much. Maybe you'll realize they're hurting your self-esteem. Maybe you'll realize you're using them for confidence-boosting procrastination, like almost half of millennial Tinder users, according to a survey by LendEDU. You may find out that you've been treating dating like a game all this time. Regardless, you'll learn something and will hopefully approach dating in a new way when do you go back on your apps.
Interested in taking the App-less April challenge and deleting your apps for a month? Here's what you can expect.
Your Relationship With Your Phone May Change
I was bored with my phone when I deleted my dating apps last year. And Bustle and Happn's dating survey of over 1,000 dating app users in their 20s and 30s revealed that we use our dating apps all throughout the day — so don't feel weird if you experience some sort of dating app withdrawal during App-less April.
At first, I spent some more time on Snapchat, which I still don't really get, but it didn't quite fulfill my entertainment needs like swiping did. So, I did something that was a total game-changer in my life — I started paying less attention to my phone. I put my phone on "Do Not Disturb" and said goodbye to notifications popping up and disruptions all throughout the day. It's not that I stopped checking my phone or ignoring people, it's that I took back control of when I would check my phone. When I went back on my dating apps, my new phone habits helped me depend on them less.
You'll Probably Go On Fewer Dates
Which is good or bad depending on how you feel about first dates. While you are limiting your pool by going app-less, sometimes we go on dates because we feel like we're supposed to and we don't actually enjoy them.
But know that any first dates you do go on will be different. For one, dates with people you've already met in-person are different since you've already established a rapport. I found that I was less distracted and more interested in actually getting to know my date. Dates were less interview-like and more authentic. Without apps, the on-to-the-next-one mentality that dating apps perpetuate may start to fade.
Your Behavior Will Have To Change In Order To Meet Someone In-Person
Here's the hardest part of the challenge: changing your behavior. Just the act of deleting your dating apps won't change a thing. "Deleting your apps is the first step," dating coach and certified matchmaker Francesca Hogi tells Bustle, "But if you don't change your other behavior, you're unlikely to meet dates offline."
So how on earth do you do that? Well, it all depends on what you're looking for and how you're approaching dating. It could be as simple as an attitude adjustment or it could be that you need to expand your social circle. The good news is that there are so many ways to do these things, and if you're open to stepping outside your comfort zone and learning, you're already well on your way.
To get started, here are 30 things you can do each day in April to work on meeting someone IRL.
Join the campaign and share your stories with #ApplessApril and ​by ​tagging @Bustle.