3 June 2022 Full Strawberry Moon Manifestations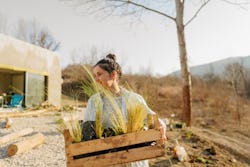 AleksandarNakic/E+/Getty Images
If May's turbulent astrology still has you rattled, you may be able to rest easier knowing there's a lucky lunation around the corner. Stationed in the adventurous traveler of the zodiac, Sagittarius, the June full Strawberry moon — which refers to the last full moon of spring — brings an array of opportunities, bright ideas, and good fortune on June 14. The free-spirited fire sign is all about seizing the moment and expanding their minds and hearts, and the full moon is the ultimate lunation to manifest your most sophisticated and cosmopolitan dreams.
Manifesting is a powerful way to attract your goals by believing you're already living the life you want. The practice is used to magnetize things like new jobs and romance — but if you're holding onto heavy feelings from your last relationship, for example, attracting a new partner might be challenging. That's why using the energy of the full moon is a great way to elevate your manifestation rituals.
"Full moons are the celestial invitation to say goodbye to what no longer serves us," astrologer Imani Quinn tells Bustle. "Whichever old habits, situations, relationships or beliefs are leaving, allow them to as new experiences are beginning to usher in."
This lunar phase is also a time where your desires, emotions, and truths come bubbling up to the surface, making it easier for you to discern your underlying needs, which is necessary when carrying out your manifestation practice. Since the full moon is stationed in Sagittarius, "This lunation is extra powerful in bringing in abundance, ripe for new life," says Quinn. "As the summer is beginning, this Sagittarius energy in Gemini is at the precipice of the summer solstice and will encourage us to get out and explore, socialize and open up to all of life's abundance."
Ready to harness the power of the full moon? Try these June full moon manifestation ideas to amplify your practice.
June Full Moon Manifestation Ideas
1. Plant Magic
The full Strawberry moon earned its name to indicate the time of year when they begin to ripen, so propagating and planting can be a great way to honor the earth element of this lunation. As you prepare for the full moon, purchase a plant that calls to you with intention.
"As you plant it in the soil and tend to it, pay attention to how the plant responds and speak your intentions to the plant," says Quinn. "The plant's response will give you signs on how your manifestation is progressing."
2. Moon Bath Ritual
Full moons signify the time to release the emotions and tensions that have been bottling up throughout the lunar cycle, and similarly, manifesting requires letting go of what no longer serves you to make room for what you want to attract. Quinn says a moon bath ritual is a productive way to purge negativity to prepare yourself to experience what new will come your way.
"Add seasonal flowers to honor the Strawberry moon, Epsom salts, and lavender for relaxation," explains Quinn. "While in the bath take time to meditate and receive all of the gifts that the elements have to offer you."
3. Travel Mood Board
If you've got a bad case of wanderlust during the full moon, it's probably because Sagittarians are the explorers of the zodiac. Use the full moon to uplift your adventurous spirit by creating a vision board of all the places you've always wanted to visit. Whether you go the traditional route of magazine cutouts and cork boards or use Pinterest to manifest your dream vacation — no travel fantasy is too big!