9 Vision Board Ideas TikTokers Swear By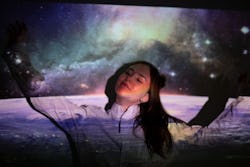 Dennis Aglaster / EyeEm/EyeEm/Getty Images
Hoping to become more mindful in the new year? Perhaps looking at a photo of yourself meditating, or a serene landscape that reminds you of inner peace, can motivate you towards this goal each day. Ready to land that dream job? Reading an affirmation about your inner power can help you step into your inner go-getter. Or, maybe you're manifesting less screen time. If that's the case, ignore what we're about to say next: Some of the best vision board tips can be found on TikTok.
Whether you already manifested your way through surviving 2021, or you're ready to take control of the new year, one of the most popular practices for manifesting your 2022 goals is by vision boarding. Based in the meditative practice of visualization, where one envisions a future goal in order to center oneself towards making that goal a reality, a vision board is essentially just a physical representation of one's goals. By narrowing these goals down, figuring out what they look like and mean to you, and placing them on a board that you can look to for inspiration each day, you'll be in shape to start approaching your goals more intentionally and realistically.
If your algorithm is more attuned to spiritual content, the amount of TikTok vision board ideas might not be a surprise to you. One look at the nearly 13 billion views under the hashtag #manifestation, and more than 6 billion views under the hashtag #visionboard makes one thing clear: TikTokers are serious about creating their dream future.
If you already deleted the clock app once midnight struck on Jan. 1, or you just don't know where to start, let this guide serve as a vision board for your vision boarding journey. (Sorry, was that too meta?) From technical tips like what materials to use, to conceptual guidance like how to optimize your vision board's effectiveness, TikTok has dreamt up plenty of ways to make your vision board journey a fruitful one.
Grab a poster board (or a Pinterest board) and get to manifesting. Here are TikTok's nine best vision board ideas.