McDonald's New Menu Includes A Spicy Sriracha Chicken Wrap
Other tasty additions include a Double McPlant Burger.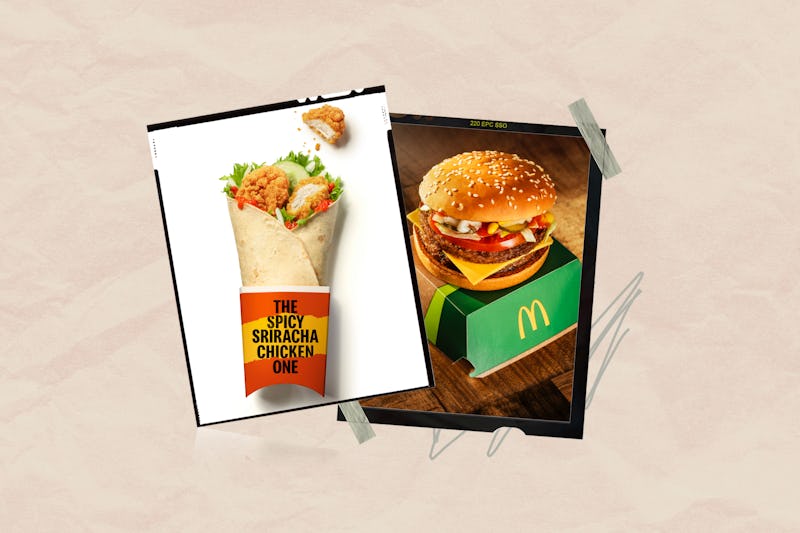 McDonald's
All hail vegans, veggies and flexitarians – the McDonald's McPlant burger is levelling up and getting the full double-decker treatment for 2023. Fittingly dubbed the Double McPlant, the plant-based item is here to stay for the foreseeable, and is officially joining the standard menu for Veganuary and beyond. Elsewhere, Maccies are also looking after the meat-eaters with a limited edition wrap called the Spicy Sriracha Chicken One. With crispy or grilled chicken options, the toasted treat also contains spicy sriracha sauce, cucumber, slivered onions, and lettuce. Priced at £3.29 (or £4.89 for a meal) it's only staying on the menu until February 14, so get your skates on ahead of its Valentine's Day demise.
Back to the Double McPlant, according to McDonald's, the vegan patty they co-created with Beyond Meat took three years to develop, and since their original McPlant launched in September 2021, they've been inundated with requests for a double version. "McDonald's let us double up the McPlant you cowards," one fan of the original tweeted last year. "Why, as McDonald's, would you not just let me order a Double McPlant?" asked another. "I feel oppressed."
Fancy getting your hands on one of the new Double McPlants? It'll set you back £4.89 for a burger, with the meal option priced at £6.49 across UK and Ireland restaurants. Along with not one, but two vegan patties, it comes with a vegan sesame bun, mustard, ketchup, vegan sandwich sauce, fresh onion, pickles, lettuce, tomato and a gooey slab of vegan cheese.
In other news from the golden arches, the fast-food chain is also bringing back its Cheesy Garlic Bites (*chef's kiss*) until February 14 along with the Aero Chocolate and Aero Peppermint McFlurries. Sounds McTasty.