The Iconic Pink Motorola Razr Is Making An Epic Comeback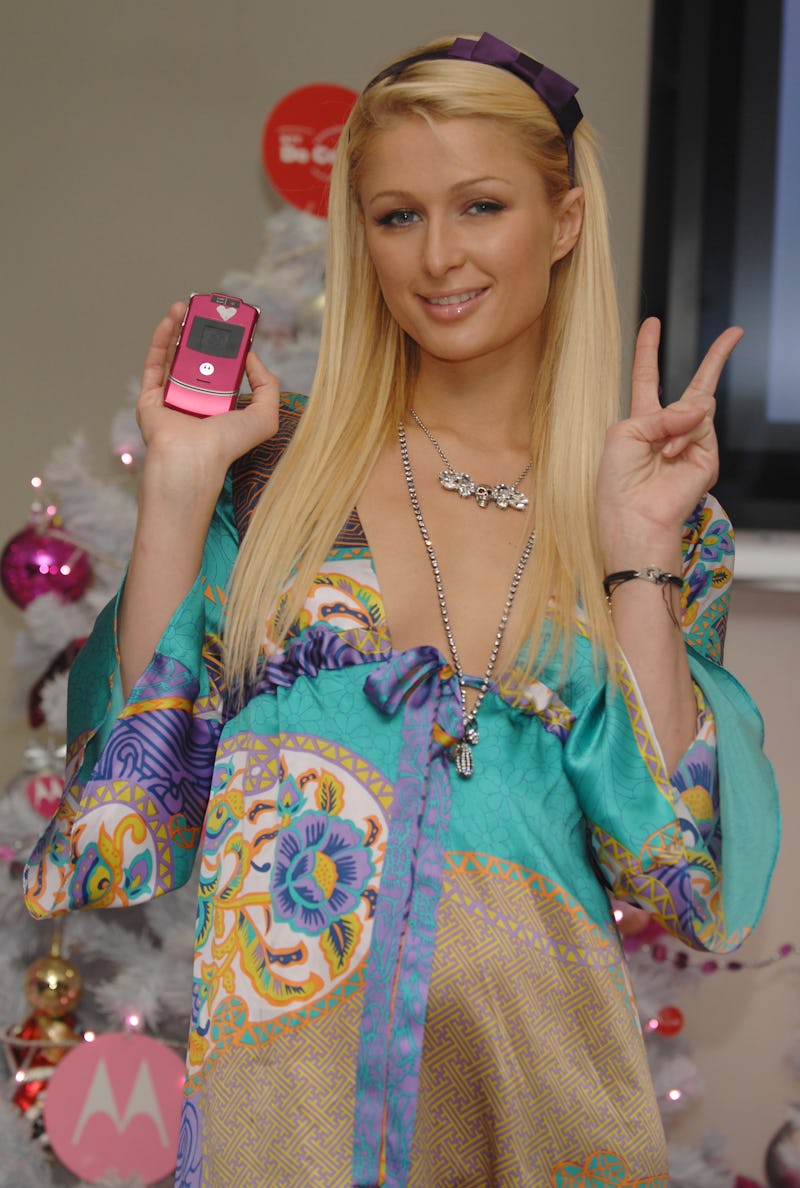 Jun Sato/WireImage/Getty Images
In 2004, there was no greater status symbol than a pink Motorola Razr. Paris Hilton, one of the leading trendsetters of the early 2000s, never missed an opportunity to be snapped by the paps with her trusty cell by her side, and even Avril Lavigne's punk rock style paired well with the flashy phone. These days it's all about smartphones, but now the iconic pink cell is finally making a comeback as the Motorola Razr+, which means you can live out your Y2K dream without compromising your touch screen and hi-def cameras.
You better start pulling your old Juicy Couture tracksuits, low-rise jeans, and jelly sandals out of your closet now, because once you get your hands on the new version of the throwback phone, you'll be in full Y2K mode. The Razr+, announced on June 1, is a reimagined version of the classic early 2000s accessory, this time as a foldable cell that flips open into a sleek smartphone with a touch screen. The outside features a usable screen and even has a front-facing camera that lets you take the perfect selfie without opening your phone and also allows you to position the device to be its own tripod. Now that's a feature that Paris Hilton, the self-proclaimed inventor of the selfie, could get behind.
Plus, the new Razr comes packed with several games and offers plenty of home screen customization options like unique clock designs and panels that will help you prioritize your favorite apps.
If you didn't know, the Razr was revived in some capacity back in 2019. At the time, the cell was only available in Noir Black, followed by the release of a Blush Gold option in 2020. But once the redesigned cell hits stores later this month, you can snag the phone in Infinite Black, Glacier Blue, and of course, the classic Viva Magenta colorway that you probably had (or begged your parents for) nearly 20 years ago. Be still, my beating Y2K heart.
The new device will be available for pre-order on June 16 via the Motorola website and through select carriers, and will officially be available in stores starting June 23. You can grab yours through AT&T, T-Mobile, Spectrum Mobile, Google Fi Wireless, Optimum Mobile, Best Buy, Amazon, or the Motorola website for a suggested retail price of $999.99.
They say everything comes back in style, and with the revival of Y2K vibes everywhere, it was only a matter of time before the beloved early 2000s electronic made its triumphant return. It's hard to authentically pull off the style (low rise jeans can be divisive!), but as long as you've got a Razr in hand, you're on your way.