M&S Is Selling A Corgi Mousse Cake For The Jubilee
Plus, 14 other royal-themed drinks and snacks to serve at your street party.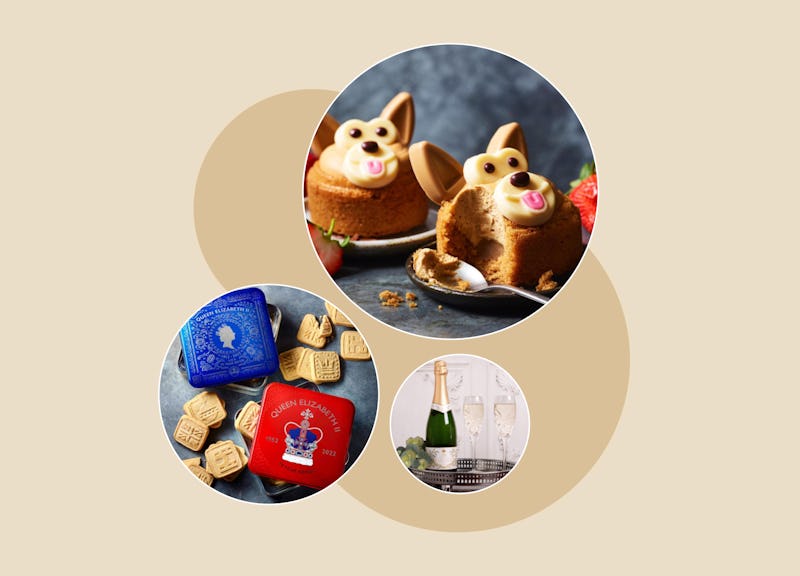 Marks & Spencer / The Royal Collection Trust
This year marks Queen Elizabeth II's Platinum Jubilee. As of February 2022, Her Majesty reached a landmark of seventy years on the throne, making her the longest-reigning British monarch in history. To mark the anniversary, dozens of celebratory events will be taking place across the UK, including an extra-long bank holiday weekend between June 2 and June 5. The long weekend provides the perfect opportunity to celebrate the Queen's Jubilee milestone, and if you're planning a royal knees-up, you can find some of very the best Platinum Jubilee food and drinks to serve at your street party below.
In addition to the extra-long bank holiday weekend, the royal family will also be hosting a Platinum Jubilee concert outside of Buckingham Palace, during which 10,000 members of the British public will descend on the Mall to enjoy a string of star-studded performances. The Queen will also partake in some more traditional royal celebrations, such as the Trooping the Colour, and, even the Duke and Duchess of Sussex are set to join in on the Jubilee events along with their two children, Archie and Lilibet.
Preparations are likely already underway for Platinum Jubilee street parties up and down the country. To get into the Jubilee spirit, some of the biggest British brands, including the likes of M&S, Pimm's, Walkers, and more, have unveiled their special-edition Platinum Jubilee products.
Expect to find corgi cakes, royal hampers, and even Jubilee-themed salad cream on supermarket shelves in the coming weeks - all of which, and more, can be found below.
This article was originally published on