7 Signs Your Partner Wants To Be Dating Other People
The only foolproof way to know for sure is to ask.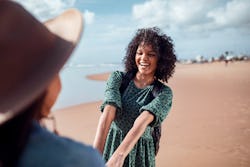 Marko Geber/DigitalVision/Getty Images
At first, it might not be obvious that your partner wants to start seeing other people. But over time, you might notice a clue or two. If they're constantly checking out cute strangers, for example, or seem to be hinting at expanding their horizons, you'll definitely start to wonder what's up.
Of course, "the only foolproof way to know for sure if your partner wants to date other people is if you ask them and they confirm," Pella Weisman, a dating coach, tells Bustle. From there, if you're both into the idea of opening up your relationship, Weisman says, "you can then have a conversation about how this might look and what agreements you would want to have in place." Seeing other people is certainly an option, but it's best to establish ground rules, first, so that you can agree on what's OK and what isn't.
That said, an open relationship isn't something you have to be into or even something you have to try. You're in no way obligated to stay with a partner while they try to "find themselves or start seeing other people. You have every right to figure out what works best for you, and at the end that might mean parting ways.
With that in mind, here are seven signs your partner wants to be dating other people, according to experts.
Polyamory definitely works for a lot of couples, but if it's not for you, make sure you make that loud and clear. No matter what you suspect or what eventually comes out of noticing these signs, a conversation has to follow.
"Talking together about what this might mean for the future of your relationship is an important thing to do," Weisman says. "Don't underestimate the power of direct conversation. It does wonders for any type of relationship!"
Experts:
Pella Weisman, dating coach
April Masini, relationship expert
Chris Seiter, relationship consultant
Trisha Andrews, MS, MFT, an individual and family therapist
This article was originally published on