Starbucks' Pumpkin Spice Latte Is Back Earlier Than Ever
Now all we need is sweather weather.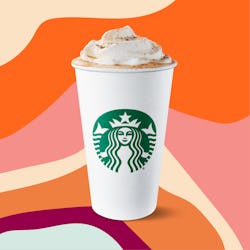 It's every coffee drinker's favorite time of the year — that's right, pumpkin season is back at Starbucks baby — and it's back earlier than it's ever been before. And while this means the return of everyone's go-to Pumpkin Spice Latte, Starbucks has a whole lineup of pumpkin- and fall-flavored goodies that will ring in the autumn season at every U.S. location in the best way possible. Starting August 25, all your fall favorites will be back and ready for drinking.
The PSL was originally rumored to come back August 28 after a California Starbucks location captioned an Instagram photo saying so. But Starbucks never confirmed the rumor, and now we know why: The PSL was coming back even earlier.
In years past — from 2011 to 2017 to be specific — the official return date for the Pumpkin Spice Latte is usually in the first week of September. However, those years also had an early release date that hovered around Aug. 30, with Starbucks bringing back the PSL as early as Aug. 26.
Aside from the Pumpkin Spice Latte coming back for its 17th year, Starbucks will also be bringing back the Pumpkin Cream Cold Brew from last year. The drink features the Starbucks Cold Brew with added vanilla syrup, pumpkin cream cold foam, and pumpkin spice topping.
And if pumpkin spice isn't really your thing, Starbucks is also bringing back the Salted Caramel Mocha and the Salted Caramel Mocha Frappuccino blended beverage. The Salted Caramel Mocha uses a mocha sauce and toffee nut syrup with coffee and steamed milk to create a warm, chocolatey taste that's perfect for the first cold winds of autumn. The drink is topped with sweetened whipped cream, a caramel drizzle, and a blend of turbinado sugar and sea salt.
The Salted Caramel Mocha Frappuccino blended beverage is the same drink, just blended with ice for the same flavors just with a refreshing, cold twist.
It's not only the drink menu that's getting some fun fall additions. Even the Starbucks pastry menu will be seeing the return of some fall favorites including the Pumpkin Cream Cheese Muffin and the Pumpkin Scone. The Pumpkin Bread will also be available, as it is regularly throughout the entire year.
While it's still technically summer, the return of Starbucks Pumpkin Spice Latte and all of its other fall treats means that it's autumn in our heads. All we need now is some sweater weather.
This article was originally published on