15 Starbucks' Pumpkin Spice Latte Creamer Hacks For Your Fall Drinks & Desserts
From ice cream to cake to boozy drinks.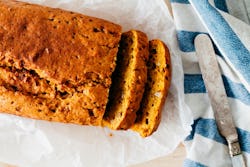 REDA&CO/Universal Images Group/Getty Images
'Tis the season to put pumpkin spice in everything. Whether you're looking to use up some extra coffee creamer or just want to test your pumpkin spice limits, there is a Starbucks Pumpkin Spice Latte Creamer hack for you. Prepare your pumpkin spice space accordingly.
While we await the much-anticipated return of the Starbucks Pumpkin Spice Latte, we can still get our fill of PSL at home. This month, Starbucks' range of fall grocery products hit shelves in major retailers across the country. In addition to new flavors like maple pecan and salted caramel mocha, this range (of course) includes Starbucks' beloved Pumpkin Spice Latte Creamer. It in itself is a PSL hack. Don't have time to wait for or whip up a full-on pumpkin spice latte? Add some PSL creamer to your cup of coffee and you're good to go.
Lest you think you can't make it through an entire bottle of PSL coffee creamer before pumpkin spice season is far gone, fear not: there are plenty of delicious and easy ways to use up extra coffee creamer. Here are 15 recipes to turn your Starbucks Pumpkin Spice Latte Creamer into anything from cake to bread to a boozy happy hour drink.
If you're looking to get even more adventurous, pretty much any dessert recipe with milk can be adjusted to include creamer instead. There is really no wrong way to pumpkin spice.