19 Valentine's Day Drinks You Can Order Off Starbucks' Secret Menu
It's the overwhelming sweetness for me.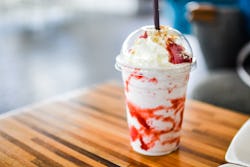 Shutterstock
Valentine's Day is, if nothing else, an excuse to consume all things pink, sugary, and sweet. While Starbucks hasn't announced any of their 2022 Valentine's Day line-up, they have revealed their new line of Valentine's Day cups. (Including a mug with color-changing kisses printed on it!) It's unclear whether Starbucks is planning to debut a custom V-Day menu this year, but there are plenty of Starbucks Valentine's Day secret menu drinks you'll want to try in the meantime. They're pink! They're sweet! They will be the delicious Valentine you deserve.
In 2021, Starbucks kicked off Valentine's Day with an entire week of deals catering to sweet acts of love. According to Delish, the coffee company waived delivery fees for all orders above $15 from Feb. 8 to 14, and, on Valentine's Day, it offered 50% all delivery orders above $15. Fingers crossed that Starbucks will assist another year of sweet coffee surprises for our loved ones this year.
Fortunately, you won't need to wait around to give the secret menu a try, as Starbucks secret menu drinks use menu items available all year. Just a reminder: the secret menu is not an official Starbucks menu, but rather a collection of Starbucks concoctions that social media has dreamed up. That's why if you order a "Raspberry Cheesecake Frapp," your barista will have no idea what you're talking about until you explain the step-by-step process behind the drink. (Also, be nice to your barista. Tip generously. Apologize a few times if you feel inclined.) It's also worth noting that you're not able to order some secret menu items on the Starbucks app — if, for instance, they require a step like blending strawberry puree into cold foam.
Now that that's settled, here are 19 Starbucks secret Valentine's Day menu drinks you'll want to try. Whether you prefer your drinks with a hearty caffeine kick or just want something pink and gorgeous, you're sure to find your perfect match on this list.
This article was originally published on