The 7 Best Heat Control Window Films On Amazon
We only recommend products we love and that we think you will, too. We may receive a portion of sales from products purchased from this article, which was written by our Commerce team.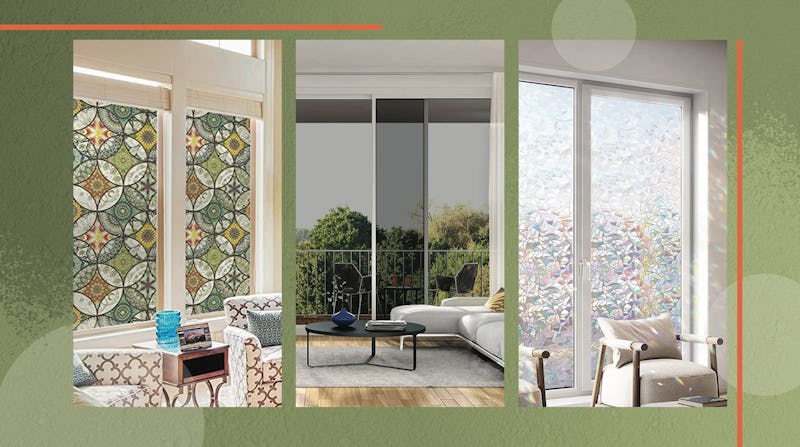 Bustle / Amazon
If you want to make your home cooler, the best heat control window films can significantly reduce the degree to which the sun warms your space. Top-rated films on Amazon can block up to 95% of UV rays (or higher!) by providing an extra layer of insulation to block out the sun, and many can also prevent glare. Heat control options also tend to act as privacy window films as well, shielding you from both the hot sun and the eyes of your neighbors, but unlike heat-blocking thermal curtains, they may also let in some light. Before you shop, consider what levels of heat control and privacy you'd like, and think about how much natural light you're willing to sacrifice in the name of cooling your space.
What To Consider When Shopping For The Best Heat Control Window Films
While it's true that blocking the sun — both its light and heat — is the way that heat control films work, styles with a tint or frost can let in some natural light while providing some privacy and heat control. One-way privacy films shield you from sight during the day without interfering with your view out the windows, as well as blocking heat, though it's worth noting that the privacy features don't work after dark. Some window films are even decorative and can enhance your windows with an attractive pattern. Like blackout curtains, blackout window films will totally block the sun, but they're often colored black and can get hot to the touch; look for options with a white exterior to truly keep things cool.
Most films either adhere by using either an adhesive or static cling. Both types are effective, but static cling films are easier to remove and reapply, and they don't leave behind any messy residue. However, they may peel in intense heat. Adhesive film is a more heavy-duty option and ideal for windows that see a lot of moisture or extreme temperatures, such as bathroom windows. When using adhesive film, keep in mind that removal and repositioning during installation can be difficult. Window film comes in a variety of sizes that can be cut to fit your windows, so try to choose the film closest to your window size to reduce the amount of trimming you'll have to do.
Shop The Best Heat Control Window Films
In a hurry? Here are the best heat control window films on Amazon:
Scroll on for my top picks for the best heat control window films to upgrade your windows, cool down your space, and save on energy costs. Oh, and pro-tip — be sure to stock up on chemical window cleaners, cleaning cloths, and squeegees, too, since window films should be applied only to clean glass and are often smoothed with a squeegee during application.
This article was originally published on