The 7 Best Toothpastes For Plaque
We only recommend products we love and that we think you will, too. We may receive a portion of sales from products purchased from this article, which was written by our Commerce team.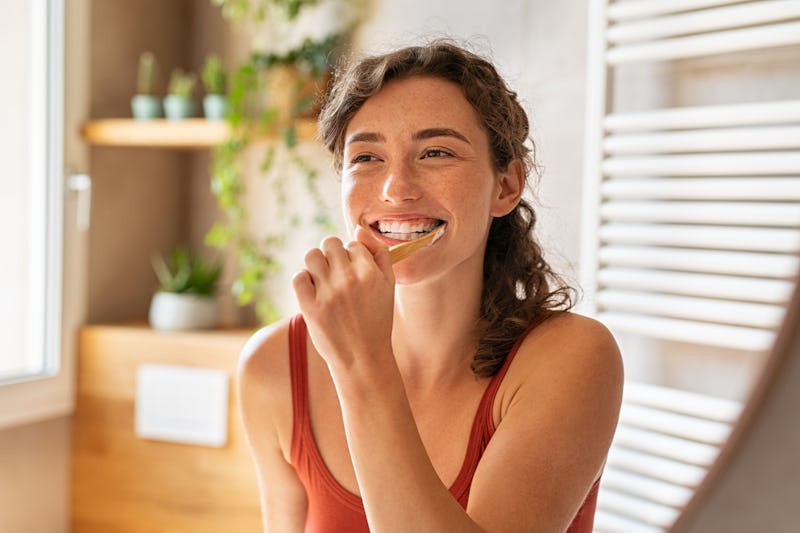 Rido / Shutterstock
When on the hunt for the best toothpastes for plaque, finding a formula that can prevent plaque from hardening and turning into tartar is key. That's because, according to dentist Dr. Bryan Laskin, founder of Lake Minnetonka Dental, "plaque is soft and gooey, and you can brush it off right away. Once that plaque hardens and becomes tartar, you can't get rid of it on your own with brushing. It becomes calcified and requires a dental hygienist to remove it during a routine 6-month checkup," he told Bustle. The best plaque-fighting formulas will include ingredients like pyrophosphate, which prevents plaque from hardening, and fluoride which helps strengthen tooth enamel.
Beyond looking for fluoride toothpastes and ones with pyrophosphate, you'll find formulas that have extra components designed to help you identify and remove plaque on the surface of your teeth. For example, Plaque HD's anti-cavity toothpaste is formulated with an ingredient that turns plaque in your mouth the color green in order to help you know where to brush.
If finding a whitening toothpaste is a top priority for you, look for a tartar-control formula with ingredients like baking soda and hydrogen peroxide that can whiten your teeth as well. And, if you prefer natural formulas, look for ones made with non-toxic ingredients like grapefruit seed extract or activated charcoal that are free from chemical compounds like sodium lauryl sulfate (SLS). Finally, some toothpastes are formulated to treat specific dental concerns, so look for toothpastes for gum disease or toothpastes meant for sensitive teeth if these are issues you are dealing with.
For an in-depth look at some of the best toothpastes for plaque, keep scrolling.
Expert:
Dr. Bryan Laskin, DDS, founder of Lake Minnetonka Dental
This article was originally published on