The 3 Zodiac Signs Most Likely To Be Drawn To Your Sign
An astrologer spills the tea.
by Isadora Baum, CHC and Kristine Fellizar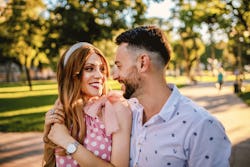 Viktorcvetkovic/E+/Getty Images
When it comes to the stars, a lot can be said about what type of personality might "star" in your fantasies, too. There are certain zodiac signs that are likely to be drawn to each other, as each sign tends to be intrigued by different attributes in people. The good thing is, the sign you're most attracted to is also most likely to be receptive to your sign as well, so we're not looking at a one-way street here. Of course, zodiac compatibility doesn't mean you'll be perfect for each other, but you'll at least know that there's a level of natural interest. Then you can decide how you wish to navigate the relationship from there.
As a certified health coach, I work with clients on learning more about themselves and how others perceive them. A great way of doing so is by looking at the zodiac and seeing how you might come across to others, especially in romantic situations. It's a hint as to who you might get along with. Yet, even if the stars don't see you and your partner or crush as the perfect match, or two people who are drawn together naturally, that doesn't mean there isn't something about them that draws you in.
Read more: Gemini Zodiac Signs: Personality Traits, Love Compatibility & More Astrology
So, what signs tend to veer toward each other in the little game we call love? To get the lowdown, I spoke with Miami-based astrologer Valerie Mesa to learn more about which three signs are a match for each member of the zodiac.
Here are the signs most likely to be drawn together romantically, according to Mesa.
This article was originally published on