The 15 Best Reed Diffusers
We only recommend products we love and that we think you will, too. We may receive a portion of sales from products purchased from this article, which was written by our Commerce team.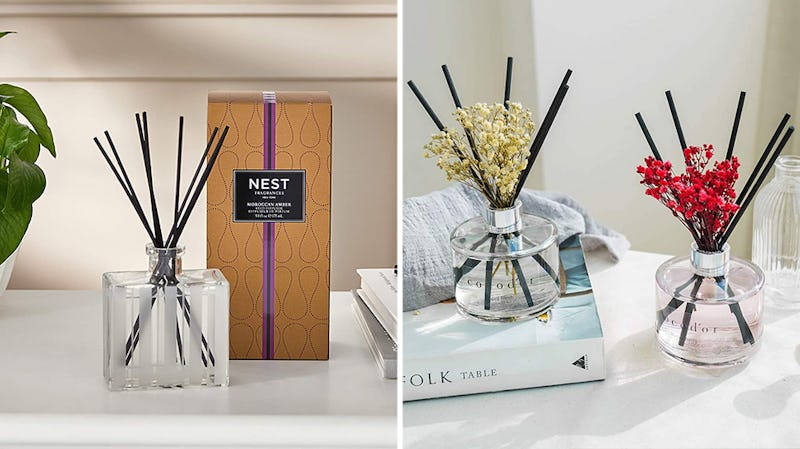 There's a reason why real estate agents say to bake cookies right before an open house. Whether consciously or subconsciously, the smell of a space has the ability to alter the feeling someone gets just by inhaling. The internet has tons of air freshener options, but the best reed diffusers can refresh your space immediately with minimal effort on your part.
Unlike scented candles or electric diffusers, reed diffusers don't require any flames, plugs, or batteries. Instead, they use wooden sticks (or reeds) to pull the fragrance oils from the bottom of the bottle to the top of the reed, where the scent then evaporates into the air. They require pretty much zero maintenance or remembering to do anything, besides maybe refilling the bottle every couple of months. That's why they're one of the best ways to freshen up your home.
Scientific studies have proven that fragrances can interact with the brain to impact our moods, stress levels, and even working capacities. That's because they can cross over the blood-brain barrier and interact with receptors in the central nervous system. Whether you have a home office, are looking to make your guests feel welcome, or just want a more uplifting environment for yourself, the best reed diffusers are an effective way to get there. Of course, scent preferences are subjective, so I've included some of the most popular and diverse options the Internet has to offer.
Studies referenced:
Sowndhararajan, K., & Kim, S. (2016). Influence of Fragrances on Human Psychophysiological Activity: With Special Reference to Human Electroencephalographic Response. Scientia pharmaceutica, 84(4), 724–751. https://doi.org/10.3390/scipharm84040724
Sayorwan, W., Siripornpanich, V., Piriyapunyaporn, T., Hongratanaworakit, T., Kotchabhakdi, N., & Ruangrungsi, N. (2012). The effects of lavender oil inhalation on emotional states, autonomic nervous system, and brain electrical activity. Journal of the Medical Association of Thailand = Chotmaihet thangphaet, 95(4), 598–606.
This article was originally published on