Here's What To Expect At Your First Pride
#1: Stay hydrated. Seriously.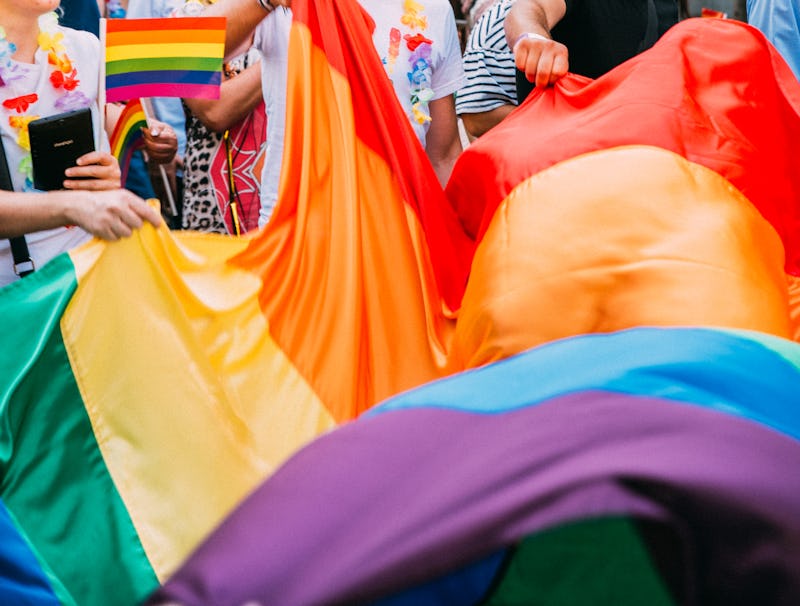 Pyrosky/iStock Unreleased/Getty Images
Your cousin insists that you can't miss the dance party on the pier, but your bestie swears that the best place to celebrate Pride is at your city's trans rights march. When you're trying to figure out what to do for your first Pride, the options are endless and the nerves are real.
From free corporate sunglasses that you feel ethically weird about wearing to festival stands featuring local queer artists, the specific tips for attending your first Pride will vary depending on what your local celebrations are like. "At my first Pride, I assumed the dress code would be very few clothes," says Carla, 25. "But the city I was in was a little more conservative. People were mostly sweet to me, but I was definitely one of the people showing the most skin." If they could do it again, they tell Bustle that they would have worn the same thing — but they would have also scrolled through their city's Pride Instagram to get a feel for what other people might be wearing first.
Chances are that whether you're a social butterfly who can't wait to wear nothing but a bisexual pride flag, a person who has never donned trans colors in public before, or someone eager to attend their first march, there'll be something for you at your local events. Whatever your Pride personality is, if it's your first time venturing out amidst the flags, you're covered by these 17 tips from nonbinary folks and queer women who have all kinds of experiences with Pride.
Whatever type of June you have, Erika says that there's no way to do it wrong. And you've always got next year to mix it up.