9 Meal-Prep Hacks For Trader Joe's That TikTok Swears By
BRB. Going to the grocery store.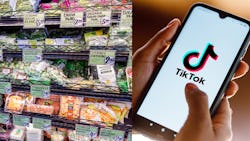 Getty/Bustle
If your For You page is filled with dance trends you'll never try and cute babies you don't want to have, allow me to introduce you to Trader Joe's TikTok. Lest you underestimate the power of the grocery chain's cult following, there are dozens of Trader Joe's hacks on TikTok you'll want to keep in mind during your next shopping trip. Whether you're a new fan or a longtime follower of Trader Joe's, you'll find something you'll like.
As you're likely well aware, the internet is full of Trader Joe's shopping tips for any and all occasions. Do you meal prep? There are Trader Joe's meal prep hacks you'll want to check out. Have you fully immersed yourself in Soup Szn? These Trader Joe's soup hacks are what you seek. There are Trader Joe's hacks for breakfast, Trader Joe's hacks for lazy dinners, even hacks for using Trader Joe's Everything But The Bagel Seasoning. No meal is safe from Trader Joe's tacks.
TikTok takes those Trader Joe's hacks, puts some music behind them, and crams it into less than 60 seconds. Now, you can feel better about your endless TikTok scrolling — it's not procrastination, it's research. Here are nine Trader Joe's hacks that TikTok swears by.
If nothing else, you need to try the cookie butter beer. This is less a Trader Joe's hack and more just general life advice. Happy shopping!